Appliances for the Future
| February 17, 2021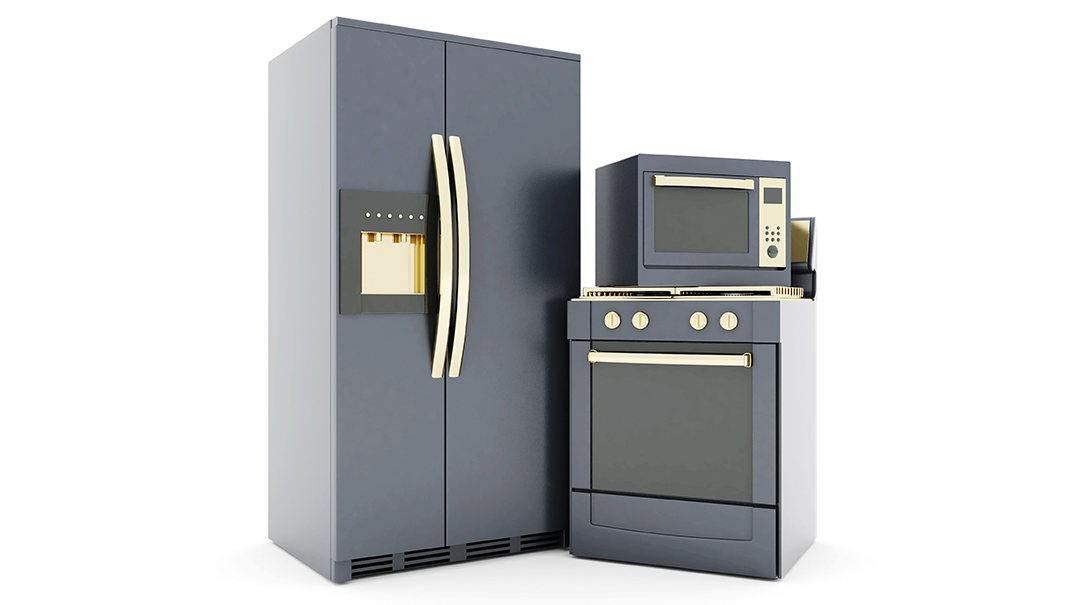 Kitchen appliances, like everything else in our lives, have evolved to meet the changing needs of today's home chefs, and when it's time to purchase new ones, the options can be overwhelming. Town Appliance, with showrooms in Lakewood, Cedarhurst, and Baltimore, has been around since 1979 with the mission of making people happy. We spoke to Chief Marketing Officer Mr. Hilly Hill and Sales Manager Yoeli Herskovits to get the full scoop on what everyone needs to know before shopping for kitchen appliances.
Think Before You Swipe
"People come in with a shopping list, and they tell me, 'I need xyz for my kitchen,'" says Yoeli. "We start asking them questions about their lifestyle, how many pots are typically being placed on the stove at once, how much use does their oven get, and so on, until we get to a point where they've narrowed down needs to wants and identified their actual needs, not just what everyone else is getting."
He says it's very important to take a few days to think about big purchases, and in the end, most customers trim the fat on their budget in one area and spend more in another that will be most helpful or meaningful for them.
The first place people can trim their budgets is on older appliances that are fully functional. "We tell people that just because something is old doesn't mean it needs to be replaced," says Yoeli. "If it's worked well for you and it's repairable, repair it!" There are other factors to consider, such as energy efficiency, when deciding whether or not to upgrade to a newer unit.

Know Before You Go
So how does one choose between the myriad brands, models, and features available in the appliance market today? The experts at Town Appliance say that GE remains a mainstay brand for quality and value with cooking and refrigeration, Bosch leads the way with dishwashers, and Hestan has made a name for itself in high-end smart cookware.
"The key points you need to look at are brand reliability, service, and fit — are your connections gas or electric? What's the allotted space for this appliance, and will it fit through your doorway?" explains Yoeli. "You also want to make sure it's usable for Shabbos, when relevant, and that it's at a price point that's within your budget."
In terms of features, Yoeli advises customers to think long and hard about what they do and don't need, and not to make assumptions. "Features like self-clean aren't necessarily a must in an oven; there are many people who manage fine without it."
Another kitchen appliance that people assume they need is a warming drawer, which has a very specific function. Yoeli tells shoppers that their soup pot won't fit into it (warming drawers are usually about six inches high), but their entire Friday night meal in 9x13-inch pans probably will. "Some customers use their warming drawers during the week to keep dinner hot for family members on different schedules, and they love it," he adds.
One housewife got tired of her teenagers poking around in the oven and drew a line — the oven is off-limits, but what's in the warming drawer is fair game for Erev Shabbos or Erev Yom Tov sampling. Others installed a warming drawer and then found that they never used it. Bottom line: Know yourself, and think about your personal needs and methods in the kitchen before you dive into buying what everyone else has.
What Can Sabbath Mode Do for You?
The first Sabbath-mode refrigerator was patented by Whirlpool in 1988, and in 1997 they worked with the Star-K to certify and patent the first Sabbath-mode oven. Since then, many manufacturers have followed suit, with Sabbath-mode features evolving and improving.
Early Sabbath-mode appliances required an elaborate series of maneuvers to implement. "You had to hold down two buttons, count to ten, close one eye, turn to your left, and send up a prayer," says Yoeli. "Those models used analog control, limiting the manufacturer to options that fit on the hard plastic panel of buttons. Today's ovens have LED or LCD screens with iPad-type computer systems behind them, allowing you to easily scroll through different screens and hit preprogrammed options."
Mrs. Rivkah Leah Goldman of the Star-K says there is still a lot of misinformation about Sabbath-mode appliances. "The only feature guaranteed in a Sabbath-mode oven is that it won't shut off after 12 hours," she points out. "Anything else is extra, including a Timed Bake setting for Friday night, and it's up to the consumer to do the research and find out what each appliance's capabilities are." There are also companies who try to mimic Sabbath mode through reverse engineering without consulting a kashrus organization, so it's important to establish that a company is truly certified.
The Star-K website has a comprehensive list of questions to ask and features to look for when buying various kitchen appliances. They keep the information current, and welcome questions from consumers that will help them use their appliances in a halachically correct manner.
Following the Trends
Outdoor kitchens have become very popular, and people are spending thousands installing high-end cabinetry, sinks, grills, and more in their backyards. "It's the guys' kitchen," Yoeli explains, "and it's for entertaining — they host simchahs, tzedakah fundraisers, family reunions, and the kitchen inside stays completely clean."
Hilly adds, "Barbecues aren't just about throwing a few hot dogs on the grill anymore. More people are foodies, and they've gotten into smoking, and grilling low and slow — hence the growing interest in enhanced outdoor cooking spaces."
Yoeli advises spending money on quality products for outdoor kitchens. They can be used year-round, and have to be able to stand up to the elements. "You can go to a big box store and buy a huge grill for what seems like a great price, but you get what you pay for — and bigger isn't always better, you also need to know your environment. If you live near the ocean, for example, you'll need to make sure your appliances can handle salty air."
Another trend is spending money on custom hoods to create a distinct look and draw attention to the core of your kitchen domain. But designer or standard, they all work pretty much the same and help to maintain clean air in the kitchen, reduce unpleasant odors, and give you the ability to add extra lighting above the cooktop.
The Connected Kitchen
Smart kitchens enable consumers to communicate with their kitchen appliances via phone or computer. "People are embracing technology," Yoeli tells us. "This is the future." Accessibility and integration of kitchen appliances is a game-changer — imagine turning on the coffee maker from your bedroom, turning off the oven from the office or grocery store when you're running late, or choosing a recipe online and having it automatically sent to your oven so that it knows at what temperature and for how long to cook your dinner.
Some models of smart refrigerators allow people to order groceries through a front-panel Internet screen (yup, you put your credit card in, and no, it doesn't freeze — although maybe that would be truly smart), or create a shopping list that's automatically sent to your phone.
In cookware, Hestan has created a precise cooking system that utilizes a smart pot or pan and an induction burner that are digitally linked to read the temperature of the pot and the food, thereby keeping your food at the ideal temperature throughout the cooking process.
Aesthetics
Matte finish is all the rage with appliances now, specifically matte white and matte black slate. But many customers are still having fun with color. "We just sold a purple oven to a customer," Yoeli tells us. "It's not so crazy. Viking used to offer their oven in 25 colors, but now they've narrowed it down to the six best-selling colors."
If your oven or fridge looks outdated but still runs well, you can take it to an auto-body shop to have it repainted, or do it yourself using steel wool and heat-resistant appliance paint. Designers and creative DIYers have pieced together some fabulous kitchen appliance fashion looks, including a cherry red oven with shiny gold hardware, a high-gloss navy oven with brass hardware, or a bright orange oven paired with pale green cabinets. Robin's egg blue is always a classic vintage color, or you can go with a gorgeous royal plum, creating a stunning and unique centerpiece for your kitchen.
"Farmhouse remains a popular style when renovating, but even within this rustic look, people are still choosing clean lines and modern sleek trims," says Yoeli.
The Bottom Line
For those who live in New York, New Jersey, or Maryland, nothing beats an in-person visit to Town Appliance's vast showrooms. Customers can enjoy a fresh brewed cup of gourmet coffee, crystal clear ice and beer on tap, or a slice of authentic pizza made in miniature ceramic pizza ovens, giving them a taste of what they can reproduce in their own kitchens (and making the experience that much more palatable for the men while their wives deliberate). Town Appliance also hosts cooking demos with kosher chefs, rooftop barbecues, and other culinary events, and it keeps the latest innovative kitchen appliances live and interactive in its showrooms.
For those who don't live nearby, Town Appliance offers an online shopping experience with plenty of one-on-one support from the sales team during the decision-making process — and yes, they do ship out of town.
Regardless of where you live and shop, these insider information tidbits should give you a boost of confidence to go into the decision-making process. And remember that if you're reading this article, chances are that you're spending hours in the kitchen preparing nurturing food that will warm the hearts of those who enjoy it, regardless of what type or color appliance helped you to prepare it!
(Originally featured in Family Room, Issue 013)
Oops! We could not locate your form.
>