| This Way That Way |
Applesauce
| December 23, 2020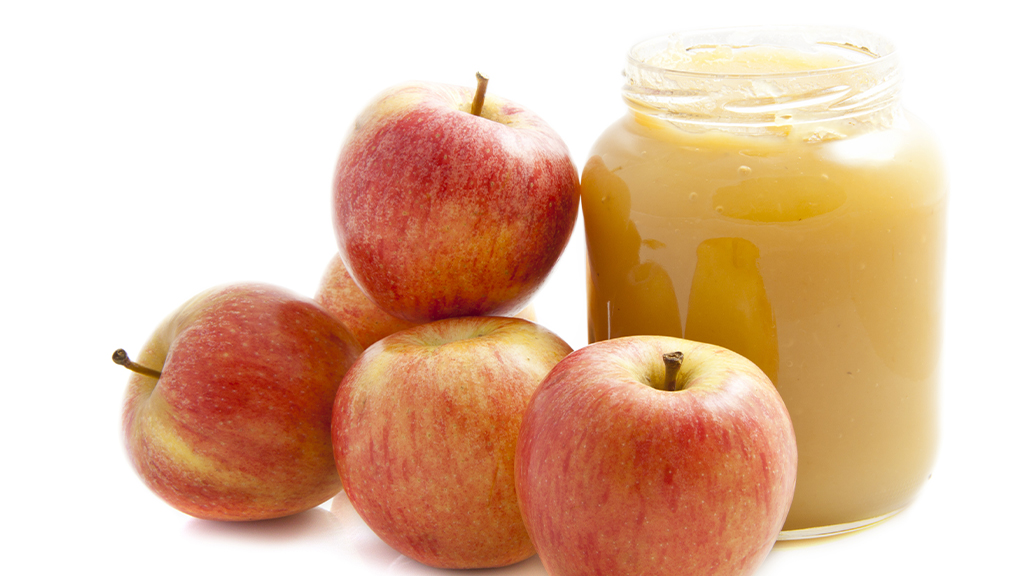 Shifra Tropper writes:
Dear Family Table staff,
I have an idea for your feature This Way / That Way: Applesauce. We have so much applesauce from the government-funded
food programs and would love to find some great recipes for them! (Especially when it's used as a sub for oil or margarine.)
Thanks for a wonderful magazine!
Applesauce
While applesauce is a classic baby food, the applesauce we think of is flavorful and seasoned liberally with warming spices. Whether used as a replacement for oil or as a partner for vanilla ice cream, we think it's about time it gets its turn in the spotlight.
Pectin Pick-Me-Ups
Due to a high concentration of pectin, applesauce aids in digestion and helps remove waste from the body. It promotes the growth of probiotics, which are necessary for gut health.
Out of This World
Astronaut John Glenn, the first American to orbit Earth, took applesauce for his revolutionary journey through space.
Apple Preservation
Applesauce has been made for hundreds of years as an efficient process to prevent uneaten or unsold apples from rotting during the winter months.
Zucchini Kugel
Recipe by Brynie Greisman
I've been making this kugel for years. Serve for a milchig lunch with cottage cheese and/or a lettuce and feta cheese salad. It's light and full of nutritious ingredients, and we all enjoy it.
Yields 3 9-inch (23-cm) round pans
4 lbs zucchini (almost 2 kg), scrubbed and grated (peeling is optional)
2 medium onions, grated
⅓ cup oil (I used olive oil)
⅔ cup unsweetened applesauce
5–6 eggs
1⅓ cups whole wheat pastry or white spelt flour
2 tsp baking powder
1½ tsp kosher salt, or to taste
1 rounded tsp sugar
sprinkle of pepper
paprika and parsley to sprinkle on top, or ground almonds
Preheat oven to 350°F (175°C). Squeeze out grated zucchini to reduce excess moisture, then place in a large bowl with the onions. Add oil, applesauce, and eggs and combine well. Add flour, baking powder, and seasonings and mix until incorporated.
Arrange parchment paper on the bottom of three 9-inch (23-cm) round pan. Spray with cooking spray or brush with oil. Divide mixture evenly among the pans. Sprinkle tops with paprika and parsley if desired, or with ground almonds. Place in oven and bake for 30–40 minutes or until set.
Note: I often sub applesauce for oil in cakes and kugels, and it works like a charm. I've even made this kugel with all applesauce and no oil, and it was creamy and delicious.
Apple-Blueberry Fruit Leather
Recipe by Chaia Frishman
Did someone say a fruit recipe? Not only is this recipe in my wheelhouse, but it's an item I have yet to be able to sell because every batch gets eaten by my family!
Yields 4 snack servings
2 cups natural applesauce
2 cups fresh blueberries
Preheat oven to 175–200°F (80–90°C).
In a blender, purée applesauce and blueberries. Pour onto a baking sheet cover with parchment paper or with a silicone mat. Spread into an even rectangle.
Bake for 5 hours or overnight, until dry.
Peel off the mat, slice, and enjoy!
Healthy Oatmeal Muffins
Recipe by Faigy Grossman
My daughter in Israel got these delicious, fluffy oatmeal muffins from a friend after she had a baby. We've been making them since then. Whoever tastes them asks for the recipe, and it's been shared many, many times. This is the real, healthy muffin winner — and it uses applesauce in place of some of the oil.
Yields 12–15 muffins
1 cup oats
2 cups whole wheat flour
1 tsp baking soda
2½ tsp baking powder
¾ tsp salt
2½ tsp vanilla sugar
1⅔ cups brown sugar
3½ tsp cinnamon
3 eggs
½ cup oil
1⅔ cups applesauce
5 oz (140 g) mini chocolate chips
Preheat oven to 350°F (175°C).
Combine dry ingredients in a large bowl. Add eggs, oil, and applesauce and stir until just combined. Stir in chips. Divide the mixture among lined or greased muffin tins.
Bake for approximately 25 minutes or until a toothpick inserted comes out clean or with a few moist crumbs.
(Originally featured in Family Table, Issue 723)
Oops! We could not locate your form.
>