| The Current |
Anything but BiBi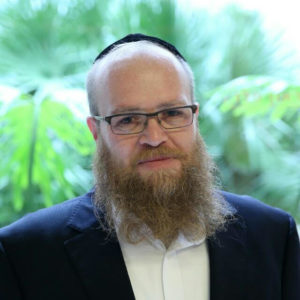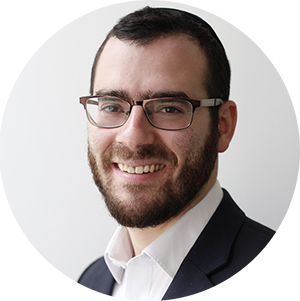 | June 1, 2021
The political twilight of the Netanyahu age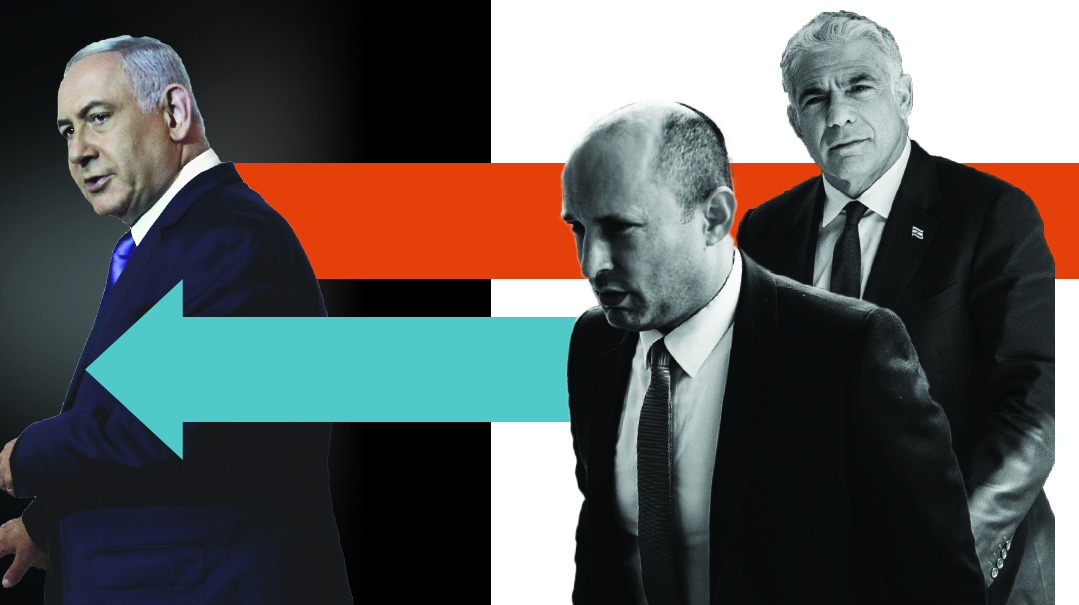 Photos: Flash90
On Sunday afternoon, as Israel baked in a heat wave and the country's febrile politics reached boiling point, leafy Raanana was the place to be.
Just down the road from the swanky villas that former defense minister Naftali Bennett calls home, in the office tower that houses his upstart Yamina party, a meeting was taking place that had Israel's political class riveted.
Joining Bennett and senior lieutenant Ayelet Shaked were the party's MKs, minus one rebel. Their task was to make official the rumors swirling since Friday: that one of the most hawkish figures on the Israeli right was about to cross the lines and join with Yair Lapid and Israel's left to turf Bibi out of office.
As the meeting got underway on one of the upper floors, the reporters and cameramen outside the building were treated to a sight both absurd and revealing.
Twenty-or-so activists began raising a racket designed to be heard in the offices above. Beating drums, yelling into loudhailers and unfurling banners decrying the Yamina leader's treachery, the motley bunch — many clearly veteran demonstrators — vented their frustration.
"Bennett resign, Bennett resign," they stormed. "The right is in danger — you have to come and demonstrate!" urged one shaven-headed 40-something, broadcasting live over social media.
As the cameras rolled and the microphones recorded, a more perfect snapshot of Israel's political moment would have been hard to conceive.
Downstairs, Netanyahu's hard-core supporters raged, powerless to stir Israel's right-wing voters. High above in the air-conditioned precincts of Yamina's offices, the real action was taking place as Bibi's 12-year-old empire was dismembered by insurgents from left and right.
But such is the fear of Netanyahu's old mastery that even with his power clearly hemorrhaging, politicians refuse to call time on the Bibi era. That's because even if Yair Lapid succeeds in the mammoth task of bringing right-wing Yamina and far-left Meretz under one coalition roof, the viability of the proposed government is doubtful.
In the absence of any ideological glue besides unseating Bibi, what will keep the government together when it gets to power? With such a Frankenstein coalition, how far to the left will right-wingers Naftali Bennett and Gideon Saar be dragged? More worryingly, what happens when Hamas tests the resolve of an inexperienced prime minister, hampered by his far-left and Arab coalition partners?
With Israel in the twilight of the Bibi era — still threatening another improbable comeback — the subtext of the Raanana protest wasn't so much about Naftali Bennett or Ayelet Shaked.
It was a disbelief that Israel's overwhelmingly right-wing electorate was about to hand large chunks of political power back to the left.
Values before Power
Notably absent from the fateful Yamina meeting was the party's number seven, former educator and social activist Amichai Chikli, who resigned from the party, protesting Bennett's "complete ideological U-turn."
"I spoke with Bennett on Friday," Chikli told Mishpacha, "and told him that I had discovered that advanced negotiations were taking place with Lapid. I was very hurt. We promised again and again not to make Lapid prime minister in any form. Around 65% of Yamina's voters oppose a government with Lapid, so while the Lapid-Bennett government is totally legal, it's also undemocratic. In a democracy you have a contract with your voters, and you're expected to stand by those commitments to your maximum ability."
Chikli is quick to point out that Netanyahu's repeated evasion of clear agreements with Benny Gantz over the past year made him an untrustworthy political partner. And Netanyahu had entertained a government with Mansour Abbas's Islamist Ra'am party as well, a charge of betrayal that the right is now leveling at Bennett. But, Chikli says, "what matters is where the political center of gravity is. There's no comparing a government with Ra'am and a government led by Yair Lapid."
Avichai Chikli is now politically homeless. He'll stay on as a member of the Knesset, but having left the party that brought him into the top ranks of Israeli politics, he looks more like a marooned candidate for Bezalel Smotrich's Religious  Zionist Party — which he now says he should have joined to begin with.
Chikli's departure from Yamina — even as Yamina lurches leftward from its former sister party under Bezalel Smotrich — highlights the divergent paths now coming into view in the religious-Zionist world. But for Chikli, even as Bennett clearly speaks for a religiously liberal stream within the dati world, Yamina's new path is a betrayal.
"This proposed government is a big victory for the anti-Netanyahu Balfour protest movement," he says. "Yamina's voters aren't part of that protest. Those are not our people."
Left or Lefter
For the past four election cycles, as first right-winger Avigdor Lieberman, then Gideon Saar and then Zeev Elkin left the right-wing orbit to topple Netanyahu, the ruling Likud Party's fearsome PR machine had a consistent strategy. Anyone who opposed Bibi was automatically labeled "left-wing," a pejorative of note in today's Israeli politics.
As Naftali Bennett wobbled — first indicating a move to the "change camp," then ducking back under the right-wing umbrella as the Gaza war unfolded, then once again floating the idea of a coalition with Lapid — he came in for the same treatment.
But with Bennett poised to go first in a prime ministerial rotation with Yair Lapid at the head of a coalition with many left-wing MKs, just how left-wing will it be in practice?
On paper at least, this will be a status quo government. The so-called "paritetic" government (wags haven't yet picked up on the irony of an Israeli arrangement named after a 17th-century Catholic-Protestant political carve-up) gives equal weight to the two blocs, despite their difference in size. Demonstrating how unexpectedly they find themselves on the cusp of power, the Lapid-led left-wing bloc, comprising Lieberman's Yisrael Beiteinu, left-wing Labor and Benny Gantz's Blue-White, plus far-left Meretz with no less than 45 seats, will receive only 18 portfolios. By contrast, Bennett's right-wing bloc comprising his Yamina party and Gideon Saar's New Hope with 12 MKs (excluding Amichai Chikli) walk away with outsize spoils. They take home eight ministerial portfolios, including the ideologically sensitive Justice, Interior, Education and Religious Affairs ministries. Additionally, Bennett and Lapid have agreed on a one-year moratorium on controversial legislation, including religious and state issues, to be promoted by consensus only.
But even if a Lapid-Bennett coalition struggles along without doing any damage on major political left-right issues like the Palestinian brief — where Bibi's replacement will undoubtedly come under pressure from the Biden administration — the government will act aggressively to liberalize Israel's religious quo.
"Everything is in play should a Lapid-Bennett government take office," says Degel HaTorah chairman MK Yitzchak Pindrus. "Conversion, kashrus, the identity of the next chief rabbis. They want to make historic changes to Israel's religious status quo, and this is the one area where the whole coalition agrees that they need to liberalize."
As Lapid and Bennett edge closer to power, speculation has swirled that the chareidi parties — who need to be close to the government table in order to keep the lights on in their schools that are not part of the regular budget — will be forced to come begging cap in hand. Pindrus rejects the idea out of hand.
"Since Rav Shach told Degel HaTorah 30 years ago to go with the right because of its greater identification with Torah life," he explains, "ideology comes before money. We simply can't be part of a government headed by those whose agenda is anti-Judaism, like Lapid, no matter the financial state of our institutions."
Pindrus dismisses the idea of joining a Lapid-Bennett coalition to work from within. "It's all bubbe maisehs," he says. "The only way to influence outcomes in government is to hold relevant ministries and Knesset committees. You can't affect what happens in another part of government because you're bound by coalition agreements. We can influence events more directly by remaining on the outside should that be necessary."
Power Plays
With both Lapid and Bennett publicly plotting his downfall, Bibi's continued exercise of power — meeting foreign leaders and talking for Israel on the world stage — has taken on the air of a medieval king whose power is ebbing in his lifetime.
And it begs the question: What mistakes were made in the countdown to this political earthquake? How did the man known for political wizardry find himself outfoxed by Naftali Bennett, a disciple-turned-adversary?
Yitzchak Pindrus, whose UTJ party has been an integral part of the right-wing bloc through two years of political turmoil, says that not much could have been done differently. Asked why Likud ministers hadn't moved to oust Netanyahu and form a right-wing coalition without him, he responds: "Bibi looked very strong, and the idea that he could just be surgically removed wasn't realistic. It would have torn the largest party in the country to pieces."
That is born out by the jockeying for power within the senior Likud ranks evident over the last few days.
Finance Minister Yisrael Katz told Likud members this week that a month ago, he'd suggested to Netanyahu to hold immediate primaries for the party's leadership. The new Likud chairman would then serve as prime minister in Netanyahu's stead for one year, to avert the founding of a left-wing government.
"According to the proposal," Katz's statement read, "the Netanyahu family would remain in the prime minister's residence on Balfour Street. The proposal was conditioned on the approval of the PM, who as party chairman was to present it to the central committee. The PM failed to accept the proposal and it was thus immediately removed from the agenda."
Katz's statement came in the context of a fierce public spat between him and MK Nir Barkat, the first shots of the leadership battle to succeed Netanyahu in the Likud. Barkat, a former Jerusalem mayor, announced this week that he'll be holding a political rally next month headlined: "My vision for a strong and developed Israel."
Tactical Victory
To understand the long, slow decline of Bibi's power, which began in 2019, the intense IDF aerial campaign in the recently-ended Gaza war provides a lead. In the long-planned effort, the Israeli air force bombed the network of Hamas tunnels across the Strip that were called the "Metro." While a perfectly executed display of precision bombing, the open question is whether the IDF succeeded tactically — in the short term — while failing to win the war.
In the case of Bibi's politics, it's almost certain that the answer is yes: the Likud leader succeeded in bringing one tactical win after another, but these all added up to a strategic loss.
Every single one of Netanyahu's main political foes on the right — from Lieberman to Shaked, Elkin to Saar — were once confidants. Netanyahu's fall is thus a stark lesson in political trust: he succeeded in bringing down both Bennett and Shaked in 2019, and now they have turned against him. He did the same to Saar — demoting him in the Likud ranks for being a threat — so his once loyal lieutenant has turned his back on him. And the message of Gantz's treatment — denied the rotating premiership that Netanyahu had promised — was a lesson in trust that made talk of another rotation with Saar and Bennett a joke.
End of an Era?
None of that makes Netanyahu's political demise a certainty. With a politician who has been eulogized as many times as Bibi, the old journalistic cliché "as of press time" has never been more relevant.
But even 24 hours after Bennett's dramatic announcement, Yitzchak Pindrus says that the chances of a government forming are still only 50-50, given the tortuous coalition negotiations. "An MK negotiating with Lapid and Bennett told me that it's like playing chess with seven people," he says.
And even if the moving trucks take the Netanyahu family out of Balfour Street, Bibi is likely to continue as head of the opposition. Sources who've spoken with Netanyahu over the past few days report that he's determined to continue the fight from the opposition, where he'll deal with his trial. Netanyahu was quoted by Likud MK Miki Zohar as saying: "We won't let them rest. We'll show them that they can't implement any kind of right-wing ideology in this government."
So even as the curtain seems to fall over the Netanyahu era, and Israel's foremost politician seems to have run out of tricks, it may not be the end of Bibi's time on the national stage.
But that distant prospect will be cold comfort for the Netanyahu die-hards outside the Yamina offices in Raanana, wounded by the betrayal of the right-wing that should still be in power.
As one protester tries to drum up some more manpower in the notably small crowd, he despairs, "They all wish us support, but no one bothers to come."
(Originally featured in Mishpacha, Issue 863)
Oops! We could not locate your form.
>