| Washington Wrap |
Anti-Israel Boycotts Are Nothing New
| July 27, 2021
Ben & Jerry's boycott heats up old embargo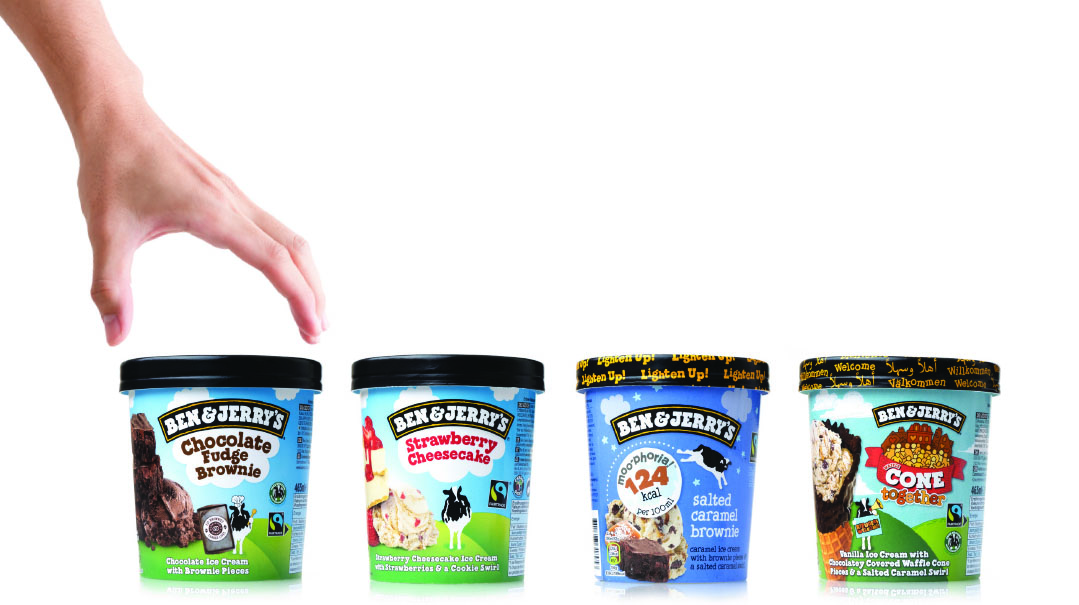 Ben & Jerry's Ice Cream's decision last week to stop selling its products over the Green Line grabbed headlines and put the BDS movement back on the agenda. But attempts to boycott Israeli goods are nothing new — they predate 1967, and even go back to before 1948. Long before boycotts came into fashion in Europe and America, Jews in the Yishuv faced what was known as "the Arab boycott." But while the historical record shows that the boycott movement waxes and wanes, it also spreads into new areas.
For example, last week Ha'aretz dug up an archived 1925 article headlined "Boycott of Jewish Merchants," which reported that young Arabs in Jerusalem had founded a movement "whose aim is to distribute only the goods of Arab merchants." The article quoted the call published in an Arab newspaper: "Don't buy from the Jews, come strike bargains with the Arab merchant, the merchant in danger of bankruptcy, and support him. We must boycott the Jews completely."
An article in HaMashkif dated December 4, 1945, announces, "Arab League Imposes Boycott on Jewish Goods." The Arab League's official statement, issued in Cairo, declared that the boycott was imposed due to the "Zionist threat and the Zionists' attempt to base Jewish capital in Israel… to enable the establishment of a Jewish state. The council of the Arab League has determined that Jewish goods are undesirable in Arab countries. Opening the market to them means helping the Zionists' political aspirations."
But the boycott wasn't a dazzling success. Hatzofeh on January 3, 1946, notes that "Arabs are buying in Tel Aviv just as before," and that "many Arabs" came to buy from Jewish businesses.
Although that boycott soon petered out, it was nevertheless renewed after the foundation of the State of Israel, and extended beyond the economic sphere. The terms prohibited Arab countries from issuing visas to Israeli visitors, and forbade vessels that called in Israel to dock in Arab ports. Egypt even blocked the Suez Canal to Israeli vessels, despite clear international treaties prohibiting this.
In 1955, the American oil company Socony-Vacuum — known today as Exxon, and which, according to state archives, held an eighth of the Israeli oil industry — announced it was leaving Israel under pressure from Saudi Arabia. Israel's ambassador to Washington, Abba Eban, tried in vain to get the decision changed.
It wasn't just oil. Many carmakers also steered clear of the fledgling Jewish state. In October 1959 the newspaper Davar reported that the French company Renault had "surrendered to the Arab boycott and severed ties with Israel." Again Israeli diplomats, with help from friends in France, tried unsuccessfully to change the decision — but they wielded little leverage. Le Monde noted that the Israeli market then amount to only 1,000 vehicles a year, dwarfed by the Arab market, including Morocco, at 17,000.
Japanese carmakers — with the exception of Subaru — also adhered to the Arab boycott. And if you had a craving for Pizza Hut or a cold Pepsi — well, you couldn't get those either in the Holy Land.
A few years later, Israel supporters in the diaspora began to find their muscle. A New York Times front page article on April 16, 1966, announced that Coca Cola, under pressure from the Anti-Defamation League, reversed its decision a week before to deny a franchise to an Israeli firm due to what the soda maker insisted were "economic considerations," not political reasons.
But Arab nations only redoubled their efforts. The boycott reached peak strength during the 1973 Yom Kippur War, when OPEC imposed an oil embargo on Western countries supporting Israel, causing oil to skyrocket to 20 times its original price.
By the 1990s the boycott was withering, after the signing of the Oslo Accords and the peace treaty with Jordan, as well as warmoing of ties with Morocco and Oman. In 1992 Israel began importing Japanese cars, and foreign fast-food giants began opening outlets. The Jewish state seemed to finally be a member in good standing of the community of nations, open for business.
BDS breakout
It was not to be. In the early 2000s, a new threat emerged in the form of a boycott on goods manufactured in the "occupied territories." Then the Boycott, Divestment, and Sanctions movement reared its head, and quickly expanded into new fields, such as cultural boycotts by performing artists. Several big-name performers canceled appearances and took up the Palestinian cause on the world stage.
BDS as a threat concentrates Israeli minds like very few other things can, but how damaging is it really?
"BDS has caused us a lot of damage," said Shuki Weiss, Israel's leading producer and promoter of artistic events, in a 2017 interview with Ha'aretz. "It isn't damage that can be measured across a single summer — it's cumulative and a matter of image more than anything."
By now the Arabs are no longer leading the boycott charge — Europeans and Americans took up the fight. One of the BDS movement's major offensives is the academic boycott on Israeli researchers and universities. Activists on US university campuses seek to portray Israel as a cruel, oppressive, racist regime.
And although Israel is now known as the Start-Up Nation, prominent Israeli firms still find themselves targeted by boycotts or financial pressure whenever there is security tension or a military operation.
In 2015, Orange CEO Stephane Richard announced that he would cancel the company's licensing deal with Israeli Partner Communications Company "tomorrow morning," if it didn't entail a fine of hundreds of millions for contract violation. While Orange denied that the motive was political, Yedioth Ahronoth reported that a campaign had been started against Orange in Egypt for its cooperation with Israel "in every area of Palestine, including the settlements."
That campaign also charged that Orange supports IDF units. "Human rights groups in France have called on their government, which controls a third of the international company's stocks, as well as on the company itself, to stop its cooperation with Israeli Partner due to its activities over the Green Line," noted Yedioth Ahronoth. And indeed, the company renegotiated the agreement, and the Israeli company began operating under the brand-name Partner instead of Orange.
The SodaStream company, which operated in Mishor Adumim (it has since moved to the Negev), as well as Ahava beauty products from the Dead Sea, have also suffered from boycotts. Farmers in the Jordan valley have also complained that there's a silent boycott on their products and that orders are not coming in the same rate as in the past.
The latest controversy came in 2018, when the Airbnb company announced that it would be removing listings from West Bank settlements. In the wake of a legal battle and a discrimination lawsuit, the company reversed its decision, but announced that it would contribute its profits from activities in the West Bank to charity.
Over the years Israel has fought nonstop to counter these boycotts. And while Israel's countermeasures largely failed, the boycotts didn't really succeed either. Israel's is a thriving economy with a booming export business, and for all the political pressure, the EU is actually the top destination for Israeli exports. So yes, Israel has suffered damage from the boycotts, but this has always been short term and localized. All attempts at comprehensive academic or economic boycotts have also failed miserably, and the movement is far outside the mainstream.
As early as 1977 the United States established the Office of Anti-Boycott Compliance to oppose the Arab boycott. As boycotts intensified over the past decade, legislation sprang up across the United States directly targeting BDS efforts. As of today, 35 states have adopted such legislation.
At the same time, Israel's Ministry of Strategic Affairs — whose responsibilities were initially nebulous, serving mostly as a sop to politicians such as Moshe Yaalon and Avigdor Lieberman, who couldn't get a better position — has been repurposed since 2015 to focus almost completely on combating the BDS movement.
Systems test
The Ben & Jerry's decision is an interesting case study because it's the first time since anti-BDS legislation was introduced that a company declared it wouldn't do business over the Green Line. Gilad Erdan, Israel's ambassador to the US, implored the governors of the 35 states with anti-BDS legislation to employ those laws against Unilever, Ben & Jerry's parent company. Five states so far — New York, New Jersey, Florida, Texas, and Illinois — have announced they are reviewing the case to determine whether their anti-BDS laws would require them to divest from Unilever, which is a multinational conglomerate.
So far, Ron DeSantis of Florida is the only governor to take definitive action, directing the state board that manages employee pension funds to begin the review process of divesting from Unilever. Other governors, like Greg Abbot of Texas and Phil Murphy of New Jersey, have condemned Ben & Jerry's decision and called upon the company to reverse course. While things could change by the time you read this, Israel's challenge going forward seems not only to be fighting the boycotts by itself, but getting anti-BDS laws enforced.
One thing is certain: a century after it first arrived, the anti-Israel boycott movement remains a formidable foe.
(Originally featured in Mishpacha, Issue 871)
Oops! We could not locate your form.
>