| On Site |
Altitude Adjustment
| August 23, 2022
A committed cadre climbs Kilimanjaro while never missing a minyan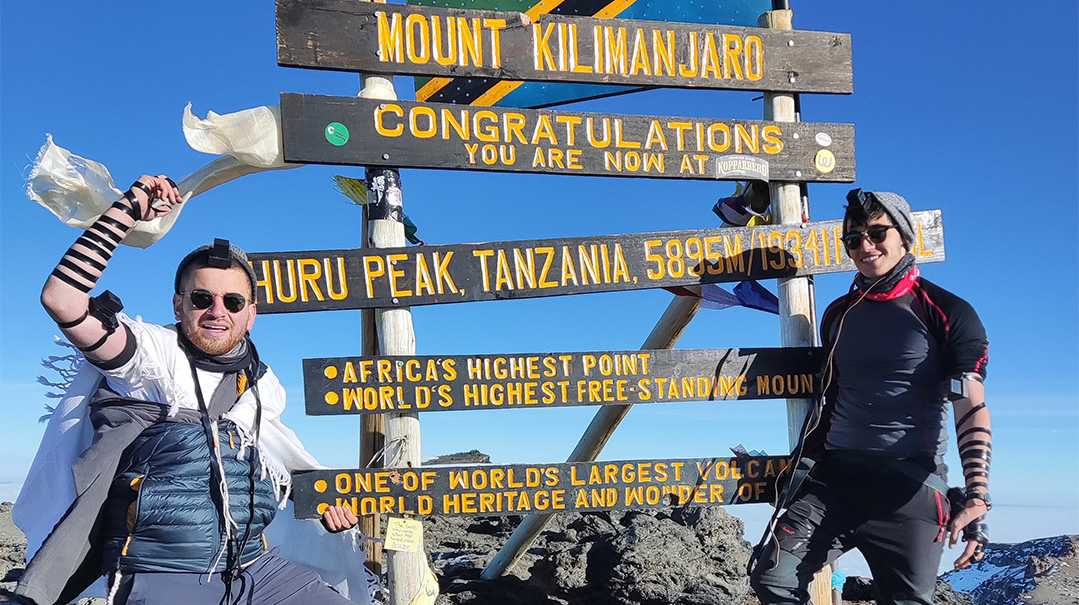 Photos: GIFT
IN a world where extreme obstacle course challenges, 100-mile-plus bike rides and televised marathons with hours of original programming have become the new normal in fundraising, it was obvious to Rabbi Sandor Milun that he needed to aim high to run a successful campaign for the London-based chesed organization Give It Forward Today, better known as GIFT. Drawing on GIFT's reputation for scaling mountains when it comes to persuading individuals to donate, Rabbi Milun, GIFT's managing director, set his sights on none other than the world's tallest free-standing peak — Africa's Mount Kilimanjaro.
"It was early 2020, and I decided it was time to get GIFT on top of the world," says South African-born Rabbi Milun, who joined the organization the year before, after more than a decade in campus kiruv. "Sometimes you have to do crazy things to get yourself known, and I felt we had to do something different, something that would be unique and would attract young people to our organization's giving mindset."
Despite its reputation for extreme weather and its daunting height — 19,340 feet above sea level — in the world of mountain climbing, Kilimanjaro is known as a doable climb. While summiting "Kili" requires no special technical skills or professional climbing gear, it is a physically and mentally demanding endeavor necessitating determination and sheer will. The biggest challenges are the need to maintain a certain pace, and the reduced oxygen levels at the higher altitude. But that didn't scare off Rabbi Milun or the nearly two dozen people who signed up for the 17-day expedition to Tanzania in 2020.
Still, he unexpectedly found himself facing an obstacle that loomed even larger than Kilimanjaro: Covid.
With no other alternative, Rabbi Milun pushed off the trip for a full year, rescheduling for Kili's next optimal climbing season in June 2021. But when the pandemic reared its head once again, it meant another full-year postponement. Nothing happens even a minute before it's supposed to, and in the end he needed another year to meticulously plan the epic event.

Up to the Challenge
O
bviously, coordinating a trip that involves spending Shabbos on a Tanzanian mountain that also happens to be a dormant volcano isn't for the faint of heart. And scaling Kilimanjaro isn't the kind of hike for which you throw some water bottles, sunscreen and a few energy bars into your knapsack and just follow the trail to the top. With climates that shift from tropical rain forest to frigid extreme-arctic, and the looming specter of high-altitude illness, Kilimanjaro is a mountain that demands proper planning.
After interviewing three different companies, Rabbi Milun hired Action Challenge, which organizes mass participation fundraisers in the United Kingdom and beyond, to run the trip.
"It was understood from the outset that we would be keeping Shabbos and having a mashgiach and davening — these were nonnegotiables," says Rabbi Milun. "But the company was very excited to be working with Orthodox Jews and the first time they heard about this thing called 'Shabbos,' they were blown away."
Rabbi Milun gave them a quick rundown on hilchos Shabbos, and then it was his turn to be blown away.
"They told me, 'We'll make a boundary for you and we'll wash all your vessels in the river.' They were beyond professional and were patient, tolerant and understanding."
In addition to organizing the requisite dozens of staffers, Action Challenge sent Rabbi Milun pictures of the pots, pans, and cutlery that were bought for the trip, their wrappings and stickers still intact to prove that they were all brand-new. Finding someone who knew enough about both halachah and Kilimanjaro to discuss the nuances of the trip turned out to be easier than expected. That connection was made, ironically enough, through the pages of this magazine.
Michael Van Messel had already done the Israeli "Yam l'Yam" hike from the Mediterranean to the Kinneret, and when Rabbi Milun floated his idea of the climb, Van Messel's wife encouraged him. Plus, she'd seen the February 2020 Mishpacha article on the Tanzanian city of Arusha by Ari Zivotofsky and Ari Greenspan ("Ari and Ari"), pointing out that there was an active Jewish community located on the foothills of Kili.
Rabbi Milun then reached out to Yehuda Kahalani, the spiritual leader of Arusha's small Yemenite Jewish community, located approximately 50 miles away from Kilimanjaro. Kahalani offered to look over the entire proposed menu for the GIFT trip and all the purchased food items.
"Action Challenge sent him pictures of 60 different items and only five were kosher," Rabbi Milun relates. "He took their cooks to the two or three stores in the area that had kosher food from South Africa and showed them kosher substitutes for every item they wanted to get. They were actually very accommodating. They just didn't realize what they had gotten themselves into with a kosher trip."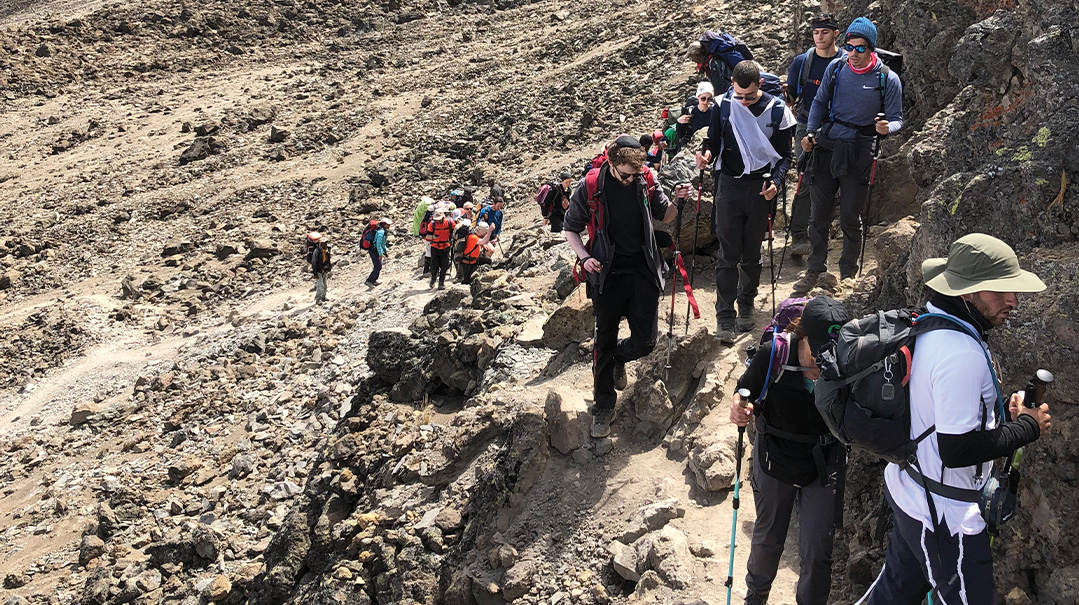 Everyone joining was advised to practice walking long distances in preparation for what to come: hiking through rain forests and scaling cliffs in the clouds, as the summit loomed far in the distance
Start Walking
While having the muscles and stamina of an athlete wasn't a prerequisite for participation in the GIFT fundraiser, climbers did have to be cleared by their personal physicians to ensure that they were up to the task of hiking eight hours a day with a backpack weighing between 11 and 22 pounds. Those who signed up also had to organize visas and insurance policies, and be up to date on their hepatitis A, tetanus, and typhoid vaccines.
Putting together a group for the trip was more than just technical organization, though. It gave Action Challenge a crash course in communal priorities.
"We needed at least 20 people, and by Purim when we had only 12, they started getting nervous," recalls Rabbi Milun. "They talked about quitting, but I told them, 'Give me time — I know the Jews. First we have to get past this little thing called Passover.' "
True to his word, Rabbi Milun managed to enlist 27 participants once Pesach was over. The group hailed from London and ranged in age from a 15-year-old girl who hiked with her mother, to a 64-year-old man with more than 20 grandchildren who had been waiting for two years to take on Kilimanjaro.
Packing for a full week on a mountain isn't quite the same as figuring out what to take for a week in Miami or the Catskills. The list included merino wool and fleece layers, Dri-FIT shirts, rain jackets, leg and neck gaiters, thick socks and a heavy warm jacket. Participants were also advised to wear their sturdy hiking boots on their flight to Tanzania or to pack them into their carry-on bags to make sure that they made it to Kilimanjaro even if their suitcases didn't. And everyone joining the trip was advised to practice by walking long distances, especially on hills or trail routes, in preparation for the climb.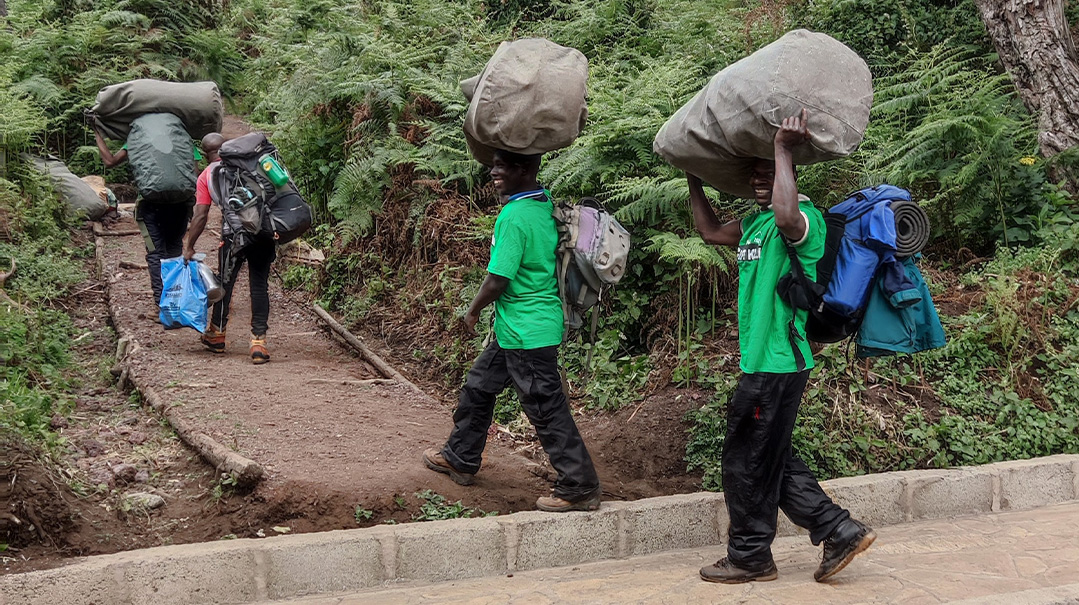 The hundred porters who accompanied the climbers have made dozens of these journeys, carrying the tents, food and camping equipment
It Takes a Village
T
he GIFT trip kicked off on Monday, June 20, with everyone arriving the following day in the nearby town of Moshi, located in the foothills of Kilimanjaro. Instead of staying in Moshi's main hotel, the GIFT group took over a smaller property just outside town, with their mashgiach kashering the kitchen for a hearty pre-trek meal.
While just over two dozen climbers were officially taking part in the fundraiser, the amount of support staff — and gear — needed to get them to the summit is hard to fathom. That complement included waiters, cooks and kitchen staff, and a medic, who distributed anti-malarial tablets to everyone as a preventive measure. A team of 20 guides was on hand to help participants navigate the mountain's often challenging terrain, even carrying their packs on occasion. A hundred porters accompanied the climbers over the course of their seven days on Kilimanjaro, with nearly 20 on the mountain at any given time carrying larger items such as tents, cooking and camping equipment, and enough food to last for several days.
"We brought almost everything from the UK and kept it at the hotel at the bottom of the mountain. They arranged for all of the Shabbos food to be brought up on Friday," says Van Messel.
The guides had chosen Kili's Lemosho Route for the expedition, the easiest of the seven main routes to the summit, with its spectacular views, fewer people, and a 90 percent success rate. Although it's the longest route, it actually provides climbers with an advantage over some of the shorter routes, giving them more time to get accustomed to the diminished oxygen levels at higher altitudes. The fact that Shabbos fell out on the fourth day of the GIFT group's climb was actually a tremendous bonus.
"The guides were keen to see if that extra day on the mountain would give us a higher success rate," notes Van Messel. "We had three days before Shabbos and three days after, and our group had a 100 percent success rate."
When Rabbi Milun first broached the topic of Shabbos restrictions during the planning stages, he made it very clear that it didn't mean just proceeding at a slower pace, but rather no walking at all.
"Action Challenge consulted with Jonas, the head porter, who described it as 'absolute genius,' " says Rabbi Milun. "Having the extra day was very helpful, but who else but us would pay for a whole extra day just to take it off?"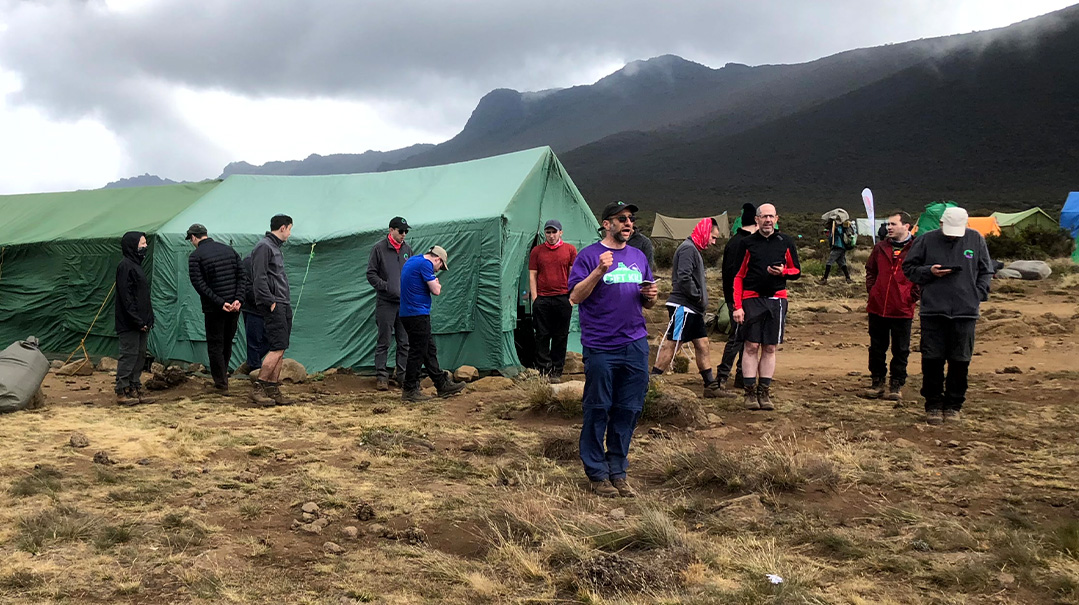 Into Thin Air
Wednesday, saw the group heading off into the tropical rainforest, easing into the climb with just four hours of walking, with an ascent of over 9,000 feet. Over the next day they made their way steadily higher through a semi-alpine zone where drier and cooler temperatures prevailed, and on to the Shira plateau, where they got their first glimpse of the summit. Were they really going to make it all the way to the top of that thing? At the end of the day, the hikers gathered by the rocks at the edge of the camp to watch in awe as the sun descended over the western plain.
The importance of consuming enough calories in order to have the energy to walk for hours on end meant the group's mashgiach turned on the gas each morning for a hearty breakfast of oatmeal, bread, peanut butter, and eggs. Lunches of pasta or rice, along with vegetables, soup, bread, and potatoes were followed by full dinners that offered soup and plenty of vegetables and carbohydrates. Tea, coffee, and energy drinks were on the table at every meal, with beverages and snacks aplenty as the group made their way skyward.
It didn't take long for the guides to realize that working with Orthodox Jews involved situations that didn't exist with other groups. With Kilimanjaro a mere 210 miles from the equator, davening times didn't always align with their strict climbing schedules.
"Because we had to start out very early, there were days we davened up to Barechu without tefillin and then put them on, but there were other days that we couldn't daven as early as they wanted," says Van Messel. "While they had to adapt their routine to accommodate us, they realized that we were doing our best to work with them."
As an avel saying Kaddish, Rabbi Milun stumbled upon another quirk of Kilimanjaro's higher altitudes.
"It is very hard to daven from the amud when there's no air," observes Rabbi Milun. "At times it was a struggle just to catch a full breath and say a full sentence."
By day three, known as the acclimating hike, the climbers reached the Lava Tower at a height of 15,190 feet.
"It was amazing to see the spectacular view of the rainforests below us, where we'd been the day before," says Rabbi Milun. "And their motto, 'Walk high, sleep low,' really works for acclimatization. You go up higher and spend a few hours there, and then come down a few hundred meters to sleep."
And so, the group turned around and descended to the Barranco Camp for Shabbos, located some 2,300 feet down the mountain, sheltered by towering cliffs on each side and blessed with a stunning view of the valley below.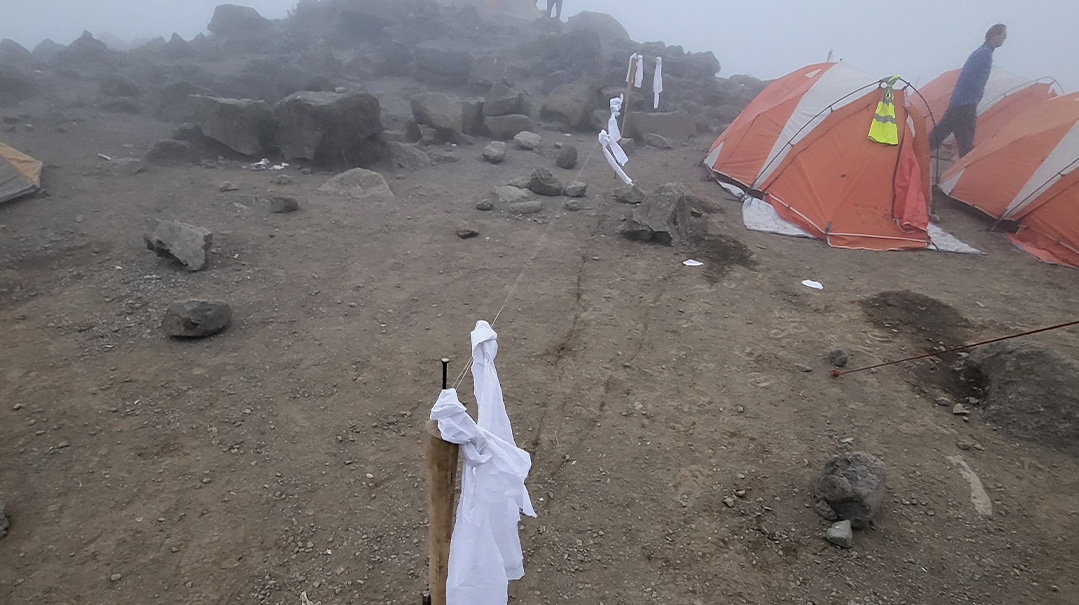 Shabbos in the Sky
Rabbi Milun worked hard to make sure that everything went smoothly for spending Shabbos above the clouds. Setting up an eiruv around the entire camp was a relatively simple endeavor, and the blech that Rabbi Milun brought from London wrapped in a yoga mat kept the food hot and fresh, even though the guides had initially balked at the idea of leaving the gas burning overnight.
There was davening under the open sky and food aplenty in the mess tent, with kosher beef stroganoff, cold cuts, chicken soup, smoked salmon, salads, and dips accompanied by divrei Torah and zemiros, and a Shabbos morning siyum on Gemara Taanis that left everyone feeling elevated beyond the camp's 13,000-foot altitude.
"The only thing missing was a sefer Torah. We spoke with Rabbi Shraga Feivel Zimmerman, rosh beis din in London, who said it would be a bizayon to bring it — and it was too heavy for any of us to carry for that distance," says Rabbi Milun. "He suggested that instead, we read the parshah from a Chumash."
By the time the stars were out, even the guides were infused with the Shabbos spirit.
"The carpet of stars that Hashem showed Avraham — we saw that," says Van Messel. "There were stars from one end of the sky to the other, and the atmosphere outside at Havdalah was absolutely fantastic."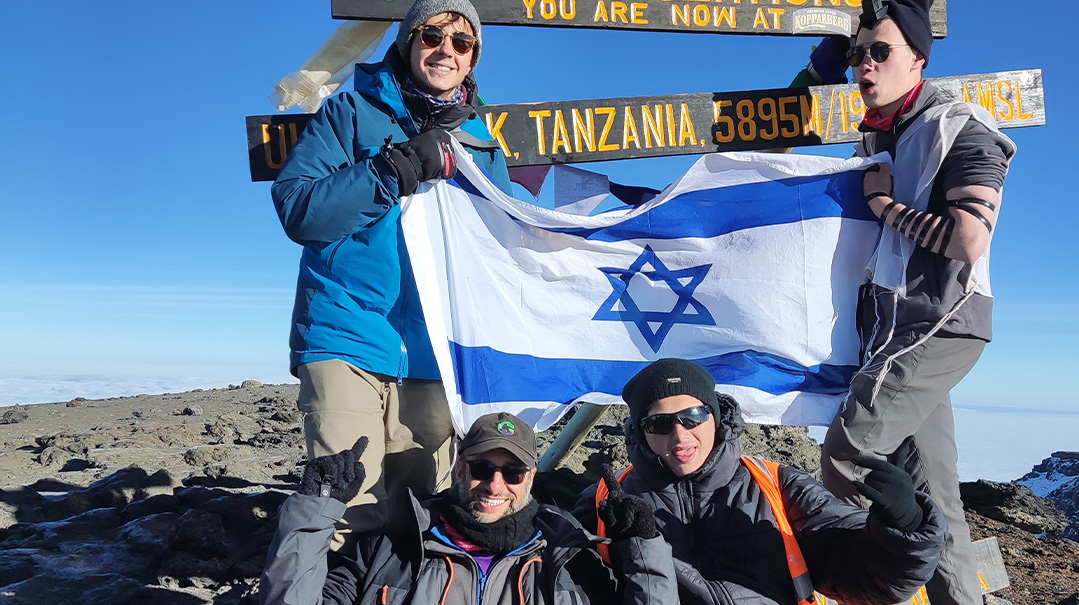 On Top of the World
The dawn of a new week came with an infusion of energy and excitement. The schedule for the next 36 hours had participants scaling a volcanic rock wall as they continued the steady pace of their upward journey. By Monday afternoon, the one member of the GIFT group who had come along to enjoy a mountain experience, but had no desire to actually summit Kilimanjaro, returned to the base camp. Everyone else bundled up to stay warm amid the colder temperatures of 15,331 feet, and went to sleep after lunch to rest up for their climb to the Uhuru Point summit.
To describe the climb to Uhuru Point as demanding would be a serious understatement.  Climbers generally begin their final ascent at midnight, which had the GIFT group waking up for Maariv and a quick meal before donning their head lamps and heading for the peak. While the distance from Barafu Camp, where participants had made their last stop, to the summit is just over three-quarters of a mile, the pace was painfully slow because of the lack of oxygen at that altitude.
"I couldn't walk more than ten steps without stopping and panting from sheer exhaustion. At some point everyone asks themselves, 'Why am I doing this?' " recalls Rabbi Milun.
But pushing past those first few hours, the magic finally kicked in, even as the temperatures plummeted and the oxygen dwindled to half that of sea level.
"Your brain tells you that the sun is coming up, and that you're going to get warm and that you're almost at the top," says Rabbi Milun. "When you see that first ray of light on the horizon, you suddenly realize that you can do it."
The entire GIFT group made it to Uhuru Point 19,341-foot elevation at dawn, passing ice cliffs and glaciers that cover much of the summit area. Temperatures at the summit hovered at approximately 14 degrees Fahrenheit without factoring in the windchill.
After spending some euphoric moments savoring the feat, the group headed to a lower level to daven Shacharis, where some of the heartier souls took off their coats, despite the freezing weather, to don their tefillin. (Others waited for Minchah.) The hours over the next day trekking down Kilimanjaro through the rain forests were exhilarating, the increased oxygen levels gave another reason to celebrate.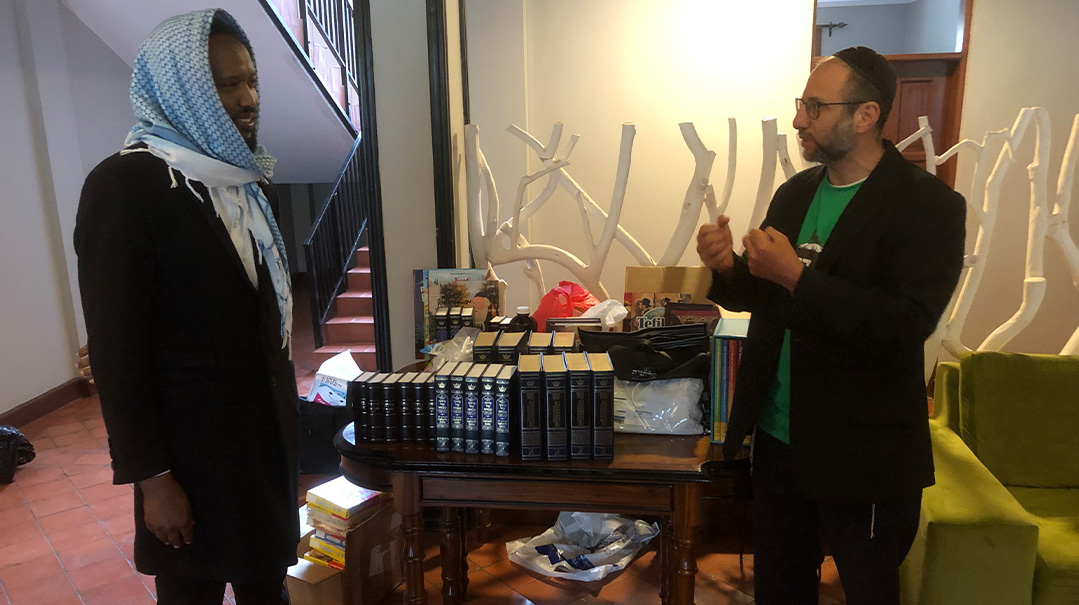 Yehuda Kahalani of Arusha was happily rewarded by Rabbi Milun for his help, with bags full of seforim and other items for his kehillah
Gift of Giving
More than just a fundraiser and an incredible adventure, GIFT's Kilimanjaro climb also offered opportunities to show mutual gratitude. Jonas and his team of porters were visibly touched to receive the same swag bag that had been given to the climbers by a group of Hasmonean high school girls, delighting in their new GIFT fleece zip-ups, caps, T-shirts, hand sanitizer, and assorted snacks.
"Jonas told me that he had climbed Kilimanjaro 357 times with other groups, and he rarely got anything besides a tip," says Rabbi Milun. Of course, the support staff got generous tips from the grateful GIFT hikers as well.
The day after their expedition, Rabbi Milun extended an in-person thanks to Arusha's Yehuda Kahalani, who came to meet the group at their hotel in Moshi. He didn't leave empty-handed either.
"We found someone who generously donated seforim and Judaica for him," says Rabbi Milun.  "We schlepped 11 bags filled with meat, Chumashim, seforim, tzitzis, kids' books, and other items, and we had a little ceremony where we presented it all to him. While they do get bread and meat in Arusha from South Africa, they can't get grape juice or wine, so we also brought them a supply of Kedem grape juice."
While there's no question that the Kili climb was a fundraising success, blowing past its goal of £60,000, bringing in over £100,000, the trek up to the summit offered other rewards beyond dollars and cents. They got an up close glimpse of real African life from the guides and the porters, which made a surprising impression.
"The typical salary in Tanzania is about two dollars a day, and it was an eye-opener for us to see how they have so little and are content with their lot," notes Van Messel. "Living as we do in a rat race where we're always running, we found ourselves stopping to really see the world in a different way. We learned a lot from the locals about what's really important and what makes you happy in life."
While the climb was clearly a physically challenging endeavor, there was much more than endurance and strength on display as the days went by. The achdus between the group's members deepened daily as they connected and looked out for each other, sharing sunscreen, water, and snacks as they made their way up the mountain.
"Even the more reserved British people came together in an unbelievable way, and there was so much emotion, especially on summit night," says Rabbi Milun. "One of our guys told me that he cried for two straight hours that night hiking up the mountain, how he hadn't cried since he was eight years old. In the end, a week after 27 individuals took their first steps up Kilimanjaro, we were all like family. And we learned that life isn't always about the endgame, but the journey itself."
Rabbi Milun has already booked next year's trip, excited that not only has his organization laid claim to the Kilimanjaro niche, but did so in an unprecedented way.
"We kept to our mission," he says. "It wasn't just about climbing Kilimanjaro. We climbed Kilimanjaro without compromising on Shabbos or tefillah. We went up there and, with Hashem's help, made a kiddush Hashem as we conquered the mountain."
(Originally featured in Mishpacha, Issue 925)
Oops! We could not locate your form.
>