| Recipes |
Almond Crust Citrus Curd Pie | March 21, 2023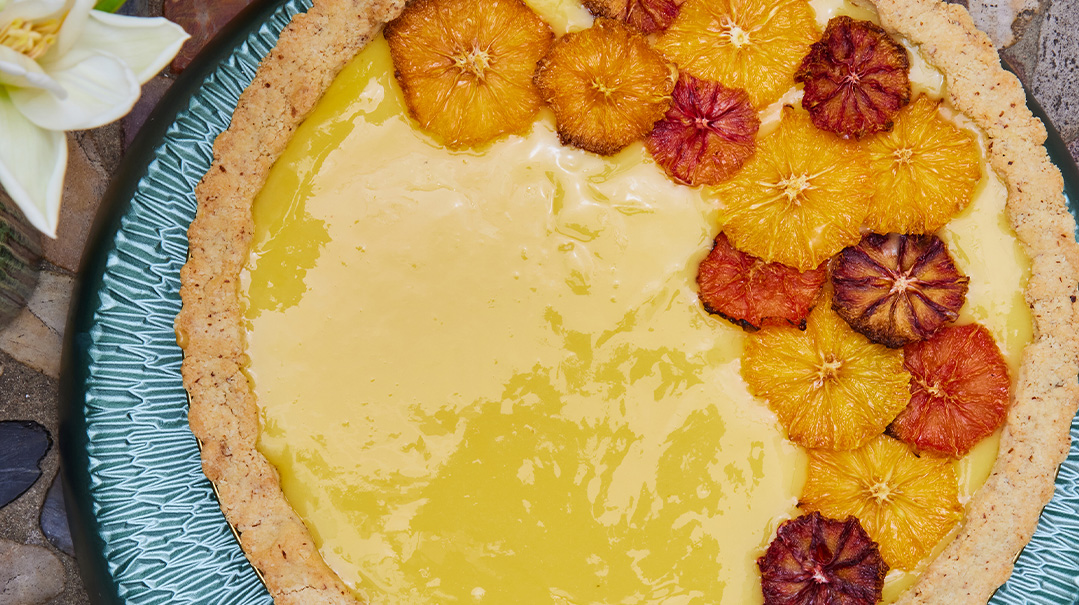 Food and Prop Styling by Shiri Feldman
Food Prep and Styling by Chef Suzie Gornish
Photography by Felicia Perretti
The orange-lime combination makes for a seriously dangerous dessert — you won't be able to stop yourself from a second or third helping. A real Pesach recipe winner!
SERVES 8–10
Almond Crust
2 cups almond flour
½ cup ground almonds
¼ cup sugar
scant ¼ tsp salt
¼ cup oil (I used coconut oil)
1 egg
½ tsp vanilla extract (optional)
Orange-Lime Curd
1⅓ cups freshly squeezed orange juice, divided
¼ cup + 1 tsp potato starch
1 Tbsp lemon juice
2 Tbsp lime juice
¾ cup sugar
3 egg yolks
1 Tbsp oil
Garnish (Optional)
2 oranges, scrubbed and sliced into thin rounds
For the crust: Preheat oven to 350°F (175°C).
Whisk dry ingredients together in a bowl. Add oil, egg, and vanilla extract, if using. Knead dough until well combined. Press into a greased 9-inch (23-cm) pan, working the mixture up the sides. Pierce the bottom of the crust with a fork so the crust doesn't puff up. Bake for 25 minutes, or until crust turns golden.
Combine half the orange juice with the potato starch in a medium-sized pot. Stir until potato starch is fully dissolved. Add remaining orange juice and lemon and lime juices and sugar. Stir to combine. Heat mixture and stir in egg yolks one at a time, whisking constantly so that the yolks do not clump.
Simmer over low heat, whisking constantly as the mixture starts to thicken. Cook for a few more minutes and remove from heat; whisk in oil. Refrigerate and pour into baked pie crust when ready to serve. Garnish with dried orange slices, or as desired.
To make the garnish: Spread orange slices onto a Palisades Parchment Paper-lined baking sheet and bake at 250°F (120°C) for about 21⁄2 hours, turning once in middle. Once the oranges seem mostly dried out but still flexible, they're ready. Remove from oven and allow to cool. Store in a ziplock bag in the refrigerator. You can also dip them halfway into melted chocolate for another flavor and look.
Variation: Try this delicious raspberry curd for an equally delicious dessert! Whisk together 3 eggs, 1 cup sugar, zest of 1 lemon, 6 Tbsp raspberry jam (run through a sieve to remove any lumps), and 1⁄2 cup margarine or 1⁄3 cup oil in a saucepan over low heat for approximately 8 minutes or until it almost reaches a pudding-like texture. Refrigerate immediately. The mixture will firm up in the fridge. Pour into pie crust right before serving and garnish with fresh fruit.
(Originally featured in Family Table, Issue 835)
Oops! We could not locate your form.
>