| Point of View |
All Is Not Lost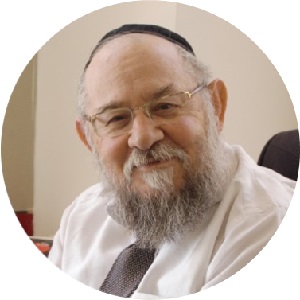 | June 5, 2019
In contrast with Elimelech's selfish escape, Rus's chesed glows
"A man went out from Beis Lechem in Yehudah to dwell in the fields of Moav" (Rus 1:1).
O
ne day, the neighbors noticed that the house was locked, shuttered, and shrouded in gloomy silence. He had left. He'd taken his wife and sons and disappeared.
The whole town gathered and stood numb before the locked door as the last of their hope evaporated. There was no one among them now to avert the crisis. It was here to stay, and for how long, no one could say.
For the man who slipped away like a thief in the night was the person they looked to as their leader. He'd been asked to govern, and had declined to take the executive's chair. The people knew he had the requisite talent to resolve the crisis, but he had turned a deaf ear to their pleas. They'd begged him to rehabilitate their failing economy and formulate a plan to combat the hunger that was plaguing them. But he ignored them. He'd come to the conclusion that the situation was irreparable, and having arrived at that conclusion, he decided to put himself first.
He viewed these petitioners as a band of schnorrers with their greedy eyes on his fortune. Their offer to put him in power was nothing, as he saw it, but a means of getting at his property and dividing it up among the poor. He had no obligation to support them. He wasn't responsible for the mess they were in; they'd brought it upon themselves with their own foolishness. It was their problem, and all he wanted now was to be far out of the spotlight.
So he left Eretz Yisrael for the fields of Moav.
This was Elimelech, the sad antihero of Megillas Rus, the man Chazal describe as "one of the greatest of his generation, and one of its leaders," whose escape is compared to the escape of a fox, the man who "caused Israel's heart to fall."
How did this come about? How did a great man sink so low?
It began earlier, when Yehoshua passed away.
The news spread through the land from city to city, from village to village. It made its way to the farmers plowing their fertile fields, to the winemakers tending the vineyards heavy with plump fruit. Hearing the news, the people shook their heads, raised their eyebrows for a fleeting moment, and perhaps let out a polite sigh. Then they hastened back to their work, back to their harvests, back to their wineries and threshing-floors, back to their pursuit of wealth.
There was no public show of mourning.
This is what Chazal discern from the pesukim:
"And Yehoshua died… and they buried him" (Yehoshua 24:29-30). There is no mention of weeping or mourning, unlike the verses describing the passing of Moshe. So Chazal deduce that "the people were indolent in doing kindness for Yehoshua" (Midrash).
Grief over someone's passing testifies to the place he held in the mourner's heart. It shows that the mourner has a heart for someone besides himself. With their apathetic response, the people showed that they felt no debt toward Yehoshua, no gratitude for the great things he had done for them. They felt no need to acknowledge the man who had led their conquest of the Land and bequeathed them their portions, who had enabled them to dwell in peace. Their leader had done his work, and now he could go.
That sense of entitlement, free of any impulse to give back, continued to gnaw away at the national character throughout the period "when the judges judged." The fabric of society gradually unraveled, and with it unraveled the daily stuff of human relations.
The national sport was dividing up the cake and going for the best and biggest piece, without consideration for the needs of others. The desire to horde acquisitions opened the way to all sorts of wiles. The fear of outside interference gave rise to a complete and utter focus on the self and disregard for the bigger picture — all in the name of freedom, of course.
"Every man would do what was right in his eyes" (Shoftim 17:6). No one has the right to interfere in what I do, and I owe nothing to anyone, nor to society. People became territorial; their feeling for one another slowly died, and selfishness blossomed.
Just a fine line separates individual freedom and anarchy, and the final chapters of Sefer Shoftim vividly describe what ensues when "every man does what is right in his eyes." Among the egregious results of this worldview were the idol of Michah and the atrocious attack on the concubine at Givah. In the end, Jews were slaughtering each other in the war against the Tribe of Binyamin.
What was HaKadosh Baruch Hu's response?
Am Yisrael had disappointed Him grievously. Their settlement of the Land was a failure; the ideal society had not arisen. The Midrash tells us that HaKadosh Baruch Hu weighed His decision: "To destroy them, I cannot; to return them to Egypt is impossible. To exchange them for another people, I cannot. What, then, shall I do with them? I shall chasten and purify them through hunger."
Self-centeredness gives rise to moral anarchy, and it presages economic collapse, famine, and the breakdown of social order. These awaken the realization that society cannot go on this way, that repairs are desperately needed. Thus, the crisis can serve as a corrective, priming people to do teshuvah.
Thus was the stage set for Elimelech to lead a significant change for the better. But what did he do?
He could have led the people to change their ways and rebuild. Instead, he ran away to Moav. Self-centeredness celebrated another victory.
Why didn't anyone stop him?
Again, it was because "every man would do what was right in his eyes." Much as they wanted to keep their leader, no one felt he had the right to interfere. Even if the laissez-faire approach would bring on catastrophe, they thought interference was a greater danger: because if I interfere in someone's life today, tomorrow he might interfere in my life.
And so the people stood helplessly in front of Elimelech's abandoned house, feeling that this was the end.
But it wasn't the end. Rus was the new beginning.
It was Rus, the giyores from Moav, who sparked the turnabout. This foreign princess displayed the attribute that was lacking among the Jews of the time: openness toward others. Chesed in its most basic form means acts of kindness that are free of all self-interest whatsoever. Goodness for its own sake, with no personal gain. This echoes the Creator's chesed, for He had no need of a world at all, yet He created it in order to bestow good upon others.
Rus's main contribution to Judean society lay in the fact that there was nothing revolutionary about her. She did not become a role model for all time by launching a tzedakah organization or leading a public struggle for the rights of the oppressed (although these are certainly worthy causes). She transformed the selfish character of the society she joined through a simple, quiet, unseen act, but an act that nevertheless broke through the darkness like a beam of light.
"She, the young princess, followed an old, forlorn woman to a foreign land, to share her fate and support her by quietly listening. That was chesed, of which Hashem said through the mouth of the navi, 'For these I have desired…' This is what the navi who wrote this Megillah is teaching us: In order to save a nation from sinking, in order to give its life a new pathway, there is no need for earth-shattering actions, but small acts between man and his fellow — this is the path to real change. For the world's future is built upon bringing people close and on relations of kindness between them. And no other foundation has the power to repair and elevate humanity, as does chesed…" (Nachalas Yosef, a commentary on Megillas Rus by Rav Yosef Lefkowitz, a talmid of the Alter of Slobodka).
By her very presence in Judea, Rus engendered a quiet revolution. She lived without pretense, free of the excess that characterized the generation. Her modest acts of kindness, free of self-interest, spurred people to change their quid pro quo mode of living. They felt ashamed before her. Under her influence, hearts slowly began to open, like flowers touched by the morning dew. Her acts were modest in scope, but so pure in their simplicity that no one could resist the power they radiated.
Rus was the beginning. Through the chesed she did for Am Yisrael, through dispelling HaKadosh Baruch Hu's anger with them, she merited becoming the mother of royalty — the kingdom of Beis David. She is the first link in the chain that ends with the Mashiach. His greatness will be the greatness of Rus: a greatness that breaks down barriers between people through the power of his mighty personality. Here in this world, bringing change to relations between peoples and nations, restoring mankind to its natural form as a creature that calls upon the Name of G?d.
In contrast with Elimelech's selfish escape, Rus's chesed glows. In opposition to his view that all was lost, she proved that there is hope.
(Originally featured in Mishpacha, Issue 763)
Oops! We could not locate your form.
>