| Magazine Feature |
All Hashem's Children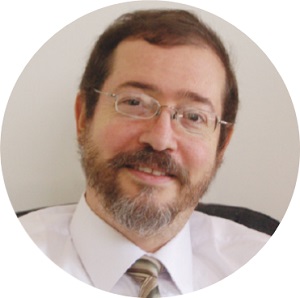 | May 10, 2022
Rabbi Zechariah Wallerstein always kept his eye on the goal, knowing the potential was always there for transformation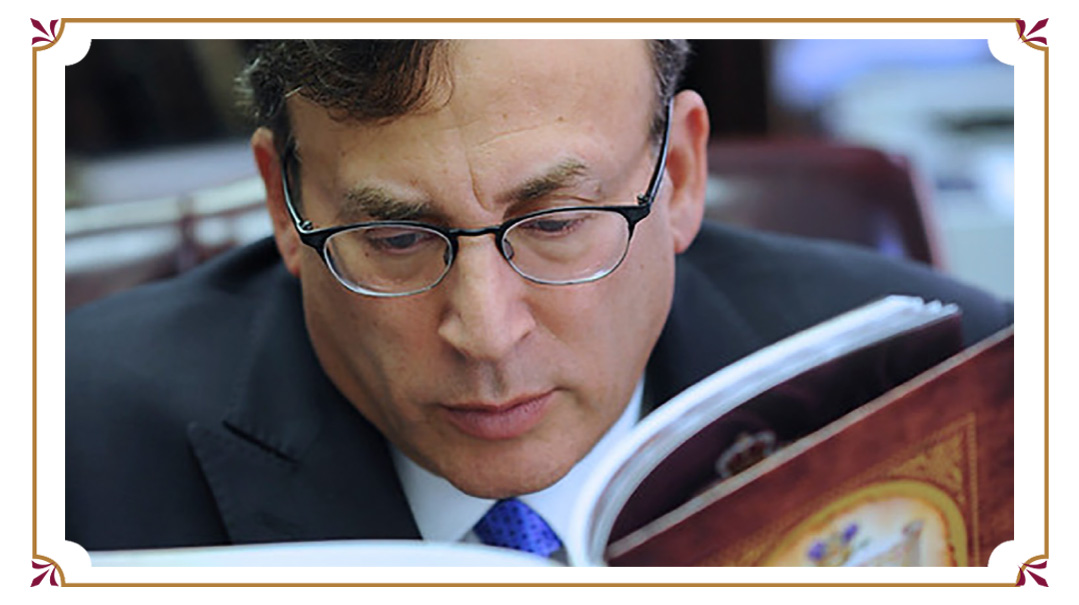 Photos: Dmitriy Kalinin
IT didn't take much
to get seventh-grader Zechariah Wallerstein to stare out of his classroom window. Athletic and musically inclined, he was a popular kid, whose big heart and infectious smile were obvious from the moment you met him. But academics weren't his strong suit, and if the day's lesson wasn't compelling, his attention easily wandered.
The youngster was fascinated by the butterflies that filled a field adjacent to the yeshivah building, and one day he asked his rebbi if he could explain why Hashem had created the miracle process by which the homely caterpillar metamorphoses into a magnificent butterfly. "Don't ask questions about Hashem!" came the rebbi's annoyed retort. Undeterred, after school that day, Zechariah ran off to the local library, where he studied everything there was to know about how a caterpillar morphs into a butterfly.
The natural world is brimming with miracles, but the transmutation of caterpillar into butterfly is in a class of its own. It conveys a singular message of unlimited possibility and potential, proof positive that if one creature can literally transform into another one entirely, then nothing at all is fixed or immutable. Everything — everything — is possible in Hashem's world.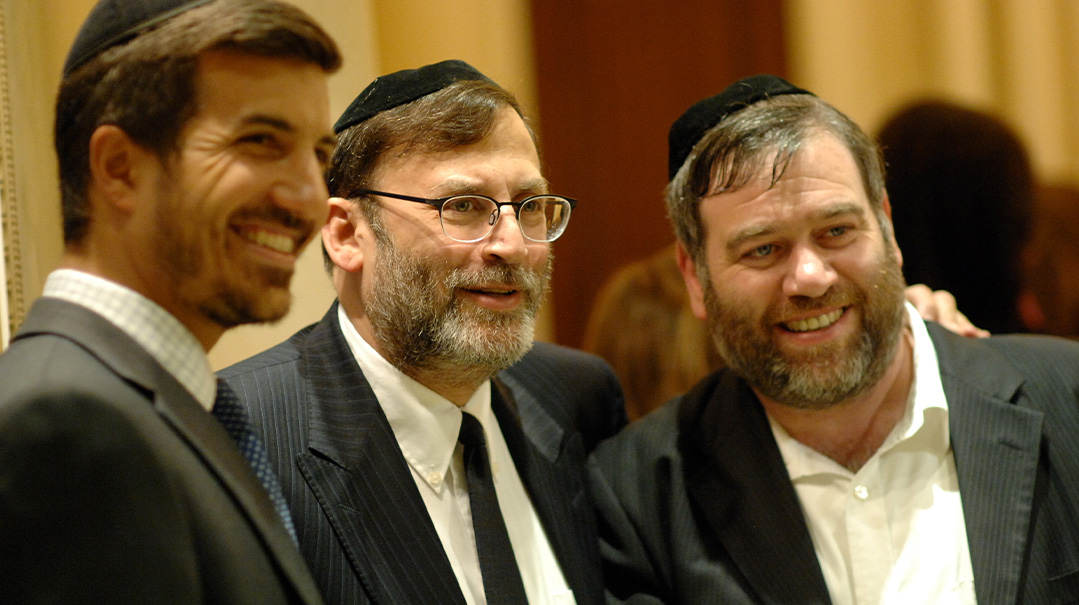 "Rabbi Wallerstein told me to be a Nachshon." Jeff Stern, Rabbi Wallerstein, and Yanky Elefant
Missing Rebbi
It was the belief in unlimited potential and the power to change that exemplified the life of the Monsey grade-schooler who grew up to become Rabbi Zechariah Wallerstein,  whose untimely passing last week at age 64 after a brief illness, was a devastating loss. Recreating himself time after time, he came to touch the lives of an ever-widening circle of fellow Jews, helping to release a thousand other butterflies to spread their wings and soar. His brother-in-law and close collaborator, Yanky Elefant, described him as someone "who simply didn't see what he was looking at in front of him. He only saw potential."
After high school, Zechariah studied in Brooklyn's Mirrer Yeshivah. His winning personality earned him lots of friends, but, as one contemporary recalls, "no one wanted him as their sports league captain because with his big heart, he'd choose the guys no one else would." A drummer and a hoopster, he was one of the cool guys, not likely headed for a career in klei kodesh, and when at age 20, he married Estee Elefant, he planned to join his father in his plastic bag business. But Yitzchok Wallerstein saw something in his son Zechariah that perhaps others hadn't, and pushed him to spend his mornings teaching before coming into the business in the afternoon.
For the next 35 years, Reb Zechariah did precisely that, never taking a penny from teaching. Growing up, Zechariah had felt the sting of being taught by people ill-suited for the classroom — a rebbi once assured Zechariah that he'd never amount to anything more than a "large sewage rat" — and he was determined to be a major force for good in the lives of his young charges.
Teaching the eighth grade in the Crown Heights Yeshiva, then located in Mill Basin, Brooklyn, he was a larger-than-life figure who for one entire week each year whipped the entire school into a frenzy of mitzvah performance in a version of color war that he dubbed "Torah War." There were barbeques and trips to Bear Mountain, late-night mishmars and ball games galore, and when his boys were hungry, he'd pile the entire class into his Cadillac and take them to Kosher Delight to order whatever their hearts desired. Dynamic and extremely dedicated to his boys, "Rebbi" — as he insisted the boys call him — made Yiddishkeit exciting for the first time in their lives.
Rabbi Moshe Shapoff, a Stoliner chassid and longtime resident of Jerusalem's Givat Zeev neighborhood, was one of those boys, and he remembers the deep impression Rabbi Wallerstein's straight talk about Torah and emunah made on the class. "Even though we were a really tough bunch of nonreligious kids, he had control of the class because we knew he loved us and we had such respect for him. I remember him asking the class what they did on Pesach, and one kid said, 'Rebbi, I went to McDonald's — but I didn't eat the bun!'
"We weren't even frum but he'd always tell us, 'Torah is the ikar,' even writing that in my graduation autograph book, and we understood. When he was niftar, I emailed the news to an old classmate I keep up with, a guy in Florida who's married to a non-Jew. And he responded, 'He cared so deeply for us. Boy, am I going to miss Rebbi!' "
Toward the end of eighth grade, he called all the parents to a meeting where he announced: "In case you thought that after 120 you'd have a financial excuse for not sending your sons to yeshivah high school, I'm removing that excuse by committing to underwrite four years of full tuition for everyone in the class." Jeff Stern, a local kid from a nonreligious, single-parent family, indeed went on to yeshivah high school, but four years later and still not religious, he felt he was done with yeshivah and registered to start at SUNY Albany that fall.
But his plans changed on a visit to Rabbi Wallerstein, who asked, "You mean you haven't considered yeshivah?!" He took Jeff aside and begged him to reconsider. "I'll pay for your plane ticket and a full year's tuition," he said. "I'll take care of everything, all you need to do is say yes." Overwhelmed by Rebbi's concern, Jeff spent two years at Neve Tzion, and has been like a member of the Wallerstein family ever since.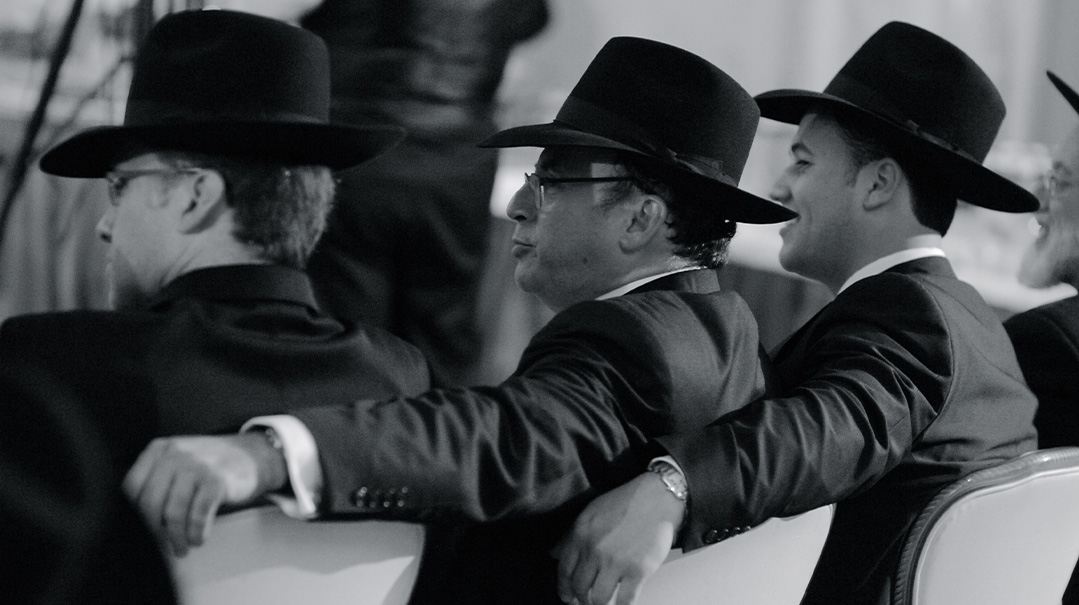 Family was everything — with brother-in-law Moishy Katz and son-in-law Duvie Zicherman
Ever-Extending Ripples
Jeff's story may seem inspirational but not uncommon — rebbi influences nonreligious kid to go to yeshivah high school and on to Eretz Yisrael, where he becomes frum — but it doesn't end there. Because Zechariah Wallerstein wasn't just a rebbi — he specialized in giving flight to butterflies, showing people with a caterpillar mindset that they could become something entirely, unimaginably different.
Jeff recalls that during the summer before his second year of law school, Rabbi Wallerstein approached him to take a position as a rebbi in a yeshivah high school in Brooklyn.
"I was far from being a talmid chacham and this was way out of my frame of reference. I honestly though it was a joke. But he said to me, 'These kids can relate to you because you also grew up nonreligious but went to yeshivah and turned your life around, so you have street cred. You're a ballplayer and you have a great personality.' I had no résumé, no credentials, but he forced me to show up for an interview. Then he talked the principal into hiring me, saying, 'Trust me, just hire this guy.' And what do you know? They hired me."
Two years later, after juggling teaching with law school, Jeff was ready to graduate. And with a little daughter and another child on the way, he started looking for a job in a law firm, figuring that was the end of his stint as a rebbi. "But Rabbi Wallerstein said to me, 'Yehuda, some of your guys have already become shomer Shabbos because of you. It's assur for you to leave teaching! Hashem controls parnassah — call the yeshivah and tell them you'll be there in September.' I was feeling the pressure from my in-laws and my friends to get a job, and here Rabbi Wallerstein was telling me to be Nachshon and just jump into the water and defy logic," Jeff remembers.
"That September, on my first day back as a rebbi, a friend calls me and says, 'I spoke to my cousin about you, and he's willing to try you out in a part-time position at his personal-injury law firm starting at one in the afternoon.' I took the job, and after working there for just two months, I got a case that until today is the largest one I've had in my entire legal career. Twenty-three years later, I'm still an attorney with the same firm — and still a high school rebbi, too."
Sometime later, Jeff Stern got a chance to repay the favor and help Reb Zechariah discover the potential that lay dormant within him, too. He asked him to begin giving shiurim to guys, but at first Rabbi Wallerstein refused. "Comical as it now sounds," Jeff says, "he fought me on it, because he felt insecure about his ability to communicate well outside of an eighth-grade classroom context." When he finally agreed to give it a try one week, Jeff gathered six friends for a shiur in the ezras nashim of Rabbi Weinfeld's shul in Flatbush. They loved it, and the next week, attendance doubled, quickly snowballing thereafter into a weekly audience of a hundred plus. Rabbi Wallerstein went on to become one of the most sought-after speakers on the frum circuit.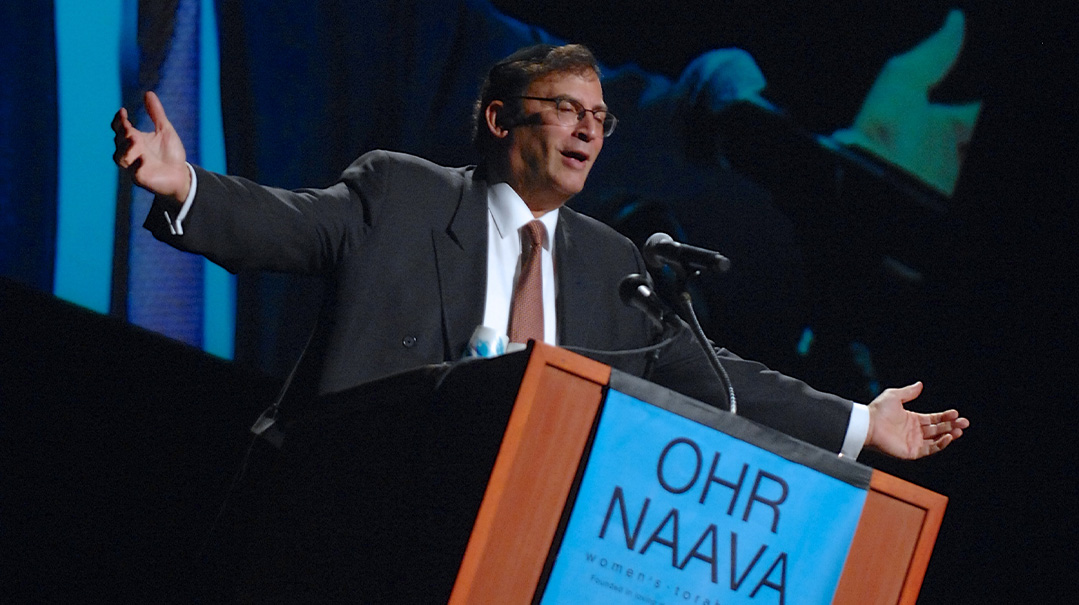 All about Change
It wasn't long before another plea came to him, this time from a group of girls who contended that while guys returning to the States from yeshivah in Eretz Yisrael can continue on in yeshivah, girls who come back from seminary and don't get married right away have nothing to help them stay spiritually vibrant and growing. His initial response was, "I don't give shiurim to girls." When he saw how real the need was, however, he agreed to give a shiur Tishah B'Av night to a handful of girls, but word spread and upwards of a hundred young women packed into the premises.
That evening became the seed from which Ohr Naava germinated nearly two decades ago, blossoming from a weekly post-seminary study group into a multifaceted educational network for Jewish women of all ages. Cofounded by Mrs. Daphne Hanson, it came to encompass the Ateres Naava seminary, where girls who'd emerged from the Bais Yaakov system with questions about Yidddishkeit could fortify themselves and have a positive frum experience before venturing out into the world at large; a Torah center with a full weekly schedule of classes; and shabbatonim and special programs like Avinu Malkeinu: A Night of Awakening, which brings thousands of women together in venues worldwide for pre-Yamim Noraim inspiration.
And Ohr Naava's logo? Rabbi Wallerstein chose a butterfly, of course, and Elisheva Perlman, Ohr Naava's first marketing director, founder of the Anelis Group firm, and a close friend of the Wallersteins, added the tagline "It's all about change." Because for Rabbi Wallerstein it really was, for himself and every person whose path he crossed.
As the years went by, he shed one personal cocoon after another. Digging deep to find the inner resources within him, he moved from teaching nonreligious eighth graders to reaching out with inspiration and support to frum young men and then, to their female counterparts.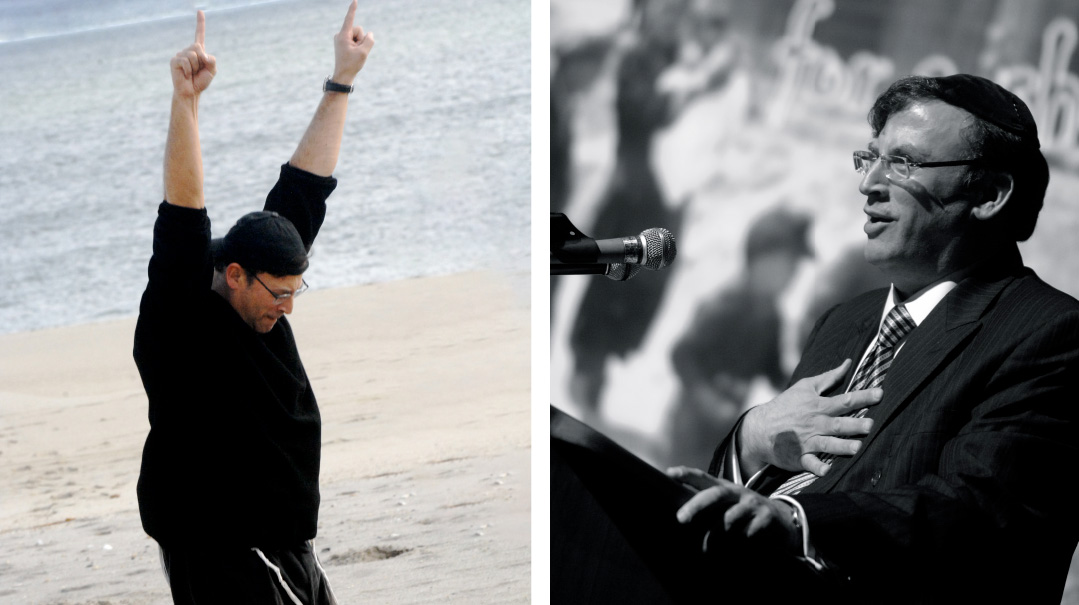 He was one of the cool guys in high school, into sports and music, an unlikely candidate for klei kodesh
His Last Stand
Less than a decade and a half ago, he set his sights on the final frontier: addressing the needs of some of the frum community's most troubled members. Seeing the need for a high school-level program for girls out of school due to their personal struggles with severe family dysfunction, abuse, mental health problems, and drug use, he founded Bnos Chaya Academy (BCA), still today the country's only such school.
Rabbi Yisroel Grossberg came on board as BCA's principal after chancing to meet Reb Zechariah at a vort. "I bemoaned that at the boys' high school where I was then, the menahel had begun upgrading its program to focus on getting metzuyanim, saying, 'That's not what I got into chinuch for,' and he smiled and said, 'Well, if you got into chinuch to help people, I have a good suggestion…' Intrigued, I decided to found out what he had in mind, and after a meeting that lasted into the wee hours of night, I signed on as principal of BCA.
"At first, I wondered about Rabbi Wallerstein's secret power. 'Bameh kocho gadol?' Then, when we were doing interviews with prospective students, one girl was obviously not a good fit, needing more help than we could provide. I was ready to go to the next interview, and Reb Zechariah said, 'Sure, you go on. I'm going to be busy now.' He spent the next two hours sitting with that girl's parents trying to make sure they were able to find the right place for her. For most people, if you interview a student and she's not for you, that's it, onto the next one. Not him. It wasn't about him or even his school. It was about what he'd always call 'Hashem's children.'
"The next day we interviewed another girl from Lakewood, but her parents were totally uninvolved, and we needed their signature on a document in order for us to accept her. The next day, I came into school, and there was the signed paper. Rabbi Wallerstein had driven out to Lakewood and back just to talk the parents into giving their signature. That's when I realized what I was dealing with in Rabbi Wallerstein.
"He would do anything for his girls, and for kids who had no stability in their lives that was a big thing. When we did an event and there was a question of going to a nicer place or one not as nice, he would opt for the nicer because 'for the girls, it has to be nice.' And this was money coming out of his pocket — because he never took a penny from any of his mosdos."
Today, Rabbi Grossberg heads Bnos Binah, a seminary Rabbi Wallerstein established three years ago for mainstream Bais Yaakov high school graduates seeking a more hashkafah-oriented curriculum similar to what's taught in seminaries for baalos teshuvah. Realizing that BCA's graduates would be heading off to the unwholesome environment of secular colleges, Reb Zechariah decided he needed to open a seminary for them, too, where they could have limudei kodesh while earning college credits. And although Rabbi Grossberg argued it was totally unfeasible financially, Rabbi Wallerstein insisted that it was a need that had to be met, and the seminary was open for five years, until other options were found.
In perhaps his most revolutionary endeavor, Rabbi Wallerstein also created the Ranch at Bethel, a first-of-its-kind, Orthodox-run residential environment for girls, offering classroom academic instruction with individualized support and equine and horticultural treatment programs. Although there are many fine residential programs around the country, the Ranch is the only one from which girls can emerge not only emotionally healthy, but with their Yiddishkeit fully intact as well.
Because He Cared
For all his involvement in large communal undertakings, however, Rabbi Wallerstein's primary focus was always on the individual. He was, says Rabbi Grossberg, "the 911 call when parents found out one of their kids needed help. He was the person guys on the street could go to just to talk. When there were leftovers from meals at school, he'd take it all to the basement of the Shomrei Shabbos shul in Boro Park, where down-and-out Yidden know they can get something to eat. He just cared." Nor did his nonstop involvement in so many other Jewish families' lives detract from being a devoted husband and a doting father and zeideh to his own five daughters and their families.
His openhanded magnanimity was legend. At his office, the lines of tzedakah collectors, whether meshulachim or Boro Park's destitute, were out the door, and they knew they could expect big checks, too. Jeff Stern saw him write a $20,000 check to a total stranger, and when his bookkeeper complained the business was going into the red from his out-of-control tzedakah giving, he simply smiled and insisted she had the numbers wrong.
He paid yeshivah tuitions for countless students, and when they married and were in need, down payments on their homes, too. Yanky Elefant recalls how a girl whose parents had abandoned her and her four siblings reached out to his brother-in-law, afraid the bank would foreclose on the house, and they'd be out on the street. Without blinking an eye, Reb Zechariah took out a $350,000 loan (later fully repaid) in order to pay off their mortgage.
He funded the operations of Ohr Naava and his other mosdos until their budgets grew too large to do so any longer. Elisheva Perlman says she witnessed firsthand the immense emotional toll he suffered from the humbling experience of having to begin fundraising from others. "In his final days," she says, "he was preoccupied with one thing only: That everything he'd created cannot stop, but must continue on. And in fact, a board has come together to create a legacy fund to ensure that happens."
In his talks, Reb Zechariah never shied from tackling difficult topics, and at times, Rabbi Grossberg observes, "there were those who tried to use him as an example of a maverick on whom they could hang their views. But he didn't like that at all, because he wasn't looking to be non-mainstream or contrarian. He saw much beauty in frum life, and whatever critiques he may have expressed about aspects of frum society came straight from his heart. They were sincere and intended to be constructive, not criticism for the sake of criticism, and he'd go to great lengths to make shalom."
He lived up to the ideals he espoused. Well aware of the risks of his line of work, he took steps to protect himself. Observing the laws of yichud, for example, was non-negotiable. Rabbi Osher Levene, a British Torah educator who created programs modeled after Ohr Naava and often hosted Rabbi Wallerstein at his London home, recalls the time he needed to speak with a girl in trouble and "Rabbi Wallerstein sat with her in the car with the doors open, as his brother-in-law Yanky Elefant and I stood nearby, out of earshot but in full view."
Despite running a big business and multiple mosdos, Reb Zechariah used a simple flip phone. Arriving at his office, he'd check his voicemail and write the messages down in a composition notebook he carried with him everywhere. Staff members of his schools knew that all halachic questions would go to Rav Dovid Feinstein, and all issues in hashkafah would be referred to his rebbi, Rav Gamliel Rabinovitch.
"Rabbi Wallerstein epitomized what it meant to live with Hashem. Every decision, every single day, no matter what," says Avivit Mikhli, Ohr Naava's longtime director of operations.
Reflecting on Reb Zechariah's legacy, Yanky Elefant says, "he obligates every one of us, because he was one of us, just a regular guy who liked all the things we all like, going out to eat, having a good time. But he saw life as endless potential and was going to maximize it at all costs."
"If I had to capture his essence in a word," Rabbi Grossberg observes, "it would be 'dveikus B'Hashem.' I would hear him speaking to the Ribbono shel Olam. If anyone else would have done it, would have seemed like a show, but with him it was so real. We once took girls up to Bear Mountain for a trip, and he showed me a place there where he would go to be alone to talk to Hashem, pouring out his heart over all the tzaros he heard about and saw firsthand."
"He was truly in love with Hashem and His children," says Mrs. Perlman, "and he had one litmus test: 'If this were my daughter, what would I do?' "
(Originally featured in Mishpacha, Issue 910)
Oops! We could not locate your form.
>