| The Current |
AIPAC Spitting Mad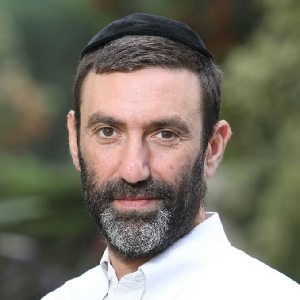 | March 27, 2019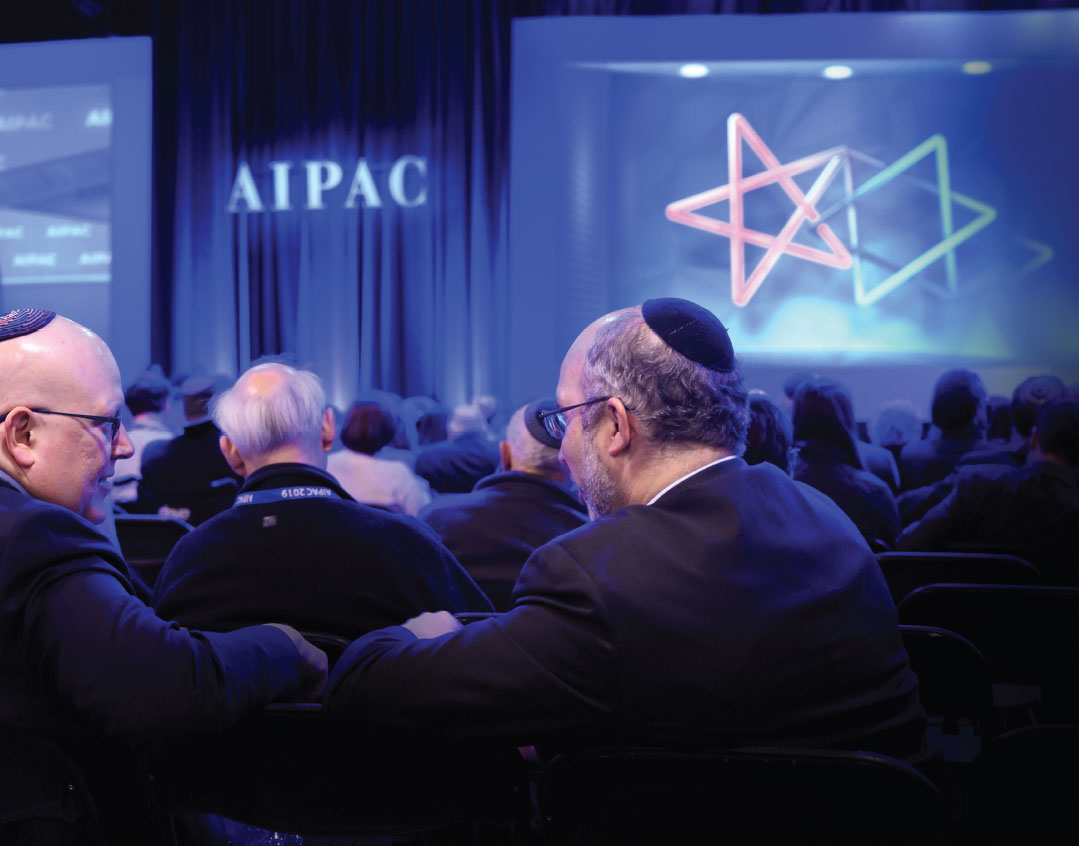 T
he AIPAC Policy Conference is nothing if not a spectacle. It is rare to have so many Jews congregate in one place, and when it does happen, it is truly a sight to behold.
Such was the scene inside the Walter E. Washington Convention Center in the nation's capital. A vast convention center filled to capacity with Jews from all walks of life: from chareidi to secular, young to old, men and women. Non-Jews, too, were a visible minority as the Israel lobby attempts to recruit new members to its cause.
The theme this year was "Connected for Good" and the mood was spitting mad. When AIPAC president Mort Friedman took the stage on Sunday night to offer his welcoming remarks, it became immediately clear that the anti-Semitic comments of Rep. Ilhan Omar of Minnesota would be a rallying point.
"This conference feels different," he said, before a crowd of 18,000 in a hall the size of about six football fields. "We have been attacked. Our loyalty to the United States has been questioned. People are waiting to see what happens next." And then, pausing for effect, Friedman delivered AIPAC's response: "None of us are willing to be silenced or intimidated."
Indeed, it seems as if Omar's conspiracy theories about Jews and Israel and the failure of the Democratic Party to censure her directly has only energized the base. Here are a few takeaways from this years' conference.
Where Identities Are Built
If you live in a religious community, it can be difficult to understand the motivations of Jews who are not shomer mitzvos but who nonetheless take great pride in their Jewishness and feel a great pull toward the State of Israel. That is precisely the kind of Jew who comes to the AIPAC policy conference. Over and again, I heard stories of deep commitment to the cause of Israel and how that commitment forms the basis of a Jewish identity. For Orthodox Jews, that is not enough, but it is important to remember that AIPAC, and similar expressions of Jewish identity, are what keep the neshamos of these Jews connected. And as we know from the many stories that have appeared in the pages of Mishpacha, just such a connection can often lead to a greater commitment.
AIPAC the Conspiracy?
Perhaps the best point I heard made at the conference came from Jason Zweig, a senior fellow at the Foundation for Defense of Democracies and a staffer on the House Foreign Affairs Committee for 17 years. On a panel examining how Congress makes foreign policy, he pointed out a fact that seems obvious but often gets overlooked: Most foreign affairs issues don't have constituencies. Ever hear of the missile defense lobby? How about the Greek lobby? You haven't because they are very small and can't marshal the forces to bring 18,000 people together in one place at one time to lobby their congressmen on an issue dear to their hearts. AIPAC is powerful because it can do that. It's not a conspiracy, it's a passion with a mission.
Broadening the Base
It was striking how many African-Americans attended this year's policy conference. This is especially so because, on at least two different levels, one might think that black national identity is moving away from any kinship with the Jewish People.
Firstly, because of the number of physical attacks on Jews by African-Americans, especially in Brooklyn, New York. As we noted in our cover story last week, not one anti-Jewish hate crime has been perpetrated by a white supremacist in New York City over the last two years. Rather, many of these cases seem to be assaults perpetrated by neighbors of another ethnicity. Secondly, because the black national leadership, especially in the political class, often takes a hard line against Israel. The failure to fully isolate Rep. Omar for her hateful comments was the result in part of the Congressional Black Caucus backing her and insisting on a watered-down resolution that condemned all forms of racism instead of her particular kind.
But the black leaders I heard speak at one of the AIPAC panels were as passionate about Israel as many of the young Jewish college students who attended. AIPAC has made an effort to reach out to these leaders and take them on trips to Israel. From their remarks, it seems that the visits made a deep impression. Several of them spoke about experiencing a beautiful Shabbos meal and the beauty of watching a father bless his children on Friday night. Others spoke about the horror of Yad Vashem and understanding for the first time why the Jewish People need a sanctuary state, a place to call their own.
Likewise, at a panel of Christian leaders, I heard of a similar deep commitment to Jews, this one rooted in a literal reading of the Bible and the understanding that G-d's promises to Abraham are real, not allegories. Halevai that many of the Jews attending the conference could feel the same kind of commitment to G-d's word as these pastors and reverends.
Dems Come Out Swinging It seems that the leadership of the Democratic Party has made a decision about Rep. Omar and her cohort: They will not define us.
Rep. Steny Hoyer, a Democrat from Maryland and the House majority leader, spoke in no uncertain terms about his commitment to Israel and the Jewish People during a fiery speech on Sunday night. He explained that he is not Jewish and does not represent a district with a large Jewish constituency. But nonetheless, he feels that the story of Israel is at one with the story of America. We cannot let the only democracy in the Middle East to be ravaged by her neighbors, he said; we cannot allow the BDS movement to make any headway; we cannot allow the Iranian government to acquire nuclear weapons and threaten the Jewish state.
"I am an American who believes passionately in the idea of Israel," he said. "I stand with Israel proudly and unapologetically." And then, as if aiming his rhetorical cannons straight at Ms. Omar, he said: "So ladies and gentleman, when someone accuses American supporters of Israel of dual loyalty, I say accuse me."
Bibi Is Still King in the Capital
Blue and White party leader Benny Gantz came to AIPAC this year and acquitted himself nicely in a short, powerful speech.
But the shadow of Bibi Netanyahu loomed large over the hall. Gantz is an accomplished military man and a patriot for his country, but he lacks the rhetorical flair of Netanyahu, not to mention his erudite view on history and killer political instinct.
Gantz met with the Israeli press on Sunday morning at the Jefferson Hotel, which has a view of the nearby White House. But, ironically, he couldn't be farther from the White House politically. He reportedly tried — and failed — to secure meetings with any administration officials. Moreover, Trump's announcement that the United States will now recognize Israeli control over the Golan Heights represented a huge election gift to Netanyahu, who left Washington without delivering his address at AIPAC after a terror attack in Israel. Look what Gantz gets when he visits DC: a view of the White House, like the rest of the tourists. Look what Bibi gets: after 52 years, US recognition of a strategic plateau that Israel annexed in 1981.
Voices at AIPAC
by Omri Nahmias
The annual AIPAC policy conference in Washington, D.C., is billed as "the largest gathering of America's pro-Israel community." This year's confab was held from Sunday through Tuesday this week at the Walter E. Washington Conference Center. Mishpacha was on hand to gather insights from participants.
Israeli Science Minister Ofer Akunis
"I was invited here by AIPAC, but I'm also here for a working visit with the president's science advisor [Kelvin Droegemeier] at the White House. It's a historic meeting, the first of its kind, which says a lot about the United States' desire to intensify ties with Israel. I'll also be meeting with the NASA chairman, Charles Bolden. Together, we'll be following the progress of Beresheet, the Israeli spacecraft flying to the moon."
Who will form the next government?
"Binyamin Netanyahu. [After the election] we will reach out to the parties who are part of the existing coalition, and I am sure we will end up with more than 61 MKs. It won't be an easy battle — it will be hard, but we will win."
Moshe Lion, mayor of Jerusalem
"I'm so proud to see leading Jewish figures in America coming out to express their support for Israel. We get wall-to-wall support here, from everywhere on the spectrum — it's a great feeling."
The prime minister of Romania and the president of Honduras made declarations here about moving their embassies to Jerusalem. Have you heard of anyone else intending to make the move?
"No, but the declarations from Romania and Honduras are very good news, and I hope more countries will do the same. Today we see how big and historic it was, the step Trump took when he recognized Jerusalem as the capital."
Yoaz Hendel, a senior member of the Blue and White list for Knesset, and former director of hasbarah in the Netanyahu government
Why are you here? Some say Gantz would have done better to stay in Israel and campaign instead of coming here to compete with Netanyahu in his home court.
"Netanyahu has no home court. Benny Gantz is a candidate with the stature to speak in a forum like this. It's part of the challenge. With all due respect to Netanyahu, the assumption that only he can lead Israel is not correct."
So you're not worried about people here comparing Gantz's rhetorical skills to Netanyahu's?
"Netanyahu has rhetorical abilities but he also has a stack of allegations facing him in court. Not to minimize his many strengths, but Netanyahu is right now in a position where he needs to focus on himself."
Is the administration expressing support for Netanyahu here?
"It doesn't matter so much. If Trump decided to help out in the election by recognizing the Golan Heights, that benefits all of us. And if tomorrow he decides to take more steps that are good for Israel, that helps everyone, not only this prime minister."
Is support for Israel still bipartisan?
"I'm afraid Democrats are starting to feel like there is an affinity between Israel and the Republicans. I'm afraid that if the next president conceives of strong ties with Israel as a Trump legacy, then we will end up paying the price. We did not choose Trump and we did not choose with the Democrats' strong swing leftward. We can be more careful and try to ensure that it remains bipartisan."
Kalman Yeger, NY City Councilman (D)
Why didn't we see the Democratic presidential hopefuls here at the convention? Has Israel become a partisan issue?
"I don't want to say that it became a partisan issue, but I think that on the far left wing of the Democratic Party there are some who are deciding they're going to make Israel a kind of radioactive issue. I don't think that represents the bulk of the party. I know that for Mayor de Blasio, it doesn't represent his vision of the Democratic Party, and he is as progressive as they come."
Is there any way to counter that influence?
"I said to a City Council colleague of mine: If you imagine that 10% of the US population is anti-Semitic — which is not really such a stretch — why is it so difficult to imagine that 10% of Congress could be anti-Semitic? Now, I don't think that out of the 535 members of Congress, 53 are anti-Semites, but I think having two, three, four, it's not really such a great shock. After all, there are even people who serve in the Israeli Knesset who hate Israel. I think what you're seeing is that because of their outside influence, these new members are getting a level of attention that freshmen would not normally get. Normally, nobody would ever care what Ilhan Omar thought."
But is this the new normal?
"No, I don't believe so. She represents the far left, a very, very small part of the Democratic Party. There's no doubt that she has people who believe what she says. She may be simply representing her district, which believes what she says, but the majority of Democrats are common-sense people who support Israel."
Malcolm Hoenlein, executive vice chairman of the Conference of Presidents of Major American Jewish Organizations
You've been to many AIPAC conferences. What's different about this year?
"I think that in light of the threat of anti-Semitism, the political partisanship and divisiveness — I think people who care about Israel, care about the United States and about the US-Israel relationship, feel that right now is a critical moment and we need to come together. Voices are being magnified by the media who express openly anti-Israel and even anti-Semitic comments, and we should not be focused on them. We should be focusing on the overwhelming majority of Democrats and Republicans who stand with Israel.
"People sense that there is something different today from how it was in years past, with the open expression of anti-Semitism. We see the partisanship and the loss of the political center. We have to redouble our efforts and our commitment to Israel."
(Originally featured in Mishpacha, Issue 754)
Oops! We could not locate your form.
>