| Metro & Beyond |
Agudah Storms the Halls of Power in Albany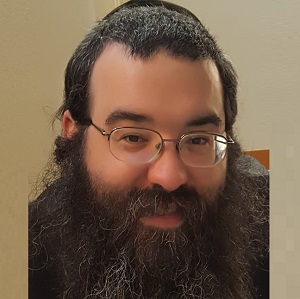 | March 10, 2020
 The last few weeks before the final state budget vote are always intense in Albany — otherwise a sleepy state capital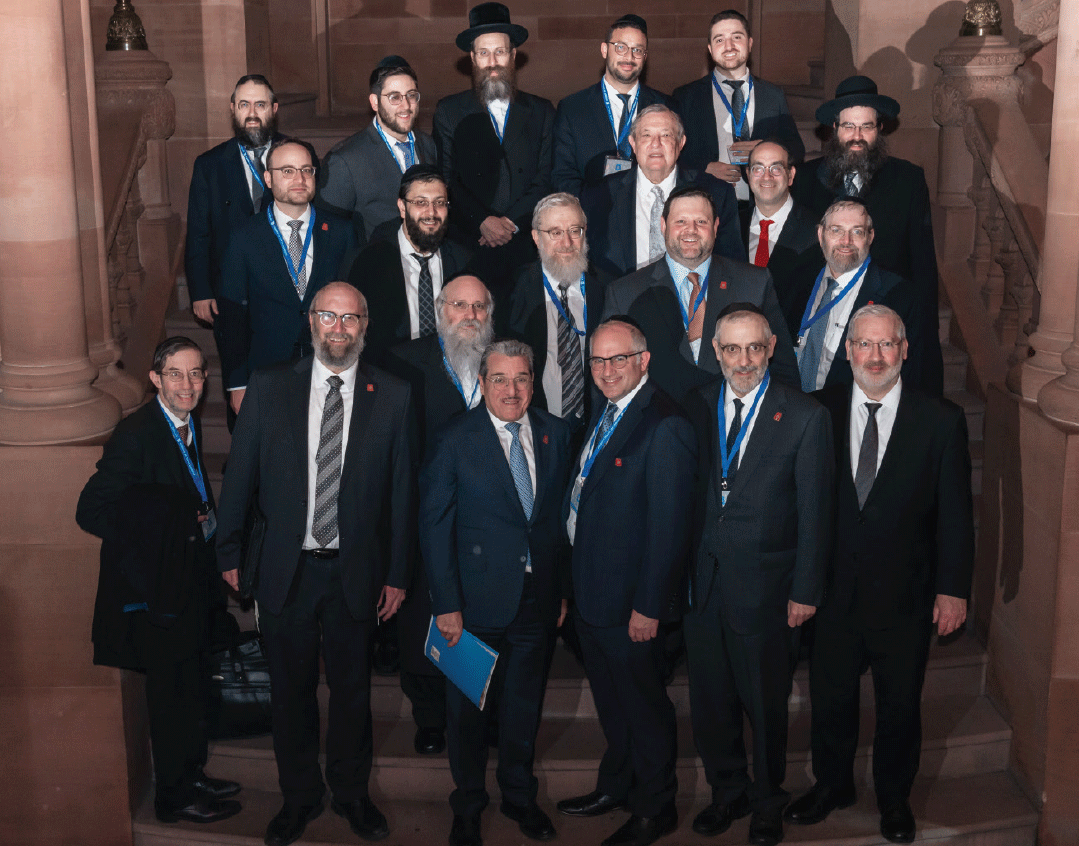 The halls of power in New York's state capitol were unusually bustling last Tuesday, even for a March afternoon weeks before the budget is due, as Agudath Israel led a group of activists to meet with lawmakers.
Boisterous chants, loud enough to drown out a banjo hoedown, rose periodically from the central concourse. Hundreds of anti-vaxxers packed a sidewalk outside the capitol building, holding signs denouncing the state's strict vaccination requirements. A group of hijab-clad members of the Bangladeshi Tenants Union passed near the Million Dollar Staircase (a grand entryway that took 14 years to build in the late 19th century), loudly chanting slogans denouncing landlords. Their Hispanic co-protesters blocked access to an elevator on the Assembly floor.
"I've been here so many times, but I don't remember ever seeing so many groups here," said Yeruchim Silber, Agudah's director of governmental affairs in New York, who arranged the mission.
We even had to wait about ten minutes as a human flood poured out of the Assembly chamber, with what appeared to be hundreds of people wearing stickers calling for a ban on vaping. An elderly gentleman was wearing a "Grandparents Against Vaping" T-shirt, with his toddler grandchild wearing a "Parents Against Vaping" top.
The last few weeks before the final state budget vote are always intense in Albany — otherwise a sleepy state capital. Interest groups pack its cavernous halls for noisy demonstrations and lobbyists sit quietly with lawmakers.
Agudah has been organizing a mission to Albany during budget season for the past few years. The reason is simple: it wants to show lawmakers that it is an organization with broad community support. So once a year it pulls out all the stops and brings in yeshivah administrators, successful businessmen, and askanim. I've watched world-famous doctors explain medical concepts to rank-and-file lawmakers, and billionaires describe their friendships with owners of major sports teams to wide-eyed interns.
And then it's time for business. Albany is a tripartite giant, with the governor's office, the Assembly, and the senate all working together to pass the state's laws. Members of the Agudah mission make the rounds with their list of budgetary requests.
The asks are small. This year it was about doubling the security grants to yeshivos to $30 million and making shuls eligible for the funding. Agudah activists also requested an additional $7 million for yeshivos as reimbursement for ensuring its students are immunized. Some $22 million is distributed to 400,000 nonpublic school students across the state, compared to $28 billion for the public schools system — a blip on the screen, they argued.
"When I sent my kids to school, the concern I had was, will they get a good education," Rabbi Silber said at one of the meetings. "Today parents have a different concern — will my kids be safe?"
"I live in Monsey, where we just had the attack in December," said Avrohom Schlisselfeld, an accountant from Rockland County, underscoring the importance of increased funding for yeshivos. "Until then schools had very little security. Now everyone is looking to reinforce doors or hire security guards."
Joshua Korn, the legislative director for State Senator Liz Krueger, who chairs the state senate finance committee, politely took notes and promised to make sure his boss understood their concerns.
The appeal was boosted days before when the governor of nearby New Jersey, Phil Murphy, inserted into his budget a request to spend $200 per child in private schools, up from $150. In New York, the government spends $37 a student.
Most security grants, from both the federal and local governments, require an extensive application process that includes spending thousands of dollars to draft a request and filling out reams of paper work. A new state fund for yeshivahs has just a two-page application.
"This fund makes sure that the money goes to those who really need it," said Chaskel Bennett, an Agudah trustee. "In our experience, this is the best fund for us." Referring to politicians in the state capital, he added: "Don't say we care about every child in New York state until we actually care about every child in New York state."
At the end of each one of the half dozen meetings throughout the day came a plea from Rabbi Chaim Dovid Zwiebel, Agudah's executive vice president, for the biggest issue currently facing Klal Yisrael in New York. The education department has been seeking to extend its authority over the private school system and requires yeshivos to include more secular studies. It backed down last month after it received a record 140,000 comments from Jewish parents, virtually all opposing the proposed regulations. The education department is now meeting with various groups as it prepares to issue revised guidelines.
"The state education department said that it is starting now to meet with stakeholders," Rabbi Zwiebel said. "We are stakeholders. We want to be at the table."
Lawmakers have little control over the education department, which is overseen by the independent Board of Regents. Rabbi Zwiebel told me after his meetings that he included the yeshivah entreaty so lawmakers know it is a top priority for the community.
"I want them to know that this is a big issue for us," Rabbi Zwiebel said. "I don't want them to think that the biggest issue for us is the $7 million for vaccinations."
A bit of news was made during our visit, when the state senate and state assembly voted for a new member of the board. Dr. Frances Wills, a Putnam County superintendent, was named to replace Judith Johnson, who died suddenly this past summer.
With the yeshivah regulations on the front burner, the community has a great interest in who is on the board, which has 17 members and meets monthly. Wills, who comes from a county with few Jews, is seen as a fair choice among askanim.
"She has none of the baggage someone from Rockland or other counties have," one askan said.
At about noontime, Agudah hosted a lunch-and-greet for members of the Assembly. Tuna and egg wraps were laid out, along with vegetable salad and sprinkled cookies — the best lunch lawmakers will get outside of a restaurant. The day concluded with meetings with the governor's staff, organized by his Jewish liaison, Michael Snow.
The mission's importance lay not in the failure or success of vaccination money but in the relationships it nurtures, Chaskel Bennett told me.
"You think I come here because of the $7 million?" he said. "I'm here so that when I need something at the last minute, when I need something at midnight one night, I have the relationship to pick up the phone and get someone to answer."
(Originally featured in Mishpacha, Issue 802)
Oops! We could not locate your form.
>