| Profiles |
A Whole World Inside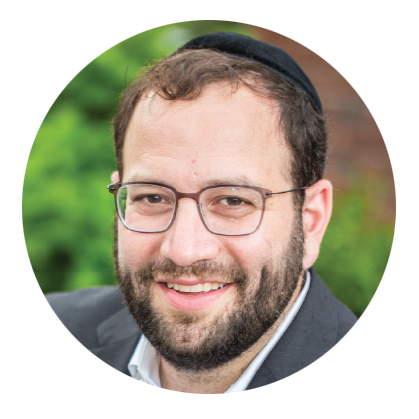 | June 5, 2019
Rav Shlomo Kanievsky brings the family legacy to a new generation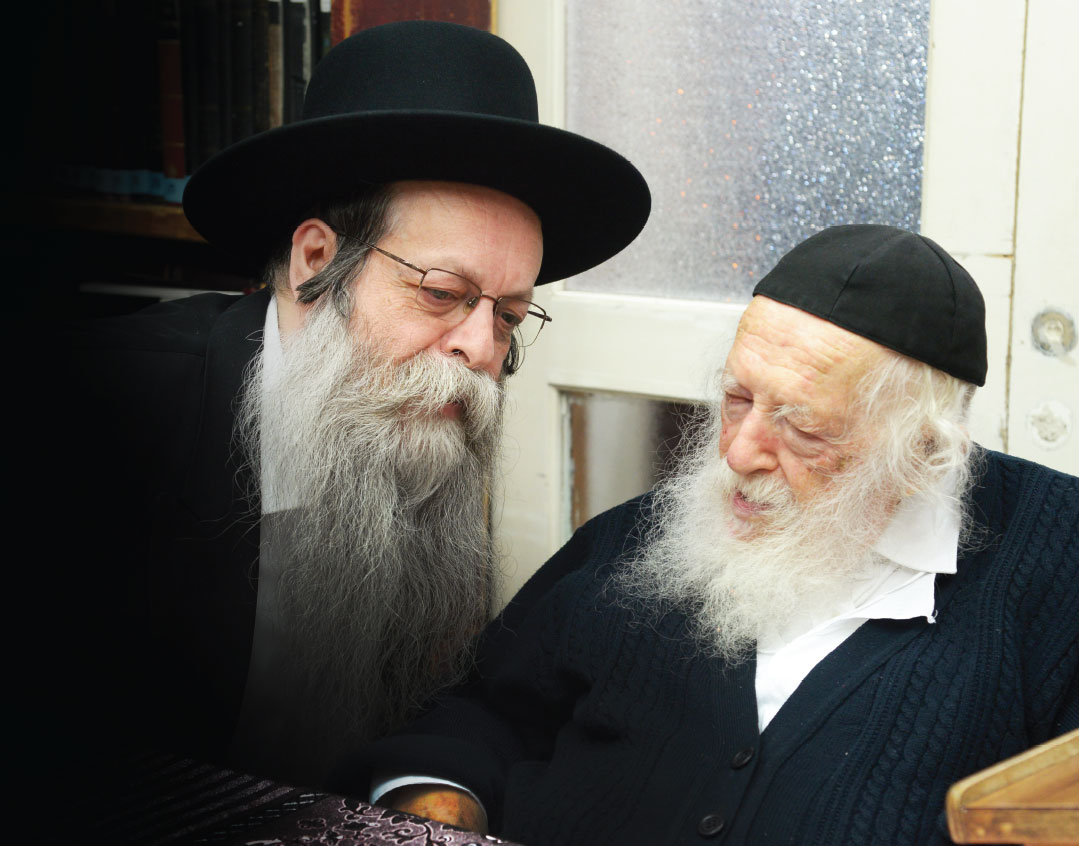 Photo: Moshe Oiknine
I
 n the spacious beis medrash of the Lakewood yeshivah in which I am davening Shacharis, there is a surge of excitement. Two teenage boys near me exchange thrilled smiles, even as they pretend, in the manner of teenage boys, not be thrilled, when the gabbai calls up the oleh laTorah.
"Yaamod Rav Shlomo ben Moreinu Harav Shmaryahu Yosef Chaim."
The guest says the brachos, like any other talmid chacham from Bnei Brak might, and makes his way back to his seat as if his father isn't the gadol hador and it isn't extraordinary that he's in America walking up the aisle in a Lakewood yeshivah.
I've seen visiting fundraisers sell letters, stories, or brachos from Rav Chaim with more drama and theatrics than the man who shares a last name and strong physical resemblance with Maran Sar HaTorah.
And yet, within the pashtus, the utter simplicity and unpretentiousness of Rav Shlomo Kanievsky, there is certain self-assurance and certainty, the ease with which he rises to speak after Shacharis, the smoothness of the oratory.
He opens his shmuess by saying, "Birshus the rosh yeshivah, the ramei hayeshivah, and acharon, acharon chaviv, the bochurim."
Then he pauses, for that alone has been a shmuess, and he wants them to understand that.
A few minutes later, he will meet me at the home of his Lakewood hosts, the rosh yeshivah finishing up his breakfast as I walk in. He indicates that I should sit, and leans forward, as if welcoming my questions.
Somewhat awed by the fact that I'm sitting with Rav Chaim Kanievsky's son, I'm silent, and he encourages me, raising his eyebrows in a "don't worry, we'll figure this out" expression. Five minutes later, it's evident to me that this is the sort of rosh yeshivah whom bochurim would speak honestly with, consult about shidduchim or chavrusa issues, unburden themselves to — a son of Rav Chaim, and also of Rebbetzin Batsheva.
There is an article in the Hatzofeh newspaper, dated May 30, 1941.
In the heart of Bnei Brak flourishes a center of Torah, established by the Chazon Ish shlita along with other gedolei Torah.
The yeshivah has attracted many talmidim, some of them destined to be gedolei Torah and bearers of its flag. At present, there are close to one hundred talmidim, a number of them children of survivors.
The yeshivah is located in the central beis haknesses, but the administration would like the yeshivah to have a building of its own. Through the efforts of the respected askan Reb Yaakov Halpern, work is being done on a future building. The planned structure will have three floors, and then the yeshivah is expected to welcome many more talmidim.
The yeshivah is led by Rav Avrohom Yitzchok Gershonowitz, along with Rav Yaakov Schnaidman. It's worth mentioning that even though the yeshivah is relatively new, just six years old, it already has a glowing reputation thanks to the devotion shown by the menahelim.
Despite that, the yeshivah's finances are in terrible shape, and it needs help from the public. The tzibbur in Eretz Yisrael and chutz l'Aretz is called upon to purchase "bricks" in this new building.
(Pity they didn't know about Photoshop, segulah promises, and matching campaigns; the building probably would have gone up in a week.)
Tiferes Tzion, true to the projections of the Hatzofeh writer, would become the flagship yeshivah ketanah in Bnei Brak, blossoming along with the town. It would benefit from the active involvement and leadership of the Chazon Ish, who sent his own nephews there. Rav Gershonowitz's son-in-law, Rav Michel Yehuda Lefkowitz, would join as a maggid shiur, and the yeshivah would enter its glory era.
The mossad would soar, and then face the inevitable challenges that come with fusing rich history with contemporary relevance. The founding rosh yeshivah, Rav Yaakov Schnaidman, would pass away, and the future of the once-great mossad seemed to be in jeopardy.
His son-in-law, Rav Meir Honigsberg, had a son-in-law of his own: Rav Shlomo Kanievsky.
T
he biographical details of Reb Shlomo's youth can outdo even the opening chapter in a standard gedolim book.
One grandfather was the Steipler, Rav Yaakov Yisroel Kanievsky; the other, Rav Yosef Shalom Elyashiv.
It wasn't a house where Torah was important, where Torah learning was cherished; it was a beis medrash in which children were raised.
When Reb Shlomo was three years old, his father started learning with him, teaching him a song. It was a special tune, and the lyrics were the names of each of the masechtos in Shas.
"Abba wanted us to feel it deep in our bones, and the niggun reflected that, each masechta with its special twist."
Rav Chaim started learning Chumash with his boys, moving on to Neviim and Kesuvim as they got a bit older.
At the age of six, Reb Shlomo was hit by a car, and the situation looked grim. Doctors weren't sure he would survive, and it was then that his mother, Rebbetzin Batsheva, made a kabbalah that would become a big part of her legacy.
She would be mafrish challah every single day.
On Thursdays, she did it at her own home, but every other morning, after preparing breakfast for Rav Chaim, she would walk to the central Vizhnitz bakery, 15 minutes from her home, and perform the mitzvah.
The child got better, and was soon back to the intense learning schedule.
But don't worry, he reassures me. It was a very happy home. They played games, too.
Nah, it wasn't Monopoly, Clue, or even chess.
"On Leil Shabbos the house got very dark. We don't use chashmal on Shabbos, according to the shitah of the Chazon Ish, and back then there were no generators. The single kerosene light would eventually go out, and we crowded into my father's study for the game. Abba has thousands of seforim, filling every inch of wall space. One of us would name a sefer, and Abba would immediately tell us its precise location. It was great fun for us."
As his bar mitzvah approached, Reb Shlomo realized the hopes that had been planted in him along with the niggun he'd been taught: He completed Shas for his bar mitzvah.
When I ask about this, I expect one of two reactions: extra humility, sort of an "it's all my father" type of thing; or the opposite, the message that it's within reach and anyone can do it, if only you try.
I get neither. He smiles without moving his lips, letting me know that he gets it, it's not the most realistic bar mitzvah boy goal; but also, that it is the most realistic bar mitzvah boy goal, because Torah is everything and the reason we exist.
As a bochur, he learned in Ponevezh, straight up until his marriage to Rebbetzin Tziporah. After his chasunah, he learned in Kollel Chazon Ish for many years.
Then, when Rav Yaakov Schnaidman was niftar in 1997, the call came to assume leadership of Tiferes Tzion, the yeshivah ketanah where Reb Shlomo's own father had learned.
T
his, I point out, was in marked contrast to the family mesorah of not assuming formal positions: Rav Elyashiv learned in near seclusion, and Rav Chaim has never accepted a position of any sort.
"Not really," Reb Shlomo corrects me, "the Zeide Rav Elyashiv was a dayan for decades, and the Steipler was a rosh yeshivah in Novardok. My father is really the only one in the family who doesn't have a shtelle. He clearly holds that one can fulfill the chiyuv to teach Torah through writing seforim.
"Reb Shlomo Lorincz once came to Abba with a proposal. He wanted Abba to take a job in a yeshivah, a position that involved no fundraising, and he wouldn't even have to say shiur. He just had to be there, to speak in learning to bochurim and answer sh'eilos, nothing more. It seemed tempting, so my father went to ask his father, like he did in regard to all decisions."
The Steipler looked at Reb Chaim and gave him an emphatic no.
"Your tafkid is to sit and learn, nothing more," he said. "That's what you're here for."
"Abba often repeats the story," Reb Shlomo says, "and he always remarks that he's grateful for his father's advice every single day."
There's another story that Rav Chaim likes to retell.
During the 1950s, a group of askanim wanted to help the many teenage boys who'd been forced to run, hide, and escape during years when they should have been in cheder. These young men knew a pitiful amount about Yiddishkeit, and the askanim had the idea of soliciting bochurim from every yeshivah and sending them to teach the survivors Torah.
It seemed the call of the hour. From Ponevezh, the organizers selected a gifted young man named Chaim Friedlander, feeling he had the eloquence and clarity to be effective. The bochur — who would later achieve renown as mashgiach of that yeshivah — said before he would commit, he needed to ask the opinion of the Chazon Ish.
Reb Chaim shared the plan with the Chazon Ish, who seemed excited at the prospect of bnei Torah doing outreach. The Chazon Ish even added to the pitch, saying, "It's not just them you can save, it's their children and their children's children."
"So what's l'maiseh?" asked the bochur.
"L'maiseh," the Chazon Ish said, "l'maiseh you should stay in yeshivah and not go. Because the plan you described would make a tremendous difference, but sitting and toiling in Torah will make even more of a difference — even for those very people you want to help."
Reb Shlomo taps the table, as if offering a definitive ruling. "That's what my father holds."
A
t the same time, Rav Chaim understood that his son had little choice regarding the Tiferes Tzion appointment. It was founded by the Chazon Ish. The Steipler had been nasi of the yeshivah. Reb Shlomo's grandfather had named him successor.
The yeshivah had just a handful of talmidim after decades of glory and it was faltering, so there was a song sense of responsibility to step up and save it.
Reb Shlomo proved to be exactly what the mossad needed. He breathed new life into Tiferes Tzion, investing the bochurim with the burning ahavas Torah he'd absorbed in his own home.
And then, after a few years, the next step seemed natural.
It was time to open a yeshivah gedolah.
"I asked Abba, but he didn't want me to do it, because he felt it would take me away from the Gemara, so I immediately made up my mind not to open a yeshivah. I was walking down the stairs from his house, and I met a good friend of mine, Reb Tzvi Sprei. We were talking, and I told him what had just happened. Immediately, he took me by the hand and said 'Let's go back up.'
"He came into the room and said, 'Rebbi, I will take care of all the money. Reb Shloime will only have to learn.' Abba heard, and said that in case, I could open a yeshivah."
Yeshivah Kiryas Melech was an immediate success, attracting talented bochurim from across the country. Reb Shlomo served as rosh yeshivah along with Rav Berel Eisenstein, a gifted maggid shiur who transmitted the path in learning of his own rebbi, Rav Nochum Partzovitz.
Two years in, with the yeshivah thriving, tragedy struck: Reb Tzvi Sprei was suddenly niftar. Then Rav Berel Eisenstein suffered a heart attack, and he too lost his life.
It was a difficult time. Reb Shlomo was left responsible for the yeshivah ketanah and the yeshivah gedolah.
He considered closing the yeshivah gedolah. "Abba told me to go ask the Zeide, Rav Elyashiv, what to do."
Rav Elyashiv heard the sh'eilah. "To close a yeshivah isn't poshut," he said. And he added a single word, a brachah to his grandson. "Hatzlachah."
Reb Shlomo moved forward.
He appointed Rav Shmuel Yaakov Borenstein as rosh yeshivah, ushering the yeshivah into a new era — but Reb Tzvi Sprei was irreplaceable.
"I started to travel for the yeshivah. It was my job."
He does it, and he seems to have made peace with it, but seeing Rav Shlomo Kanievsky outside of Bnei Brak feels wrong: His look, his posture, his bearing and manner of speech come from the heart of the Torah world. He belongs there, in the narrow hallway outside his father's room, standing between two metal bookshelves crammed tight with seforim and speaking in learning.
This is galus.
When Rav Chaim heard that his son was traveling to America for the second time this year, he quipped, "Maybe you should start keeping two days of Yom Tov."
The difficulty of travel and ache that comes from being away from family — Reb Shlomo and his rebbetzin have 18 children, bli ayin hara — is somewhat tempered by the happiness the rosh yeshivah feels when speaking about the yeshivah.
"Baruch Hashem, the bochurim are growing. The current rosh yeshivah, Rav Yaakov Karp, is one of the finest maggidei shiur in the country. Abba selected him. We work with the bochurim — becoming a talmid chacham takes real work."
But can a rosh yeshivah who grew up in such an exalted atmosphere, so removed from the street, understand the challenges of a 2019 teenager?
"There is a mehalech, an approach to chinuch. One of the most insightful ideas I heard regarding chinuch, one I think about often, was from Rav Shach. He was describing how, before World War II, the haskalah wreaked havoc on the yeshivah world. It tore the minds and hearts of young talmidei chachamim away from the truth. Now, Rav Shach said, we have no more haskalah, but we have an unprecedented flow of taavos that do the same thing. Rav Shach asked, 'So how do we compete with taavos? We don't. We find a way to meet them. Yeshivos can fulfill those taavos with a kind word, a compliment, a pleasant atmosphere.' So that's what we try to do."
Giving that good feeling isn't the same thing as giving in, Reb Shlomo clarifies. "My zeide the Steipler would say that bochurim get depressed easily today, because they are used to getting whatever they want at home  — if they ask enough times, parents will give in. Then, this child goes off to yeshivah and wants to have the best chavrusa, or be the best in shiur, and of course, it doesn't work that way. So bochurim are starting yeshivah dealing with reality, most of them for the first time.
"The only way to get what you want in a beis medrash is with hard work and toil. So in yeshivah, we try to give over this message, that one day there will be a big bechinah and they will expected to know Torah, no one will accept their stories about that they were tired or overslept or in a bad mood. We try to take them seriously, and I believe that makes them happy."
Rav Binyomin Rimer is a son-in-law of Rav Elyashiv, and a ram at the yeshivah. I catch him on the phone and ask him the question: How can someone born at the top of the mountain relate to those aspiring to take their first steps?
"You know, Reb Shloime's father, his zeides, they weren't just gedolei Torah. They glowed with simchas haTorah, and Reb Shlomo exudes that. He is not just a marbitz Torah, but also one who shows the shleimus, the wholesomeness, of one who lives in the world of Torah. You see him, you want to be a gadol b'Torah. He made a siyum haShas at 13, and he is essentially that person, he hasn't changed. He's just found a way to welcome the bochurim into his world."
Reb Binyomin pauses reflectively before continuing. "I've been around yeshivos. There are yeshivos that are open, that believe that you can't lock bochurim up, and yeshivos that are closed, where the attitude is that bochurim need to be protected from the street. Reb Shlomo is able to create a matzav where the bochurim are so focused, so areingetuhn, that they don't feel a need to look elsewhere."
R
eb Shlomo makes a comment that fits right in with Rav Binyomin's assessment. I had asked about the sometimes contentious political climate in Eretz Yisrael, which has, at times, seeped into the halls of yeshivos.
"We don't do politics by us. We have a mikveh for chassidishe bochurim, and I encourage them to go the tish on Leil Shabbos, as long as it's after seder. If a bochur is learning full sedorim and feeling sippuk, politics don't speak to him."
In the recent elections, Rav Chaim Kanievsky took the unprecedented step of making it personal, crisscrossing the country to join rallies in support of Degel HaTorah. In the yeshivah led by his son, however, you wouldn't know it.
"The reason my father got involved in the elections isn't because he thinks it's docheh the whole Torah, he did it because he understood that it was his mitzvah, his achrayus, at this stage of his life. For the bochurim, their mitzvah is to sit and learn. They go vote, of course, but that's it. My father had such hakaras hatov to Rav Steinman, such real and lasting gratitude, because he said that Rav Steinman took responsibility for the generation. 'I learn in his zechus,' Abba always used to say."
I see an opportunity, and I jump in: Anyone following Israeli politics has seen Rav Chaim's role advising the chareidi politicians, but Rav Chaim seems to answer questions intuitively. Is that ruach hakodesh?
"It's also ruach hakodesh," Reb Shlomo says, "also ruach hakodesh. My father has a very strong sense about people. I've seen individuals or organizations come in and try to get a brachah or signature from him, and he won't do it. They can't schlep it out in any fashion.
"But of course, as Abba explains in Orchos Yosher, a tzaddik sometimes says things he himself doesn't completely understand."
Those close to Rav Chaim, talmidim who spend much of their time in the apartment on Rechov Rashbam, have noticed that the new reality has created subtle change in the master.
It started before Rav Aharon Leib's petirah, when the Rebbetzin passed away seven years ago.
"Ima gave him a certain peace of mind, her being in the apartment  — even if they didn't see each other, her presence gave him serenity. If she didn't bring him lunch, he would forget to eat, but if she came in, then they would eat together. He taught us that marriage is based on a deep pnimiyusdige connection, it's not external."
The Rebbetzin left This World, and Rav Chaim's home — the schedule, the access, the logistics — changed.
"Seven years ago, he didn't realize the role he played at all. He saw himself as a private citizen, a talmid chacham learning and writing in Bnei Brak. I remember when the tzaddik Rav Mattisyahu Salomon came to Eretz Yisrael especially to plead with him to come to America for the Internet asifah. Rav Mattisyahu, who was in such pain he could barely make it up the steps, explained that Abba's being there would make a tremendous impact, but my father didn't see it that way. He genuinely didn't accept that he was that significant.
"Today, Abba has made peace with the fact that he has to relinquish a little more of his privacy."
The doors were opened wide, and Rav Chaim's radiant countenance became public property, Jews from all sorts of places climbing the steep staircase, bound only by the fact that they were children of Avraham Avinu and that they made it a point to raise the brim of their hat before entering the inner sanctum.
"The hats, Abba's advice to wear a long jacket, his feelings regarding wristwatches, are all based on halachah, on the mesorah of his uncle the Chazon Ish, but there's a reason he mentions them to visitors," Reb Shlomo explains. "He's saying, 'Don't conform to styles, don't be superficial —  you want a brachah or yeshuah? Invest in your inner world, that's your reality. Not the part people can see.'
"Abba, as far I can recall, never looked in a mirror, or bought himself a new hat. There's a whole world inside a person, and it has nothing to do with what is visible."
I
try to imagine what that first trip to America was like for Reb Shlomo, child of Rechov Rashbam.
"They have yeshivos here, too. Inside the batei medrash, I feel at home," he says, not giving in to my attempt to make culture shock a story. "The bochurim here are impressive, the roshei yeshivah are impressive. I don't test them, because I don't want anyone to test me."
On particular talmid chacham — Rav Dovid Cohen of Flatbush — became a close friend, and made enough of an impression to have been honored with sandekaus at the bris of one of Reb Shlomo's children.
"Torah is Torah. It's life itself, wherever it's being learned. That makes it easier to travel so much. It's a zechus to do for Torah, too."
How ironic it is, to think that so many others who come through that room, where the man with the glowing countenance and snow-white beard, with the black sweater and wedding-invitation-turned-placeholder on his Gemara, have found a way to make parnassah from that access, yet Reb Chaim's own son travels the world to make payroll.
"I asked Abba this question," Reb Shlomo says. "How come everyone else figured out how not to be a batlan, and I can't? He said, 'You have such a good yeshivah that it takes great zechusim to support it, and not everyone has the zechusim.' "
For the first time in our conversation, Reb Shlomo laughs. "A gutte Tatte, nein?" he asks.
"He's a good father, no?"
(Originally featured in Mishpacha, Issue 763)
Oops! We could not locate your form.
>