| 15 Years |
A Psychologist After All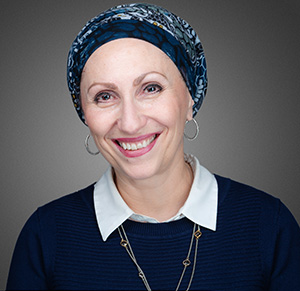 | September 4, 2019
The making of a magazine: Special anniversary project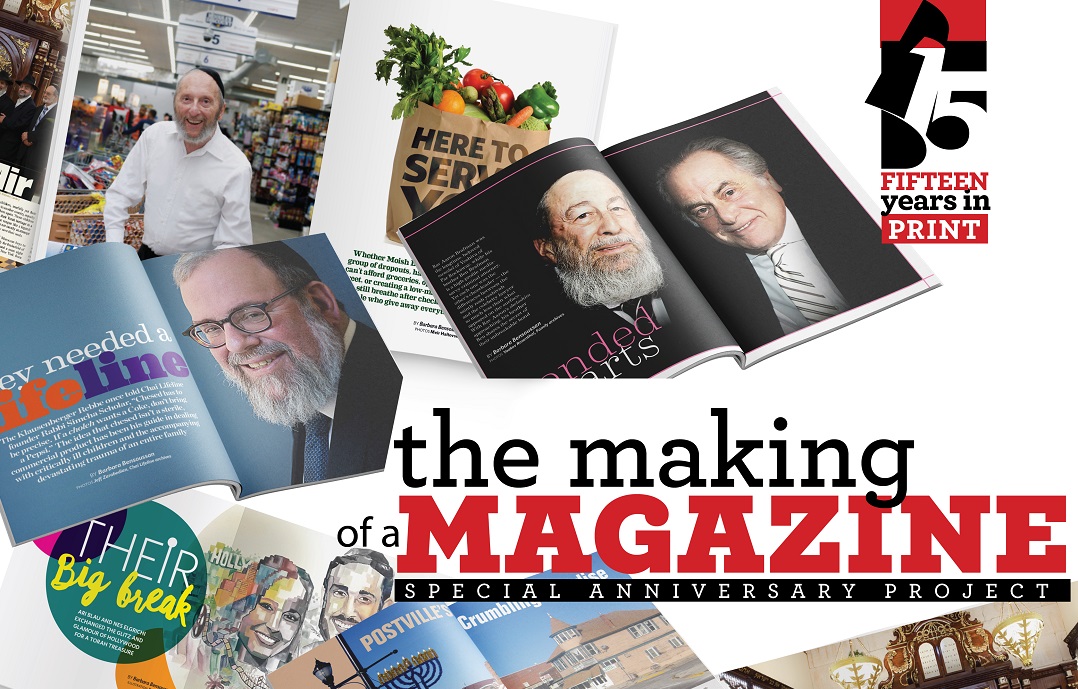 W
hen I was about to enter college, I took one of those vocational tests that purports to tell you what profession you're best suited for. The test said my best bet was "journalist."
I scoffed. At the time I wanted to become a psychologist; I was fascinated by the ways people grow into what they become. In my limited adolescent worldview, journalists were those brash, aggressive types who chased politicians up the steps of the Capitol, yelling, "Senator, can you comment?" I'm no political animal and definitely not the pushy type.
Years later, having turned into the quintessential Jewish dropout (I quit my PhD program in psychology), and gotten the last of my children into school, I had a lot of ideas knocking around in my head. I penned a few articles and sent them off. They were published in places like Horizons and the Jewish Observer, zichronam livrachah. One thing led to another, and before long I started getting requests to write features. When an editor I'd been working with moved to a position at Mishpacha, I followed.
My first Mishpacha assignment came in 2007 — and the magazine has gone through a face-lift and some major changes in those 12 years. Back then, we ran more features and many fewer columns, Blackberries were the height of high tech, and attention spans hadn't yet been decimated by WhatsApp and YouTube.
I came to journalism from an academic background, trained to research topics exhaustively. I would dive into a subject head-first, read books, pull up old articles. Eventually we shortened our word counts and I learned to bite off smaller pieces, and to write shorter and snappier (as befits a weekly magazine, as opposed to a dissertation).
As the years went by, I was challenged to take on topics I'd never dreamed I'd write about, and meet people I never dreamed I'd meet. If I were on the cocktail party circuit, I suppose I could score points talking about going to Yitzhak Perlman's home in the Hamptons, or interviewing Elie Wiesel in Manhattan, or chatting with judges or former entertainment celebrities. Personality profiles are my favorite assignments — meeting interesting people and writing them up. It's like painting a portrait using words instead of a palette: What's this person really like, and how did he or she get that way?
In the end, I came to realize, I never really left the field of psychology. I still spend my professional hours meeting people, learning about them, and trying to understand how they became who they are. But instead of sharing my "research" in obscure academic journals read by only a handful of professors, I get to share my findings with a much larger and more choshuv audience: our readership.

Paper Trail
My very first Mishpacha assignment came when I was put in touch with Mr. Zev Safern, an older man from Queens, for a piece about the recovered writings of the Rogatchover Gaon ztz"l. Mr. Safern, who had been born in Berlin and was a member of the first graduating class of Yeshiva University, was a cousin of Rabbi Yisroel Alter Safern-Fuchs, the talmid muvhak of the Rogatchover. It was Rabbi Fuchs who went to Dvinsk and Breslau with Rebbetzin Rochel Citron, the Gaon's daughter, to attempt to smuggle his writings out of Europe before they would be consumed by the flames of the Holocaust. The two of them photographed thousands of pages and mailed them each week to Zev Safern's father in America. Both Rabbi Fuchs and Rebbetzin Citron paid for their heroism with their lives: They were rounded up by the Nazis and shot alongside the other members of the shtetl, but only after smuggling thousands of pages of microfilm to the US.
Mr. Safern wanted me to come to Queens to speak with him in person, but after our first phone conversation I couldn't get in touch with him. The reason became clear a few weeks later: The night after we spoke, he had passed away from a heart attack. After that, the piece became an exercise in historical journalism, with the help of his son Eric. I did my best to dig up facts about the Rogatchover, his successors, and the fate of the writings (some, but not all, had been published; it was difficult to find scholars who could make sense of the Rogatchover's cryptic abbreviations). I spoke to Mrs. Devorah Lilian, whose mother's family had lodged Rabbi Fuchs during his stay in Breslau. In the end, the 5,000-word piece was, I hope, a credit to the Gaon and all those who worked with mesirus nefesh to preserve his invaluable words.
Prayer for Postville
One of my next big assignments — and my first cover story — was to write about the Jewish community in Postville, Iowa. This was right after the raid on the Agriprocessors meat processing plant, and after Postville, with the vision of Shalom Mordechai Rubashkin, had achieved status as a model out-of-town community. At that point, the fate of Agri and of Shalom Rubashkin still hung in the balance. Even the non-Jews were dismayed: "Postville could have been a model for how people of different backgrounds can learn to get along and help each other," said a local businessman, Trevor Seibert. "But by the time we got things working smoothly between us, the government came in and hauled away people who were our friends and neighbors. For the millions of dollars that were spent on this raid and all the legal proceedings that followed, what did we get? All they did was destroy families and the economy in northern Iowa."
Disclaimer: I didn't actually go to Postville, but to get a sense of the place, I read Stephen G. Bloom's Postville: A Clash of Cultures in Heartland America, about the Orthodox invasion of Postville. Then I called a lot of people there. Between what I'd absorbed from Bloom and the interviews, many readers thought I'd indeed traveled to Iowa. I guess that's the best compliment a writer can get.
Who Knew?
When Mishpacha was younger and the staff smaller, it was all hands on deck and you wrote up whatever the editors needed. The result was that I was often handed topics I had absolutely no clue about (or, frankly, any interest in), but for the sake of being a good sport, and making a few extra dollars, I wrote them up anyway. I privately called them my "become an expert in a week" assignments.
Often enough, the topics proved to be more interesting than they'd seemed as first blush. I could not possibly imagine at first how liability — i.e., determining who takes responsibility when errors and accidents occur — could be interesting. But then an Internet search turned up a lawsuit in which a Boro Park family sued the City of New York for neglecting to maintain its trees, because a rotted one had toppled in a thunderstorm and killed a frum grandmother waiting at a bus stop five minutes from my home. Later, Harry Rothenberg explained to me the gruesome particulars of the lawsuit brought against McDonald's by a woman who'd been burned by a cup of coffee. I'd always assumed it was frivolous, but this 79-year-old grandmother received second- and third-degree burns in some very sensitive areas due to the restaurant's failure to properly regulate the temperature of its coffee (after many warnings and complaints).
Often I picked up useful tidbits to apply to my own life and readers' lives, like how to prevent identity theft, what insurance coverage to purchase, and how big data affects us. Other articles verged on the futuristic, like a piece on vertical farming (hydroponic farming in buildings) that sounded wildly improbable until an enthusiastic professor at Columbia University explained its promise.
I love when my assignments lead me to discover fascinating subjects I knew nothing about. Who knew the Philippines extended hundreds of visas to German Jews fleeing the Nazis, and that the initiative was hatched during a card game between General Eisenhower, President Quezon, and a couple of Jewish cigar manufacturers from Ohio? Who knew that the warm and funny Velvel Pasternak, niftar just recently, was the first person to transcribe Jewish tunes into songbooks and make them available to Jewish musicians? Who knew the halachic issues that artificial hearts and fertility treatments would present? Nor would I have dreamed, when I did an article on DNA testing and did the test myself, that my maternal DNA would show up with Sephardic roots (so much for my "mixed" marriage).
Family Matters
One secret I learned in my years of interviewing is that professional talents are also passed down from one generation to another. I met immigration lawyer Leon Wildes and his sons Michael and Mark in their enormous legal firm in Manhattan.  Both of Leon's sons went to law school, but only Michael practices (and is active in politics, having served as a two-term mayor and city councilman of Englewood, New Jersey). Mark runs a kiruv organization called the Manhattan Jewish Experience.
I first "met" Harry Rothenberg by telephone, while working on the article about legal liability. He was lively and articulate, and I soon realized the Allen Rothenberg, whose face adorns subway advertisements, is his father. In fact, as we spoke, it emerged that both his parents, and seven of their eight children, are lawyers (six work for the family firm).
"I gave them plenty of choice about it," Allen said expansively, adding: "I told them they could go to any law school they chose."
That was too good a story to pass up: The Rothenbergs probably hold the Guinness Record for the most members of an immediate family belonging to the New York State Bar. I met seven of those family members at their Manhattan office, and despite their identical job descriptions, they all turned out to be individuals in their own right — from the sister who lives in Lakewood to the sister in Livingston, to the sons in Passaic and Teaneck and the parents in Yardley, Pennsylvania. Yet they all share a friendly, down-to-earth manner and tremendous simchas hachayim.
Lawyer Ben Brafman and his brother Rabbi Aaron a"h were two talented brothers whose professional lives diverged wildly, while their fraternal bond and mutual respect remained unshakeable. Ben described himself as the oisvorf, the restless, at-risk kid who had no interest in yeshivah studies, while his saintly brother found his bliss in the pages of seforim. "Why can't you be like Aaron?" the rebbis would chastise Ben.
"The only person who never said that was Aaron," Ben now recalls wistfully.
Yet both spent their lives helping others. Ben became a father figure to many young, troubled celebrity clients, while many rebbes and rabbanim keep him on speed-dial for members of their flocks who get into trouble. In his spare time, he's a generous supporter of Jewish causes.
Rav Aaron pulled many sinking yeshivah boys back into the fold, and helped the talented ones blossom into greatness — in between making shidduchim, counseling couples, and running Yeshiva of Far Rockaway and his own chesed organization.
"Did you see his heart?" Ben asked the surgeon when Rav Aaron came out of bypass surgery. "Isn't it big? Everyone knows what a big heart my brother has."
Bonded for Life
One "family" I met was not related by blood, although some of their children later married each other. I'm referring to the group of Moroccan men who were brought to Brooklyn in the 1950s and '60s to learn in the Mirrer Yeshivah. They arrived without a word of English or Yiddish and zero acquaintance with American or Eastern European culture. They left everything behind, their friends and families accessible only through aerograms ("We lived for those letters," recalled Rabbi Eli Cohen). Many would not see their families for the next ten years. It's little wonder they clung to each other for support, bonding like brothers as they slowly absorbed the language and transformed into talmidei chachamim.
"We grew up like mushrooms," sighed Rabbi Yitzhak Sebbag. "From nothing, from air."
Rabbi Amram Wanouno answered, "But we had each other."
"They came over as kids, and they still act like kids when they get together again," joked Raizel, the wife of Rabbi Baruch Harrar.
Today these "brothers" are great-grandfathers with distinguished families that include community rabbis and leaders, and for years, it was a given that when someone's child married, the group would make a joint sheva brachos.
I discovered another unusual "family" group after writing up the story of Mrs. Jafa Wallach, who spent 22 months hidden in a pit under a Polish garage during World War II with her husband and two brothers. A non-Jewish friend, Josef Zwonarz, kept them there in his mechanic's shop at great peril to himself and his family. The Nazis would come for him to repair their cars, while the Wallachs listened to their boots on the floor above them. Zwonarz's wife noticed he'd removed food from their supplies and accused him of giving it to another woman.
When the war ended, the Wallach family could barely walk, as their muscles had atrophied from the cramped confinement. They took back their daughter from the peasant who'd hidden her and made their way to America. I first met Jafa when she was 95 years old, and her daughter Rena had just published her memoir of the war years. Five years later, as Jafa turned 100, a surprise guest from Bnei Brak arrived to attend the festivities: Reb Meir Elazar Berger, ne Zwonarz, the grandson of the Wallachs' savior Josef Zwonarz. Raised in Poland, he traveled to Israel and liked it so much he stayed — and ultimately converted. Today Josef Zwonarz's reward for his mesirus nefesh on behalf of Jews is that he has a frum Jewish grandson and Jewish great-grandchildren, all living in the Holy Land.
Trade-Offs
Having grown up in a non-Orthodox family myself, I'm especially drawn to those baalei teshuvah who have had to struggle and sacrifice to make their hard-earned vocations align with Torah values.
Ari and Ness Blau, for example, had invested most of their young lifetimes into breaking into Hollywood. Ness is a talented actress who'd even appeared as a child in sitcoms and commercials; Ari had thrown himself into the pursuit of comedy until he finally landed a gig as a writer for late-night talk show host James Corden. "Don't have a Plan B," was his mantra during the hard years of trying to break in.
Yet when he told Corden he was planning to leave to get married and live in Israel, Corden surprised him by saying, "I'm jealous! I have a $35 million mansion in Malibu, I get everything on a silver platter, and I have no time for my wife and three children… You're bigger than this."
Saul Blinkoff also threw himself into honing his talents until he was finally accepted as an animation artist by Disney Studios. When he'd reached the top, he suddenly wondered: Is this all there is? A chance encounter led him to Yiddishkeit, where he discovered new levels of meaning. Today his Disney experience draws people to his kiruv talks.
"Once I say Disney, I can say anything, and people will listen — whether they're nine years old or 100 years old," Saul says.
Fortunately, working in children's media presented less conflict for a frum Jew, and in any case his perspective on career success has changed: "I used to read all the trade magazines, follow who was up for the Oscars. When I used to go into a meeting I'd be rehearsing my pitch… but now I just say Shema. Whether or not I get a project at Dreamworks isn't ultimately up to Jeffrey Katzenberg."
The longings of a Jewish neshamah simply refused to be squelched, no matter how much success one has enjoyed in the secular world. Jeff Morgan had been a professional musician as well as a food and wine writer and the editor of Wine Spectator. But something kept drawing him to produce kosher wine, until he could no long ignore those promptings. He went to the Herzog family, whom he'd met professionally, and confessed his desire to make kosher wine.
"Then, for some reason, I just broke down and sobbed," he said.
The resulting partnership produced his top-rated Covenant Wines — and today, Jeff and Jodie Morgan and their children have a rich and fulfilling connection to Judaism.
Not for Profit
Scratch a Jew, and you'll get an amazing family story, or discover talents and/or virtues you never imagined existed. After a while it seems clear there is no such thing as an "ordinary" Jew.
In my own humble neighborhood in Flatbush, I have neighbors whose true worth I never appreciated until I was sent to interview them. Moish Binik a"h was the type who didn't wait for chesed opportunities to come his way — he ran after them. Our Place (a center for youth at risk), the KRM supermarket, and Moisha's Discount were only a few of his initiatives. Rabbi Eli Freilich has given his lifeblood to be mekarev a generation of Jewish high school students from less-observant families in Queens and environs, and Rabbi Simcha Scholar grew Chai Lifeline from a summer camp for eight kids with cancer into a multinational empire of chesed.
What struck me most about these people is their utter lack of pretension or drive for material things. When I went to Moish Binik's house, just around the corner from mine, I expected the home of the owner of several supermarkets to be graced with plush carpeting and high-end furniture. Instead, he and his wife lived in yeshivish simplicity.
"You see that couch?" said his daughter Rebbetzin Brachi Spira, pointing to a plastic-covered yellow couch near the window. "My parents have that couch ever since they got married."
I also assumed, wrongly, that Jacob Birnbaum a"h — who knew every political bigwig and many prominent rabbanim through his arduous efforts on behalf of Soviet Jewry — would live in a balabatish home (he grew up in Germany and London, so I imagined old-fashioned, European-style furnishings). What I found instead, when I arrived in Washington Heights, was an old, tiny apartment with a postage-stamp-sized kitchen, one bedroom, and a living room largely filled with boxes upon boxes of seforim and books.
"Other people who get involved with big movements are often in it for their egos, or to obtain power or money," his wife Freda told me. "But my husband is completely incorruptible — he's very pure. He doesn't even understand people's off-color jokes!"
He wasn't the only one whose asceticism shocked me. Naomi Adir a"h, a woman I interviewed for Family First, had never married and funneled her considerable savings from teaching into generous donations to yeshivos. Instead of using any of her money for herself, Naomi lived in abject poverty. The appliances in the Manhattan Beach apartment she had once shared with her parents looked like they dated from the 1930s. Everything seemed cracked and held together with tape; milk crates served as shelves. She was nearly blind by then, but I think even while sighted she didn't give a whit about possessions. A teacher from Lakewood once brought a class of girls to visit her, and she told them, "You can get by with very little. You don't need that extra pair of shoes to perfectly match your outfit. In my day, I'd put cardboard into my shoes when I got holes, because there was no money to buy new."
I don't begrudge anyone a nice house and belongings, but I'm in awe of people who are so obsessed with helping others, and so fulfilled by it, that everything else fades in importance.
(Originally Featured in Mishpacha, Issue 776)
Oops! We could not locate your form.
>