| True Account |
A Promise Fulfilled | March 22, 2022
I was dumbstruck. I simply hadn't realized until now that my daughter's situation was life-threatening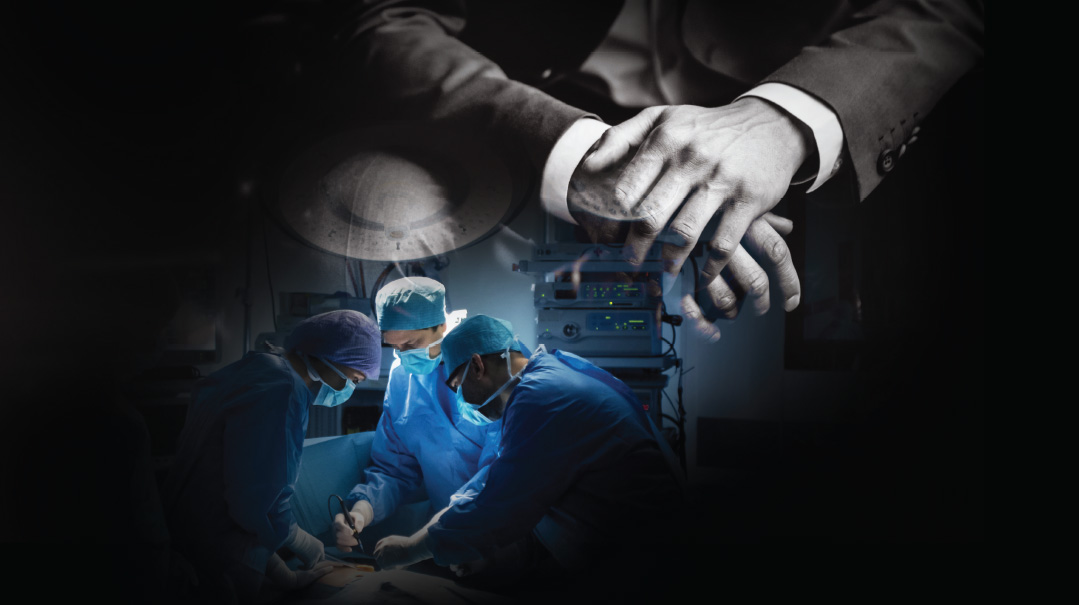 As told to Sharon Gelbach
Over 30 years ago, our lives had been blessedly commonplace; I headed a yeshivah in central Israel, my wife was a teacher, and we had a houseful of children. I was out of the country on a fundraising trip for the yeshivah, when I received an urgent call from my wife — our 14-year-old daughter Tali* was ill with hepatitis and I was needed back home. I was surprised; my wife knew how busy I was, and besides, another one of our kids had had hepatitis just a few weeks earlier, and it had passed like any other childhood illness. The following day my wife called again; Tali wasn't getting any better and the pediatrician was worried. I could hear the anxiety in my wife's voice. After I hung up the phone, I booked the next flight home.
When I arrived home, late at night, I found Tali lying in bed, uncharacteristically quiet and subdued, her skin an unhealthy shade of yellow. My wife was distressed, and I tried to reassure her. The next morning, as soon as I walked into the clinic, the secretary told me that the doctor was waiting for me. "Your daughter's condition is not getting any better; take her to the hospital right away," he said.
After several days in Hadassah Hospital, which had an excellent reputation for treating liver diseases, the department head and his deputy approached me. There had still been no improvement in Tali's condition. The department head said her liver was liable to suffer irreversible damage. The only solution: a liver transplant.
In those days, back in the '80s, Israeli hospitals had almost no experience with organ transplantation. The doctors strongly recommended moving Tali to a hospital overseas.
I was dumbstruck. I simply hadn't realized until now that my daughter's situation was life-threatening. Now I was told I had to organize complicated surgery in chutz l'Aretz! I had no idea where to begin.
Luckily, my brother-in-law was with me, and he was able to think rationally. He also had a cell phone, which wasn't standard then.
"What about your good friend from London, Jackie Levison ? Let's call him and ask him if he knows anybody who can help," he suggested.
Reb Jackie Levison, a close talmid of the Ponovezher Rav, was a well-known baal chesed and askan, and I figured it was worth a try. I called him and told him the whole story. Feeling a little foolish, I added: "I don't know if you're even familiar with stories like this, but I'm calling you because the Brisker Rav ztz"l taught us that with issues of pikuach nefesh, a person has to investigate every possibility, even the most remote."
Jackie sympathized with my plight and immediately went into action mode. "Reb Yosef! We're going to get your daughter the care she needs," he said, speaking quickly. "I'm in close contact with the best medical askanim in London. And my wife and I regularly host families who come to London for medical emergencies. Don't worry about a thing, just come and we'll take care of everything."
Jackie jotted down the details of Tali's physicians and other information to pass on to the askanim and repeatedly reassured me that everything would be taken care of.
I was intensely relieved, but I didn't want my well-to-do friend to think I was looking for charity. "Look, Jackie," I started, "I just sold my apartment because we were looking for a bigger place, but we didn't buy yet, so I have all the money in cash—"
But Reb Jackie cut me off midsentence. "Chas v'shalom, don't bring a penny! We'll take care of everything here."
Once again, I was dumbstruck. I couldn't believe that the first stage of my salvation had come so quickly and easily.
The following day, thanks to a lot of behind-the-scenes askanus and maneuvering, we were already airborne — Tali, on a stretcher, accompanied by a doctor from Hadassah, my wife, and myself. All the kids had had been farmed out to different family members. Everything had happened so quickly, it felt like a dream.
As I settled into my seat with a sefer Tehillim, my thoughts turned to Tali. She had an exceptionally sweet disposition, that had been evident from a very young age. The room would light up when she entered, and she had a knack for putting everyone around her in a good mood. Now, at 14, she had been the life of the classroom, admired and liked by classmates and teachers alike.
As soon as the seatbelt light turned off, I stood up and went to check on her. But seeing my sunny-natured daughter lying there, exposed to the scrutiny of all who passed, an expression of sadness and resignation on her face, brought all my pent-up fear and worry to the fore. For the first time since Tali had become ill — and for the first time since I could remember — I burst out crying. I hurried back to my seat so she wouldn't see me, and buried my face in my Tehillim. I cried and cried, unable to stop, all the way to London.
We were the first ones off the plane, and were soon welcomed by Reb Jackie and his wife.
"Everything is taken care of. Don't worry about a thing," he said.
And really, they had taken care of everything: the liver specialist, the hospitalization, even accommodations for the doctor who accompanied us. We had barely mumbled our thanks when we were whisked onto an ambulance that rushed us to King's College Hospital.
The medical team was waiting for us when we arrived. Tali was admitted, and we were allocated a special room and provided with kosher food.
The following day, the head doctor observed that Tali's condition had deteriorated, and he made clear that she definitely needed surgery. But we had to make a decision. There were two operating teams, one of which was considered more experienced than the other, but the more experienced team was away on vacation, and we would have to wait at least a week longer. The medical askanim were debating what to do, but the final decision was up to my wife and me. But what did we know? This called for daas Torah, and so I called Rav Elazar Menachem Shach ztz"l, to whom I always turned with my sh'eilos.
After I explained the situation in detail, Rav Shach inquired, "Is there a significant difference between the expertise of the two medical teams?"
When I questioned the askanim, they admitted that while there wasn't a major difference between them, one of the teams had a better name. When I reported back to Rav Shach with that information, he told me to find out if it would be dangerous to wait another week for the surgery. The head surgeon in charge of the transplant unit declared unequivocally that another week could be critical.
Rav Shach delivered his psak: "In that case, there is no question. Make sure she gets the surgery as quickly as possible."
What we needed now was a liver from a deceased donor, which would have to be tested for compatibility before being transferred to our hospital. A member of the London community donated money for hourly broadcasts on national television and radio, asking for a liver donation, but so far, nothing had been forthcoming.
A couple of days later, while we were still waiting for a donor, Tali, who had been weak and subdued the whole time, suddenly cried out, "Abba! Ima! Where are you?"
"We're right here, Tali!" my wife and I cried in response, but she didn't seem to hear us.
Terrified, we summoned the doctor.
"She's lost consciousness," he explained. "Your daughter is in grave danger. It's a good thing your rabbi advised you to conduct the surgery sooner rather than later. She doesn't have much time."
Even before Tali lost consciousness, Reb Jackie had mobilized all of Jewish London and beyond to daven for her. Dozens of members of the local kehillah streamed to the hospital to fulfill the mitzvah of bikur cholim, and the name Talia bas Chana Leah was on everyone's lips. The hospital staff was bewildered by the huge numbers of visitors, but thoughtfully provided a room where they could sit and recite Tehillim.
Many London rabbanim, relatives, and old friends I hadn't seen in years came to our hospital room and held a 24-hour Tehillim vigil for her recovery.
I was told that also in Australia and Antwerp, dozens of shuls had announced a yom tefillah on behalf of Talia bas Chana Leah. Back in Eretz Yisrael, my talmidim from yeshivah had organized a yom tefillah at the Kosel.
At the Kosel, someone proposed changing Tali's name, a suggestion that had also been made by various rabbanim in London. One of my talmidim phoned me and asked permission to make the name change. I was inclined to agree.
But Reb Jackie, who had been sitting near me and heard the conversation, intervened. "Before you do anything drastic, don't forget that Rav Shach doesn't recommend changing a name."
This gave me pause, and I told my talmidim that I would call them back in half an hour.
I phoned my brother-in-law, and sent him to Rav Shach to personally clarify the matter. "Tell Rav Shach that he's the only person I trust with my she'eilos," I said.
Rav Shach's answer was unequivocal. "Tell him not to make a name change," he told my brother-in-law. Then he added, "I promise that his daughter will be cured."
When Reb Jackie heard this, he stood up and started to dance.
"Didn't you hear?" he said in answer to my questioning look. "Rav Shach promised! I'm a regular 'customer' of Rav Shach, and I've heard him giving brachos for a refuah sheleimah many times, but an outright promise? That I never heard before! Now I have no doubt that Tali will get better. How can I not dance?"
On our eighth day in England, an attending doctor brought us the good news that a compatible liver was on its way to the hospital but warned that a few hours had elapsed since it had been harvested.
"We'll need a lot of luck to ensure the liver is still usable," he said, advising us to double down on our tefillos. "It's plain to see, your prayers are working!"
During the surgery, the hospital designated another room for the many women who had come to recite Tehillim, including Rebbetzin Jacobovits, wife of the UK chief rabbi, and Rebbetzin Erlanger from Lucerne. It seemed that all of Jewish London was davening for my daughter's recovery. I was told that even the dayanim of the London Beis Din had taken a break to recite Tehillim.
Several hours later, near the end of the operation, the head surgeon called my wife and me to the door. We were terrified.
"I never come out of the operating theater in the middle of surgery," he said, "but I made an exception here, knowing how many people are waiting to hear some news. Your daughter's liver was completely deteriorated, and it's a miracle she's still alive. But we were very concerned because the liver arrived at such a late stage.
"I want to tell you," he continued, "that I've done over a thousand transplants in the course of my career, and this is one of the most successful, for sure in the top three!"
Before I could digest the incredible news, I saw Reb Jackie Levinson, the man without whom none of this would have been possible, dancing and singing, "In the zechus of Rav Shach!"
Tali once told me that she believes the reason for the miraculous success of her operation was due to the tremendous kiddush Hashem that ensued, with so many men, women, and children across the globe davening for her recovery.
The outpouring of love and devotion that we received from people we didn't know really was amazing and heartwarming. Once, while Tali was still recovering and I was taking her out in a wheelchair, we went past a cheder in Golders Green just when the children were on their way home. Someone must have pointed out to them who we were because they all cried out, "Talia bas Chana Leah for a refuah sheleimah!"
Even the non-Jews had been rooting for Tali, and they flashed us a "V" for victory sign as we passed by.
After the surgery, which was on Rosh Chodesh Av, my wife returned home to our children, but Tali needed a lot of follow-up care. I ended up staying with her in London for several months. Only by Chanukah had her condition stabilized enough for her to return home to Eretz Yisrael.
About a week before we returned home, Reb Jackie's wife arranged a huge, festive seudas hoda'ah. As soon as I entered the room, I saw Tali, the old Tali that we knew and loved, seated at the keyboard happily playing a lively Chanukah tune. I burst into tears. Tears had never come easily to me, and my first outburst on the way to England had caught me by surprise. Now I cried again, but this time, I was overcome with tears of joy.
Lifesaving Endeavor
With the exception of periodic check-ups and medications, Tali continued to live a normal life for decades after the transplant, until some years ago, when she needed emergency abdominal surgery. Once again she was thrust into a life-threatening situation. All at once, the painful memories from her illness came back to haunt her, causing added trauma and suffering.
This time her shaliach tov was in the form of a young surgeon at Hadassah Hospital, Dr. Samir Abu-Gazala, who performed this extremely complex surgery with precision and expertise. No less important, he delivered his treatment with sensitivity, devotion, and kindness.
"He understood that the procedure and its aftermath were a source of great anxiety for me, and he succeeded in diffusing my worries and putting me at ease," Tali shares.
When Dr. Abu-Gazala was offered a position at the Penn Medicine University Hospital in Philadelphia, where he'd been on fellowship, it was an offer he couldn't refuse. "It's the dream of any surgeon, to be able to work at such a huge, prestigious transplant center. It's an opportunity that takes you to a different level."
Penn Medicine is one of the biggest medical centers in the US with a transplant institute that has been operational since the '60s. The Penn Transplant Institute performs transplants of the liver, kidney, and pancreas as well as heart and lung. It is one of the few centers in the world to perform combined transplantation, for example, a lung-liver transplant for a patient with cystic fibrosis and liver disease. The Institute also works in partnership with the Children's Hospital of Philadelphia (CHOP) to transplant children and babies, who go on to live almost-normal lives.
While Tali received her liver from a deceased donor, the Penn Transplant Institute has distinguished itself through live liver transplants, a procedure developed to help resolve the organ donor shortage and to save lives. This procedure allows a healthy adult to donate a portion of their liver to the patient in need. Unlike most organs, the liver has the remarkable ability to regenerate. The donor's remaining liver grows to its original size within weeks. Live liver transplants enable patients to get transplanted sooner, before their condition deteriorates further.
Tali was nervous about her continuity of care now that her doctor would be overseas, and Dr. Abu-Gazala tried to find ways to accommodate her, and his other Israeli patients. Penn Medicine has an international patients division, which offers virtual appointments in addition to its outpatient clinic.
Dr. Abu-Gazala exudes passion and excitement when discussing his work. As a transplant surgeon, he's on call 24/7, and must be ready to drop everything at a moment's notice in the event that an organ from a deceased donor is found for a patient. (The organ must be transplanted within 24 hours of death.)
"That's what prevents physicians from entering this field," he admits. "At the end of the day, though, when you know that you've helped a patient live a long life — 10, 20, 30, 40 years — it gives you a satisfaction that is beyond anything."
Dr. Abu-Gazala sees transplantation as a tool for lengthening life in patients who previously had few options. When comparing transplantation to oncological therapies in the treatment of cancer, for example, he notes that the former produces a much more favorable outcome.
(Originally featured in Mishpacha, Issue 904)
Oops! We could not locate your form.
>