| On Site |
A Picture Tells a Thousand Words | March 29, 2022
Outreach icon Rabbi Benzion Klatzko showcases emerging Jewish artists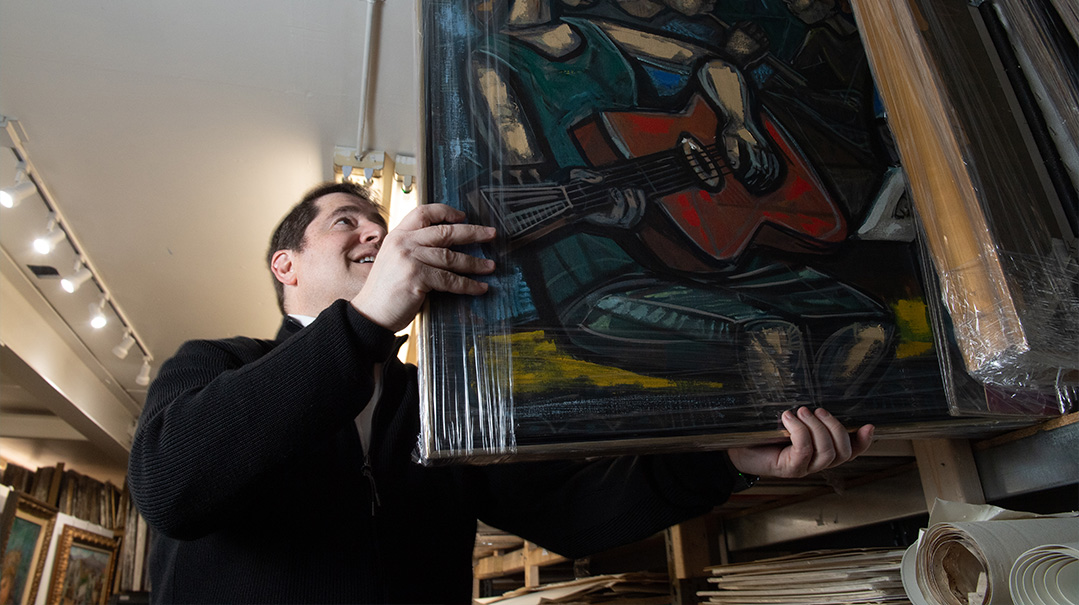 Back in 1999, as campus rabbi of the University of California at Los Angeles (UCLA), Rabbi Benzion Klatzko hosted a student who posed a unique question.
"Are religious Jews against art?" Surprised, Rabbi Klatzko asked him why he thought so. "Because your walls are bare," his guest replied.
After this encounter, Rabbi Klatzko picked up a print at a yard sale to make his home more student-friendly. But one picture on a wall is a lonely thing, so the Klatzkos started buying and hanging more. At some point, he moved away from prints and began investing in original paintings. Rabbi Klatzko's real passion is outreach — he's the founder of Shabbat.com, Hashem.com, WhyMarryJewish.org, Uma Alert, Havdalah.com, IlluminateTheWorld.com, Hisoriri, and the online Jewish television network, LiveJudaism.com., all of which are maintained under the umbrella of the Od Yavo Foundation. He is presently a senior manager for Olami's national outreach organization — and somewhere along the way he morphed into a noted art collector, expert, and dealer.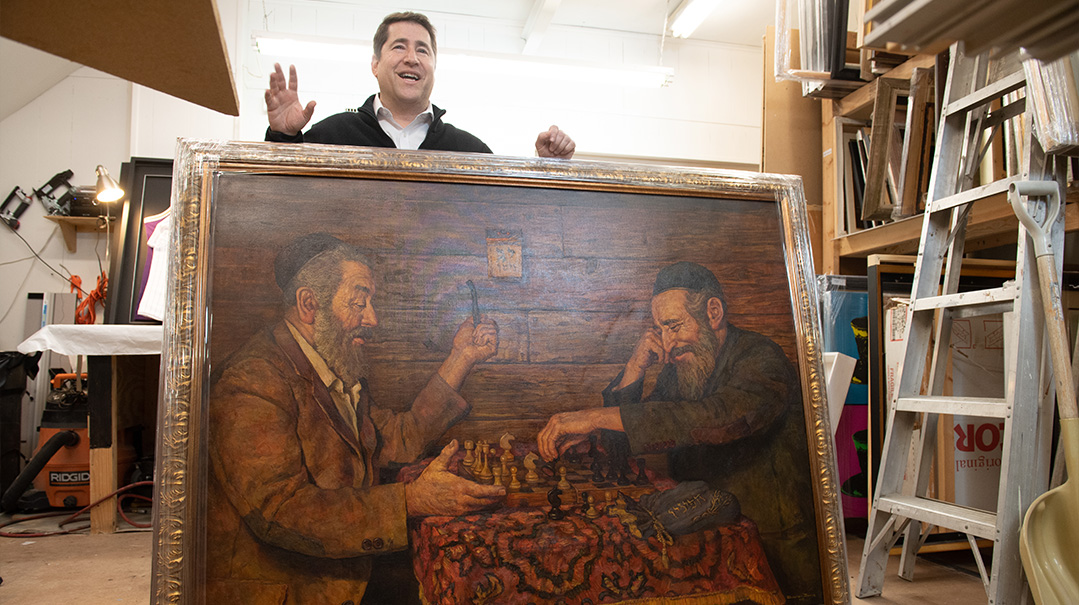 Seeing the Chesed
Two years ago, just about when Covid intruded into our world, Rabbi Klatzko merged his large personal collection of Judaic art with an existing gallery and created Rishon Art Gallery in Fairlawn, New Jersey, home to the largest collection of antique and modern Judaic paintings in North America. Its warehouse holds over 6,000 pieces, made up of 3,000 originals and 3,000 prints, and the proceeds are channeled to fund Shabbat.com's operations.
Visitors to the gallery walk into a simple but welcoming reception room furnished with a marble conference table in the center, flanked by two bookcase-sized panels, lit from behind, encasing vibrantly colored paintings on acrylic. Originally from a series of five, the panels once graced an old shul, and they depict different Jewish life cycle events. The other three panels were destroyed in a recent fire which broke out in the Klatzko home and consumed all the art that hadn't yet been shared with Rishon Art Gallery. Still, Rabbi Klatzko's only comment about the loss of the artwork is that "Hashem is very kind. Always very kind."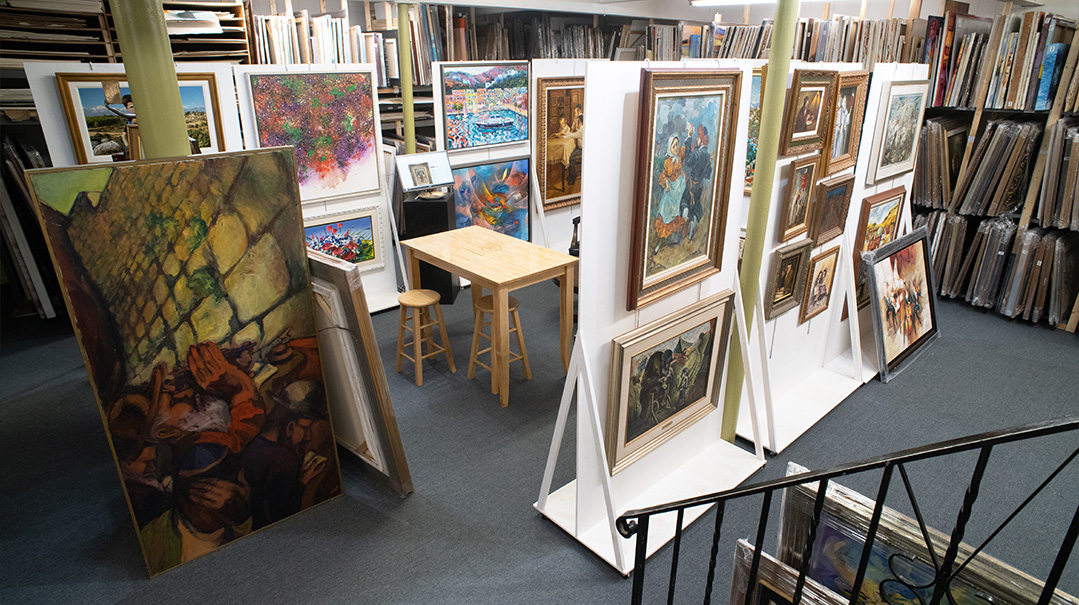 World of Art
Leaving the conference room and walking half a flight down, I've entered a world of beautiful art. A selection of paintings hangs on free standing panels in the middle of the room, and the walls are stacked with paintings, standing vertically on three levels and reaching the ceiling.
Rabbi Klatzko walks me through a gamut of styles — folk art, modern art, fine art, impressionist, and pointillist. I'm introduced to paintings by folk artist Renate Dollinger; Chaim Goldberg, who created shtetl life paintings with a modern twist; Emanuel Schary, known as the Norman Rockwell of Judaic art; and Sandu Liberman, whose evocative portraits portray haunting faces from the past. The gallery even has a few Salvador Dali, Chagall, and Picasso silkscreen prints (serigraphs) in stock.
Rabbi Klatzko shows me a painting of the Bobover Rebbe by Russian artist Michael Cheval, a leading contemporary painter specializing in Absurdist art. His works hang in museums around the world. Of his entire series of works, only a few paintings are of Jewish content, and they are all of the Bobover. Despite his unfamiliarity with his subject, the painting is vivid, featuring the Rebbe in a vibrant blue beketshe and a glowing smile. It almost looks like you could step into the picture to receive a brachah.

Painter Turns Uber Driver
Rabbi Klatzko introduces me to Russian-born contemporary surrealist painter Boris Dubrov. Most of Dubrov's Judaic art depicts men learning, teaching, playing chess, and praying. The style is Rembrandt-like, using layers of dark, glowing colors. Rabbi Klatzko pulls out a large picture titled Kriyas Yam Suf, originally commissioned by Shoprite and included in its yearly Haggadah. It's a beautiful work, but somewhat predictable; people in robes and sandals, a few sheep, some camels. It doesn't prepare me for the next painting Rabbi Klatzko shows me.
He selects a piece from the row of paintings lined upright against a wall and starts to pull, and finally, a framed painting that must be about seven feet long emerges. It's so beautiful that it makes me gasp. Rabbi Klatzko explains how he always wanted a picture of Matan Torah, but the image not only presents halachic difficulties; it is hard to paint without producing something kitschy. Rabbi Klatzko commissioned Dubrov to produce the painting, with spectacular results. Har Sinai and the Torah are painted from a distance, and the artist utilized unexpected colors, like purples, aquas, and blues. Most interesting are the vague and filmy outlines of faces painted within the robes of the onlookers, depicting the neshamos that Torah commentaries say were present at Har Sinai.
Rabbi Klatzko surprises me by telling me that Dubrov decided that his works weren't appreciated enough in the art world and has resorted instead to driving for Uber. "Criminal, isn't it?"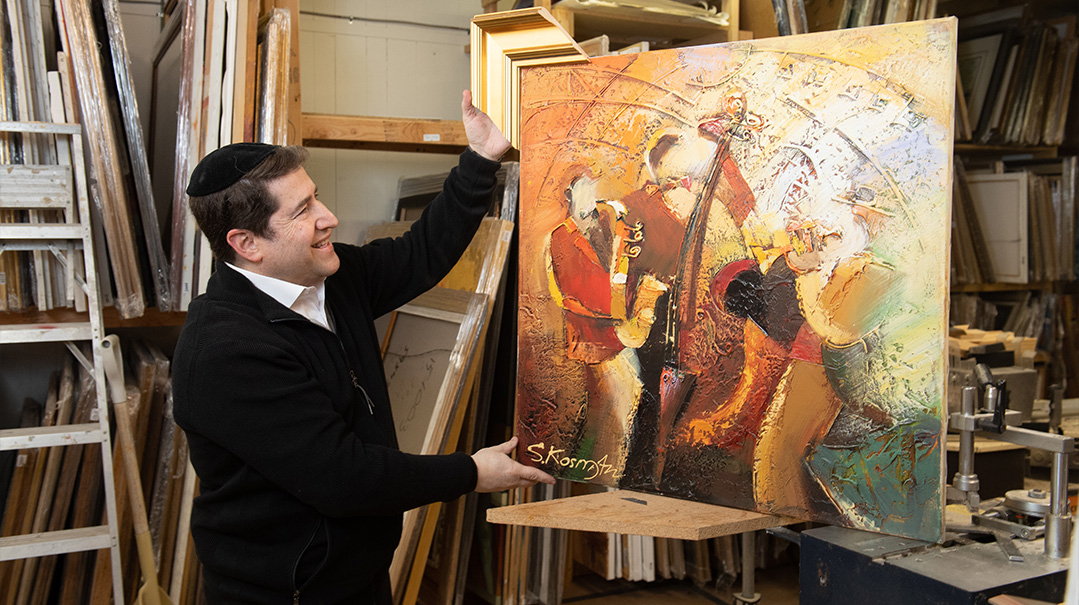 Lantern in the Dark
Next is a valuable painting by Edna Hibel, an American artist who lived from 1917 to 2014. She's known for her calming paintings featuring impressionist landscapes and portraits of mothers and daughters. The gallery only features two pieces of Judaic art by Hibel, both pricey. The small 26 × 20-inch portrait of a pensive King David is richly painted and goes for $25,000. Perversely, it doesn't appeal to me at all.
Rabbi Klatzko prefers traditional art that includes rabbanim and tzaddikim. He shows me one of his favorites, a shtetl picture painted by Maurice Kish called The Vekker Slichot Morning. The picture is dark and rich, depicting an old man holding a lantern and knocking on doors in a darkened village, with only the interior lights of the local shul brightening the scene. Looking around at the broad spectrum of styles brings home how subjective art is; a piece can resonate with one person yet not touch another.
Boardroom to Gallery
Sarah Meller, Rabbi Klatzko's executive assistant, joined Rishon Art after being downsized from her corporate position by Covid. While Sarah primarily works with Rabbi Klatzko on his outreach projects and Israel kiruv trips, she has grown to love working at Rishon Art.
"Art enlivens and changes the energy and vibe in a room," she says. "It creates warmth and style."
When I ask Sarah which piece is her favorite, she replies that it would be too difficult to choose just one, but there was a painting by Sandu Liberman that she loved, and it's already been sold. A quick Google search brings it up, and I see a contemporary work: a little girl painting a picture, wearing a golden smock and absorbed in her art, oblivious to her surroundings.
"The picture is so appealing, I'm not sure why," Sarah says. "Maybe because I like to paint too."
Akiva Rotbard is Rishon's curator. Having grown up in a family of artists and photographers, Akiva previously worked at several galleries in Tzfas. He often invites friends to come view the pieces at Rishon.
"When I see them appreciate and enjoy the art," he says, "it reignites my own appreciation and renews my perspective."
Gary Ostrovsky is Rishon Art's in-house framer. He offers visitors not only his vast knowledge of the art world, but his talent and expertise as a framer. It is often the frame that completes a work of art, and Rishon Art Gallery is unique in that it offers this skilled service on-site.
Rabbi Klatzko gives me a short tutorial on how to choose an appropriate frame by first balancing a sample frame piece on the top edge of the painting. Then he instructs me to stand back, close one eye, and put my hands up at right angles. Everything is blocked from view except for the perfectly framed corner of the painting. It works!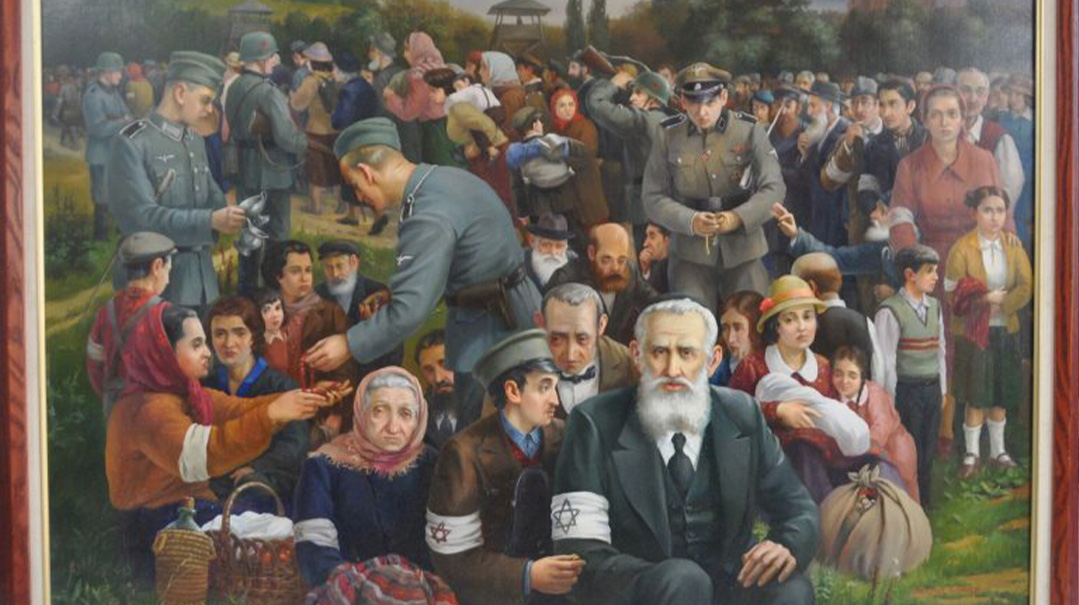 Art Meets High Tech
A slim computer monitor, set up on a stand in middle of the gallery, displays Rishon's website, where every piece in their warehouse can be viewed. Rabbi Klatzko points out that each painting is meticulously photographed, front and back, so the buyer can get a very clear idea of what he may be inclined to purchase.
Both Akiva Rotbard and Sarah Meller started out at the gallery with not much more than a room full of stuff. All the works had to be catalogued, inventoried, priced, and entered into their newly created website. The gallery invested in a customized computer system that allows it to efficiently access key information about any one piece of art, like the name of the artist, its provenance, the artist's technique, the medium used, what surface the artist chose to paint on, and whether there is any original writing on the back of the piece. All this information is documented in a piece of art's certificate of authenticity. Appraisers, investors, and collectors rely on this information before taking the plunge and acquiring a valuable — or soon to be valuable — piece of art.
Rabbi Klatzko shows me several pieces on the website from the gallery's collection of Holocaust art. It's not for the faint of heart and portrays a great deal of pain and despair. He points out two paintings representing the massacre at Babi Yar in Ukraine, one by a Holocaust survivor and the other by a postwar contemporary artist. One is a stark scene by Polish painter Chaim Goldberg, showing the earth swallowing up blurry, gray, skeletal forms. The other is a painting by Valeri Sigaev. Detailed, sharp and lifelike, it shows German officers collecting valuables from Jewish townspeople before their slaughter.
Man Behind the Picture
Rabbi Klatzko not only enjoys art but likes to connect with the artists that create them. He discovered the works of Irving Amen, a renowned American painter, printmaker, and sculptor whose style is a blend of abstract art and realism and wanted to meet him in person. Rabbi Klatzko googled Amen's name and found that he was living in a nursing home in Florida. Because he often travels for Olami, Rabbi Klatzko soon found himself in Boca Raton, and took a few hours off to meet the famous painter.
"When I walked into the nursing home, no one even knew who he was," Rabbi Klatzko says. "I had to wander around until I found his room."
The elderly Mr. Amen was living with dementia, but he welcomed Rabbi Klatzko cordially. Experienced with dealing with the elderly, Rabbi Klatzko knew that music was often a successful means of communication. So, the busy rabbi and the famous artist sang some songs together, and Rabbi Klatzko took his hands and danced with him a bit. At the end of the visit, the painter expressed his appreciation for the visit and, motioning to the many paintings stacked around the room, told him to take anything he wanted. Rabbi Klatzko, though grateful, wisely declined the gift.
Nest Egg on the Wall
While many of us aren't big-time investors or discerning art lovers, Rabbi Klatzko explains that purchasing art can also be a savvy financial move. He tells me about one of his children who, years ago, was in kollel and worried about his financial future. Rabbi Klatzko gifted him a painting.
"I told him to hang it on his wall and enjoy it," he says. "If he ever found himself tight for funds, he could look at it as money in the bank."
The painting's value appreciated and served as the family's nest egg.
SarahMeller introduces me to a series of videos created by Rishon Gallery titled 15 Undervalued Jewish Artists with Great Investment Upside. The videos familiarize the novice art collector with artists whose popularity — and value — are on the rise. The first video features all 15 artists and includes works by Yossi Stern, Tully Filmus, Saul Raskin, Adolf Adler, Zvi Raphaeli and others. The following series of videos, which will be released weekly, highlight each artist individually and cite the average present value of their works and ten-year projections of their future values. Rabbi Klatzko believes that "the sweet spot in investing in art is in the $2,000 to $10,000 range." It's the range where an investor can safely purchase a piece and anticipate enough of a rise in its value to make the investment worthwhile.

The Four Sons
Upstairs, on my way out, I stop to admire a large four-panel painting representing the Four Sons featured in the Pesach Haggadah. By now I recognize a Dubrov painting, and I enjoy the artist's detail in the portrayal of each son. The hands and the clothing — the most intricate details for a painter to master — look almost like old photographs.
Rabbi Klatzko shares that he was so moved by the picture that he composed and recorded a song for it. He produced an accompanying video featuring the Four Sons, digitally altered, and set in motion. In his song he attributes a contemporary twist to each child's persona. The wise son is devout but insecure, the rasha is a troubled teen. The simple child suffers from ADHD, while the child who "doesn't know how to ask" is debilitatingly anxious and shy. The beautiful melody is sung by Rabbi Klatzko's young son, Luzy, and can be found online as "The Song of the Four Sons." Rabbi Klatzko composed the song to remind parents that their children's struggles are real and unique. They need our love and understanding to grow in life and in Yiddishkeit.
More than Surface Deep
I leave Rishon Gallery inspired; I'm considering buying a new home so that I have more walls to hang pictures on. But beyond the beauty and inspiration provided by the Jewish art I've viewed, there's so much more going on at the gallery.
As Rabbi Klatzko explains, "When you invest in a piece of art, not only are you making a financial investment, you're also beautifying your home with Jewish content. More importantly, purchasing art from the Rishon Gallery allows you to support the mitzvah of Shabbos all over the world."
(Originally featured in Mishpacha, Issue 905)
Oops! We could not locate your form.
>