| On Topic |
A Path to the Pulpit | January 30, 2019
"Having been in the rabbinate, I came to realize that as intelligent, learned, and intuitive as a rabbi may be, intuition alone is not enough,"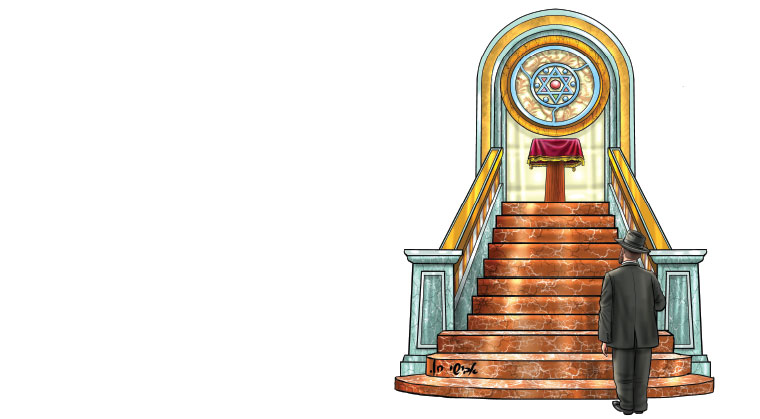 Jeremy, an articulate, well-dressed fellow, peers across the desk at the young rabbi. He's bared his soul for the last half hour, wavering between anger and anguish. His addiction has finally become an acknowledged reality and his wife is threatening to leave him. What are Jeremy's alternatives? After tears and entreaties, he waits for the rabbi's response, and in fact, the rabbi answers him with sensitivity and a respectable amount of professionalism — he's tentative but knowledgeable. Finally, they both sit back as 30 rabbinical students who have been observing their exchange lean in for discussion. Jeremy, who is actually a hired professional actor, takes a coffee break and watches the discussion heat up.
This is no private, behind-closed-doors conversation between congregant and rabbi. It's a class in pastoral services being given at Yeshiva University's Rabbi Isaac Elchanan Theological Seminary (RIETS) for students enrolled in their three-year semichah track, and it's one of the ways that RIETS prepares its students for what they might encounter in the field. As the yeshivah's placement office sends rabbis to communities all over the US, candidates are trained in public speaking, counseling, and homiletics.
"We believe that anything they'll likely encounter in their communities, shuls, and schools, should first be seen, heard, and processed in a safe and controlled environment, where they can receive instruction and guidance from experienced rabbanim and teachers," says Rabbi Larry Rothwachs, director of Professional Rabbinics at RIETS.
Is this kind of education really necessary for today's aspiring rabbis? While no one denies that the fundamental basis for semichah is Shas and poskim, many rabbinical ordination programs are supplementing the standard Torah learning curriculum with some necessary contemporary variations. This last decade has seen an unprecedented growth in Jewish communities — new neighborhoods are emerging; dwindling kehillos are seeing a rebirth, and outreach programs have mushroomed in cities around the world. This growth demands leaders who can address expanding and diverse Jewish needs, while the responsibilities of today's Jewish leaders are compounded by societal complexities that include marital dilemmas, addictions, financial instability, and mental health issues.
But those who exclusively approach Torah leaders for emotional guidance are not always getting the clinical help they need, according to Rav Mordechai Twerski, the Hornosteipler Rebbe of Brooklyn, himself a trained therapist, who in 2013 created an institute to provide rabbanim with training in counseling and therapy techniques. "Many rabbanim have learned the profound, deeply insightful material that the Torah offers for dealing with these problems, but they need to be taught it in an organized, professional way that allows them to access this wisdom in a way that can effectively heal," he told Mishpacha at the time.
First Responder
This unique position many community rabbis find themselves in — often the first station in crisis situations which might call for professional intervention — highlights the need for them to be familiar with the world of counseling and therapy as well as the depths of Torah literature. Dr. Yisrael Levitz, director of the Family Institute of Neve Yerushalayim, and who served as a pulpit rabbi for six years before earning his PhD in psychology, has played a leading role in developing several of the existing programs that provide training in counseling to rabbanim. His classic book, A Practical Guide to Rabbinic Counseling, which he coedited together with Rabbi Dr. Abraham J. Twerski, is used by rabbanim and semichah programs worldwide.
"Having been in the rabbinate, I came to realize that as intelligent, learned, and intuitive as a rabbi may be, intuition alone is not enough," Dr. Levitz told Mishpacha. As a Yeshiva University psychology professor nearly three decades ago, Dr. Levitz initiated the rabbinic counseling training program for semichah candidates at RIETS. "Given the complex nature of problems that rabbanim must deal with today," he explained, "they need a more extensive knowledge of human psychology, mental disorders, family dynamics, and manifestations of abuse and addiction, in addition to learning good counseling skills."
Dr. Levitz helps rabbanim understand that they play a critical role in people's lives. They are often the ones to whom troubled individuals first turn for help in times of crisis and need. "Even though they aren't trained to be therapists," he said, "they nevertheless play an important role at a critical time. Remember, a rav can do things that would in most instances be inappropriate for a psychotherapist to do. When, for example, a rav is told that someone is having a problem, or if a rebbi notices that one of his students stops showing up to shiur, he can call the individual up and simply ask, 'Are you okay?'"
The Hornosteipler Rebbe identified the most critical need for this type of training — specifically because of the relationships rabbanim have with their congregants. A therapist, he explained, sees someone in crisis one hour out of an entire week, but the ongoing support system comes from the Torah community and its rabbinic leaders. "A rosh kollel sees this yungerman every day," the Rebbe explained, "and who understands the yungerman's needs better than him? If the rosh kollel can be trained to recognize when a yungerman is having problems and formulate a proper response — whether it's words of chizuk or a referral to a professional therapist — then the whole support system is strengthened."
One kollel in Jerusalem with a mission to create such a new generation of rabbinic leaders is the Center for Kehillah Development, founded by Rabbi Leib Keleman. Rabbi Keleman has created a five-year post-kollel program of learning to train and prepare bnei Torah for leadership roles in rabbanus, chinuch, and kiruv. Rabbi Keleman, who emphasizes that the CKD is a standard full-time kollel program, avers that Torah leadership today means individuals who are not only comfortable in Shas and Poskim, but who have shimush in psak, background in chinuch and psychology, and experience working in communities. In practicality, they also may need to be familiar with nonprofit structures, be able to deliver crowd-pleasing shiurim in a range of settings, and most importantly, he says, they need "creativity, vision, and idealism."
Yaakov Yisroel Privalsky was a Lakewood kollel avreich who decided to take up Rabbi Keleman's challenge. He was learning in BMG when he took note of an advertisement about a new kollel opening in Jerusalem. After a rigorous application process, he was accepted into the KDC's fledgling semichah program, joining a group totaling 30 avreichim intent on mastering the demanding course and committing themselves to a future of service to Klal Yisrael.
Reb Yaakov notes that today, as there are so many frum, educated, and reliable people involved in helping professions, part of a rav's job is to know what to look for, to have connections in the field, and to be able to guide people. "A rav is not just someone to call when you run into a problem in your kitchen," he says. "While not a psychologist, a kehillah rabbi can act as a first responder for a community member facing a mental or emotional challenge."
Reb Yaakov says that the kollel pressure — tests are administered regularly and there is an enforced schedule specifying how much ground the avreichim must cover — doesn't take away from the atmosphere of simchah in the beis medrash. "There's a strong sense of simchah here, as well as a strong sense of mission. We want to fill ourselves up with both so we can go out and give to others."
Tools of the Trade
As social and communal dynamics change, kehillah rabbis with their finger on the pulse of the larger community's needs are recalibrating and adjusting accordingly. Rabbi Eliezer Wolfson, current rabbi of the Newton Mearns shul in an affluent suburb of Glasgow, Scotland, says one of the things most needed in rabbanus today is to show "how Yiddishkeit is incredibly relevant and informs our lives in so many ways."
Rabbi Wolfson, who was born in Liverpool and learned in Manchester, Gateshead, Mir, and the Jerusalem Kollel, which has to date placed over 250 of its graduates in rabbinic and educational positions around the world, says that a rabbi who is both approachable and actually happy to field challenging questions was a new concept to many people. "I've heard from so many people over the past five years here that when they were young, they weren't allowed to ask questions," he says. "To have a rabbi who's young and educated [Rabbi Wolfson is also a trained attorney] and who wants to understand them was an eye-opener for them."
Rabbi Elchonon Feldman, senior rabbi of Bushey and District United Synagogue in Greater London — a large Orthodox-affiliated community catering to individuals across the spectrum of observance — concurs.
"Why someone should seek a rav, especially in a kehillah such as my own," explains Rabbi Feldman, who sits on the Rabbinical Council of the United Synagogue, "is because a rav is someone who can be there for him through the course of the calendar year and through the course of his lifecycle milestones. This support is multifaceted, including advice, religious guidance, and emotional support. A rav has a strong role to play in life enrichment and in helping navigate an often-chaotic world. But as one of my mentors once said, the goal is to take the position of rabbi very seriously but not take oneself too seriously. What a rav cannot pretend to do is be an expert in all areas. If someone needs professional assistance, then the job of the rav is to help signpost where this assistance can come from and, of course, to be available so that the person doesn't have to go it alone during challenging times."
Rabbi Feldman, who grew up in Brooklyn under the strong influences of Rav Avigdor Miller ztz"l, Rav Yisroel Reisman, and Rav Feiyvel Cohen, learned in Mir and received his semichah from Ohr Lagolah and the Jerusalem Kollel. When he moved to England with his London-born wife, in addition to rabbinic duties he earned a master's degree in psychotherapy and maintains a small therapy practice.
Specifically due to the nature of his synagogue, congregants seek out a strong connection with their rabbi, although he concedes that in the more heimish world, where people have a choice of multiple minyanim and are yeshivah-educated, he questions whether they are in fact interested in the same kind of mentoring relationship.
Rabbi Meir Shindler, another UK-based rabbi, leads the Richmond United Synagogue in an affluent, picturesque area of South West London, where the Jewish community in the vicinity is sparse, spread out, and quite liberal-minded. There are no kosher facilities (except for a small shelf in the local supermarket), no Orthodox schools nearby, and the nearest frum area is Golders Green, about a 45-minute drive away.
Rabbi Shindler is no stranger to rabbinic life outside the strong religious centers — his father was a community rabbi in an Orthodox shul in North London. Reb Meir learned in Yeshivas Kerem B'Yavneh in Israel for three years before returning to the UK to complete an engineering degree, and after a brief stint working for the UK civil service, he decided to continue several years of full-time learning in Jerusalem where he earned semichah before returning to England.
"While the synagogue is Orthodox under the auspices of the United Synagogue, our members would not necessarily describe themselves as practicing Orthodox," says Rabbi Shindler. "To get a picture, we have only one other shomer Shabbos family in the community. Yet in a secular community such as ours, nothing leaves a greater positive impression on people than a family who lives with higher values which they can see is based on a Torah lifestyle. But no matter how secular the community, ultimately people look to their rabbi for spiritual guidance in their life. For some, it may simply be to be there for them during a time of bereavement or to make sure they have a Jewish burial after they pass away. For others, it may mean guidance during significant events or for major life decisions. But while a rav should provide counseling and support for those going through a difficult period — be it trauma, tragedy, or a family feud — he must never pass judgment, and know when to recommend or hand it over to a competent therapist when the matter requires greater expertise."
Staying Relevant
Institutes like the Center for Kehilla Development are actually the new kids on the block. More than a century before the CKD came onto the scene, back in 1896, Rabbi Isaac Elchanan Theological Seminary (RIETS) was established as the first yeshivah for advanced Talmudic study in America. Today, RIETS is led by Rabbi Menachem Penner, and its prominent roshei yeshivah include Rabbi Hershel Schachter, Rabbi Mordechai I. Willig, and Rabbi Michael Rosensweig. The professional training curriculum offered by the RIETS semichah program is divided into several tracks of study, including Pulpit, Education, Community Outreach, Campus Leadership, Hospital Chaplaincy, and Jewish Communal Services. Plus, there are continuing education courses for those already out in the field. Rabbi Rothwachs estimates that about 75% of the fellows in the semichah program are looking forward to careers in chinuch or rabbinics, and the goal, he says, "is to produce young talmidei chachamim who can effectively be mashpia on their fellow Jews."
Rabbi Avi Anderson, a graduate of RIETS who has served as the associate rabbi of the Young Israel Aish in Las Vegas for the last three years, believes that his semichah program prepared him well to meet the challenges and demands of rabbinical leadership. "The idea of a pulpit rabbi is a misnomer," he says. "You should really use the term 'community rabbi'. The role of a rabbi is to connect, to build relationships, and to help people grow."
In order for REITS to ensure that its program remains current and relevant, "all you have to do is stick your head out the window and take the pulse of the community to see what's going on out there," says Rabbi Rothwachs, who notes that most of the active administration at REITS also hold positions as community rabbanim and pulpit rabbis, which serves a dual benefit: They're in the field and knowledgeable about communal needs, and through enhancing programming for others, they upgrade their own skills.
Rabbi Rothwachs remembers a personal benefit he got from a class he alone was teaching. He was once slated to co-teach a class with noted psychologist Dr. Norman Blumenthal. One of the topics addressed was how to notify someone about the sudden and unexpected death of a family member. Rabbi Rothwachs had already been serving as the rabbi of a community shul for some time, "But," he says, "I'd never encountered this scenario before." Because of Dr. Blumenthal's experience in dealing with trauma, he took the lead in teaching the course. He discussed how to address these rare instances where family was suddenly faced with violent loss and the specific protocols that were appropriate in response. Shortly afterward, Rabbi Rothwachs had the unfortunate experience of finding himself facing the very same scenario taught in the course. "Because of that class, I was prepared. I had the knowledge and ability to help my suffering congregant with compassion and professionalism."
But when dealing with such sensitive issues as family loss, bereavement, and trauma, can a course alone create a wise, compassionate rabbi? "Can you train a rabbi or communal leader if he's not born with the 'right stuff'? It's a good question," says Rabbi Rothwachs "and the answer is that it's a combination of both. There are certain things that can't be taught. The young man needs to be emotionally intelligent and intellectually attuned. He needs to have a work ethic and a passionate love for Klal Yisrael. At the same time, there are many aspects of the rabbinate that can be given over."
Besides for scholarship and interpersonal skills, a rabbi today needs to be ambitious and to have the drive and passion for reaching out to his Jewish brethren. "Rabbis need to be entrepreneurial in finding ways to spread kiddush Hashem throughout the world and to help Jews reconnect with Torah Judaism," says Rabbi Blackman."
An average shul member wants a rabbi he can connect to and form a personal relationship with, and so, Rabbi Keleman believes, good middos and interpersonal skills are the real keys to a successful pulpit. That's why the CKD runs separate, traditional mussar vaadim for the kollel members and their wives. "They work for months, sometimes years, on each middah, and they learn how to continue this process when they move on to take care of communities," Rabbi Keleman explains. "This focus on middos is integral for building not only one-on-one relationships with congregants, but for strengthening the influence of a rabbi globally. And it also addresses the issue of integrity. We're running out of tolerance for rabbinic chillul Hashem. We Orthodox Jews accept responsibility for setting an exceptional ethical standard, and this process starts at the top, with our rabbinic couples."
Extra Help
With rabbinic training programs burgeoning, there will surely be people out there willing to take the reins in Jewish leadership. But will programs like these meet the expanding needs of Jewish communities? Rabbi Rothwachs of RIETS is realistic. "No one yeshivah can provide for the needs of our thriving communities," he admits. "But we are trying our best to produce the shul rabbanim, mechanchim, kiruv professionals, and organizational professionals to reach Jews of all backgrounds."
Ultimately, anyone whose goal includes rabbanus, chinuch, or kiruv needs not only ambition and skills, but a heavy dose of siyata d'Shmaya. "Rabbinic leaders are not born with everything it takes," says Rabbi Keleman, "nor can they learn it all on their own. No one who forces his way to the front will become a real leader. The real leaders are the ones Hashem helps along because of their own good choices."
—Rachel Ginsberg and Refoel Pride contributed to this report
(Originally featured in Mishpacha, Issue 746)
Oops! We could not locate your form.
>