| Shul with a View |
A Part to Play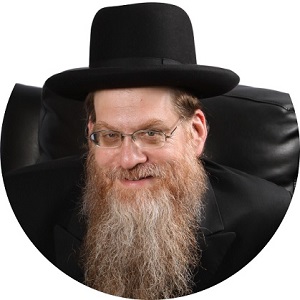 | January 31, 2023
"I've noticed that my Jewish neighbors, especially those who look like you, all have access to some secret high-tech security device"
IT was a Sunday in December.
I'm not a Manhattan person, and it takes a lot to get me to travel to "the City." And no, it wasn't to fundraise. To be specific, it was to ensure a get was given. (Or so I thought.)
For years I worked with Beryl and Brocha to restore harmony to the battleground they called home. Finally, however, I convinced Beryl that it was time to dissolve the dysfunctional union and give Brocha a get.
Beryl insisted that his brother, a high-powered, big-time lawyer, be present at the giving of the get. This brother informed us that he was only available for this pro-bono chesed at his office on West 50th off Eighth Avenue on a Sunday.
As I passed New World Stages at 340 West 50th, a man in his twenties approached and asked, "Are you the Rabbi?"
Though I was somewhat thrown by his usage of the definite article, nevertheless, I nodded.
"It's my first time in Yiddish," he told me, "and I can't wait to see you in the play!"
When in Manhattan, you can expect to meet anyone anywhere. However, I was totally mystified as to what this fellow was referring to. What play? And what was that about Yiddish?
I then noticed the large billboard announcing that Fiddler on the Roof in Yiddish was playing here at New World Stages.
"So, you're really the Rabbi in Fiddler? Can I get your autograph?"
I explained that I am a rabbi. However, I was not the Rabbi from Fiddler.
Clearly disappointed, the young man said, "Well, if you're a rabbi, can I ask you something else?"
"Of course."
"My name is Ben. I lived in suburbia all my life. I'm Jewish. However, I'm not what you would call a 'good Jew.'
"Recently, I moved to the Upper West Side. I've noticed that my Jewish neighbors, especially those who look like you, all have access to some secret high-tech security device. Could you hook me up with this Jewish remote security system?"
"What are you talking about?"
"C'mon, Rabbi, stop playing with me. You know what I mean: that rectangular box placed diagonally toward the front door. I know that's some Jewish-only security system. It's activated by the touch of the right hand!"
I could clearly see the Master Playwright at work.
"Ah, the mezuzah! You're right! It is a secret Jewish security system!"
"I knew it! So, Rabbi, hook me up!"
"Ben, do you have twenty minutes to spare before the curtain rises?"
"To get hooked up with the system? I do!"
I grabbed Ben and walked with him to the law offices of "Mr. High-Powered Lawyer."
As we walked I asked him, "Ben, how many doorways are in your apartment? The system works best when all doorways are armed."
"Three doorways."
"Three doorways. Got it," I said.
When we entered the law offices, I immediately went over to Reb Yankel the sofer.
"Reb Yankel, efsher hut ihr drei mezuzos farkoifen?" (Perhaps you have three mezuzahs to sell?)
Reb Yankel broke into a big smile.
"I can't explain why," he told me, "but this morning, I decided to bring a few mezuzahs with me. I have exactly three."
He took them out and handed them to me.
I turned back to my young friend. "Ben, take these mezuzahs. Call me when you get home, and I'll walk you through the installation. A special formula must be recited to activate them."
"Rabbi, what do I owe you?"
"Nothing! More than you owe me, I owe you."
"What do you mean?"
"One day you'll know, but you can't pay me, as I am the Rabbi in the play."
"But I thought you said you weren't in the play!"
"Correct. I'm not the rabbi in Fiddler on the Roof. But I now realize I was privileged to land a role as the Rabbi in a different play: A Mezuzah on the Door."
Ben looked at me curiously. Then he slowly left the offices to go see Fiddler.
(Originally featured in Mishpacha, Issue 947)
Oops! We could not locate your form.
>