| Real Life |
A Name and a Legacy
| September 11, 2019
From the sidelines, my stomach turned. My girls got kisses and hugs and waved their Bubby off with a smile. Shimmy got nary a glance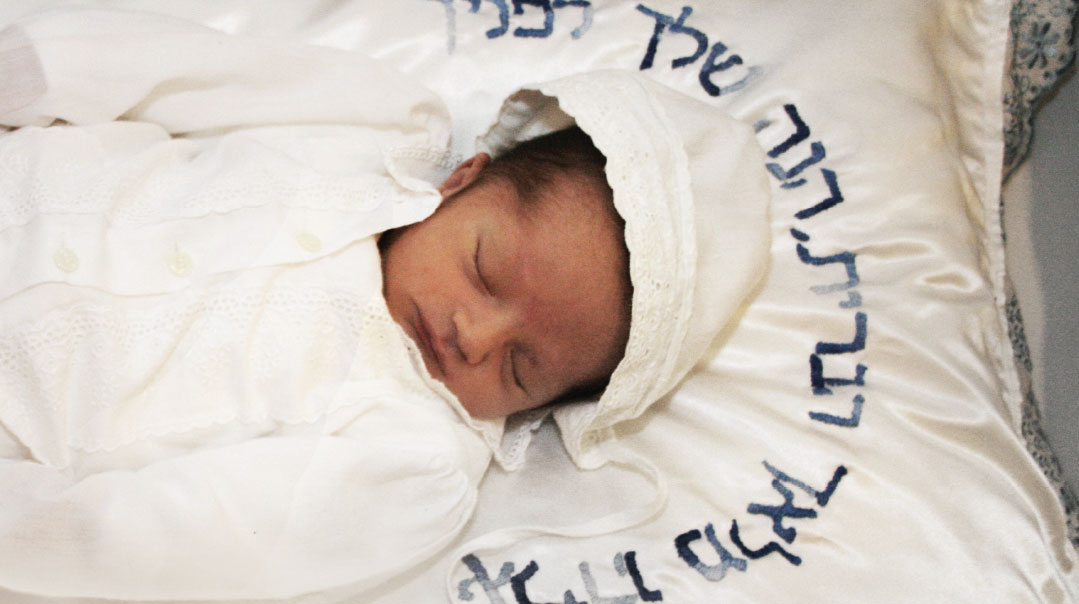 S
himmy wasn't always Shimmy. He was once a newborn like any other, just so much more precious because he was ours. We named him Shimon Nechemia, after my husband's paternal grandfather who passed away a few short months earlier.
My father-in-law reacted to the name in his usual staid manner. An approving nod, a grateful smile. "May you see much nachas!" he said. His wife gifted us with an elegant layette set from one of the upscale shops in town. They shared their brachos, snapped some photos, and left the bris.
At the other end of the room, my mother-in-law exploded. Luckily, I was spared the brunt of her wrath. I guess being a kimpeturin entitled me to some space. But I can't say the same for my husband Zev — or little Shimmy.
While Shimmy's name couldn't have been a more natural pick (there were no other grandfathers to name for), to my mother-in-law, it was the ultimate betrayal. Her heart is split squarely between animosity toward her ex, and her love for her only child and his kids. And now we'd gone and blurred the two. It was too much for her to bear.
Zev was persistently harassed, Shimmy was pointedly ignored.
"Give her a day or two," Zev assured me. "She'll get over it."
A day passed, then two, then three. Shabbos came, Motzaei Shabbos, and still no change.
My mother-in-law packed up to leave. Zev loaded her suitcases in the car, and we all lined up to say goodbye.
"Let me have a picture with my delicious nachas!" she said excitedly. My girls proudly arranged themselves in a cluster around her.
"I'll go bring Shimmy," Zev offered.
My mother in law looked at him sharply.
"Don't," she nearly spat out. There was no mistaking the resolve in her voice.
From the sidelines, my stomach turned. My girls got kisses and hugs and waved their Bubby off with a smile. Shimmy got nary a glance. By the time I could fully process what transpired, she was gone.
Two weeks passed. Shimmy came down with a fever. Three long days in the PICU, and finally we were discharged. On the way home, in the car, my phone rang — a familiar tone.
"Hi, sweetie," my mother-in-law crooned. "How are my delicious girlies?"
"The girls?" I sputtered.
Shimmy had been in the hospital for nearly half a week. I knew she knew — Zev had told her. All she cared to ask about were the girls? Somehow, I managed a reply before hitting end. Message received, loud and clear. In her books, Shimmy didn't exist.
The next few weeks passed with their predictable ups and downs. Along with acclimating to life with our new baby — our only son — we aimed to give my mother-in-law the space she needed to get out of the hole she had dug.
"Give her opportunities to show her love," we were told. "Show her a way out."
We tried. We dangled pictures like bait, always careful to have Shimmy looking his best, as if that would somehow make him deserving of her love. Sometimes she responded, sometimes not. Infrequently we got a tepid "nice," but most of the time, our offerings were ignored.
Some days the sun shines through just a crack and her resolve seem to weaken. "How are the kids?" she asks, or even, "How's the little guy?" instead of the pointed "How are the girls?" Never does she call him by name — clearly that would be too awful. We hold on to those days, hoping (pretending?) they're a harbinger of better times.
It was on one of those better days, when we could almost fool ourselves that this might one day be behind us, that she called to ask me what she could send us. Last season's clothing was all on sale — was there anything I needed?
I seized the moment, desperate to give her a chance to show her love. "The girls are great, and Zev and I are fine," I said. "But the baby could use a new stretchy or two."
My mother-in-law is a shopper par excellence, and kids' clothing is her forte. A week later, a box showed up at my door. My girls squealed with delight. Four sets of matching girls' T-shirts were folded neatly inside, along with four Hello Kitty school bags. At the bottom of the box I found a hat — a solitary hat, for my son. I put down the box, and finally, I allowed myself to cry.
I didn't have any strength left to pretend. I was tired of patching up the holes, looking away and covering up. My son was already four months old. If it hadn't happened yet, would it ever?
"My mother hates my father," my husband said without preamble late one night as I was feeding the baby. "So she hates anything to do with him too."
I wasn't used to hearing him speak so openly. But he was right.
"What's there to hate?" I whispered, nuzzling my face into Shimmy's soft little neck. Shimmy cooed back happily, eyes open wide. I held him tighter, gazing back into those deep brown pools.
There are so many emotions swirling about the whole Shimmy saga.
Confusion — have we done the right thing? We hadn't meant to hurt Zev's mother so. Disgust at my mother-in-law's hurtful, childish behavior, at the rift between my in-laws that runs wide enough to swallow a grandchild whole.
Anger, though unfounded, at my father-in-law for not fully appreciating the sacrifice we've made.
Guilt — Shimmy love, why did I do this to you?
Regret — we could've easily avoided this whole mess.
Shame for the regret and confusion we feel over a choice made with guidance and clarity. But mostly, overwhelming sadness, almost every time I gaze upon Shimmy's innocent little face.
"Why does Bubby not like Shimmy?" my precocious seven-year-old asked me one night.
"Bubby loves Shimmy," I told her, as I shepherded her into bed. "It's just sometimes hard for her to show it."
Deep in my heart, I believe those words to be true. My mother-in-law does love Shimmy. She must love him.
But sadly, in all likelihood, the pain in one form or another is here to stay. We may be hopeful, but dreamers we're not.
Night after night, I tell myself the same thing. The name we picked for our son is his birthright, an inheritance from his grandfather that he deserves to carry with pride. Sometimes, as I watch Shimmy grow and thrive, I wonder — what kind of legacy have I created for my son? And then I remind myself of the choices we've made, how doing what's right doesn't always feel right, and noble stories don't always end off with the characters riding into the sunset in harmony.
This, I tell myself, is the lasting legacy that'll accompany Shimmy as he grows.
(Originally featured in Family First, Issue 659)
Oops! We could not locate your form.
>