| Man With a Pan |
A Moroccan Shabbat Experience
| May 18, 2021
Move over gefilte fish, chicken soup, and chopped liver… Here's how we do it.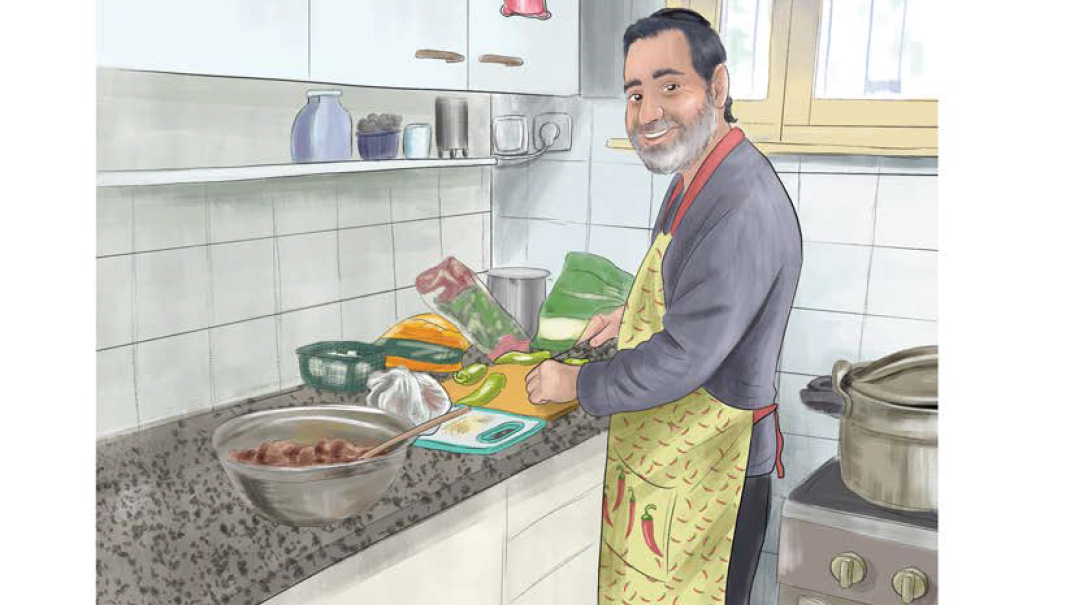 Illustration by Lea Kron
The Man
Sammy Ben David
Father of 6
Jerusalem
Director of Sales
My food experiences as a child were very rich in flavors and spices. Both of my grandmothers were from Morocco, and both excellent cooks. My mother, having a passion for cooking, would prepare many of the traditional Moroccan foods for Shabbat, including fish, chickpeas, and cooked and raw salads. The main course was usually brisket or Asian-themed chicken, not your traditional Moroccan main courses, which were reserved for the holidays.
As the eldest, I was my mother's assistant, helping her in all the food preparations. I learned at a young age the joy and pleasures of cooking — and, most importantly, that organization is key in the kitchen, especially when planning a varied menu. Every week I prepare the traditional Moroccan fish, which has been the oneg of Friday night dinner for many generations. Happily, my children are also becoming experts in the preparation and tasting.
Although I usually help my wife with her Shabbat prep by making fish and maybe a couple of dips, this week I was going to do it all — including fresh salads, the main course, and the desserts.
The Prep Begins
On Wednesday, I started my grocery shopping on my work break, letting myself get inspired at the grocery store. I bought the basics that I knew I'd need — fish, meat, cold cuts, and vegetables. When I got home that night, I sat down to decide on my menu. I knew that it had to contain lots of different salads and dips, since my wife, who has a French Algerian background, loves to serve a variety of foods for Shabbat, and I wanted to make sure she'd be happy.
Once my menu was written out, I made a list of all the ingredients I was missing. On Thursday, I made my second trip to the grocery store for all the remaining ingredients. Homemade challah is a must — especially with Moroccan salads and fish, store-bought wouldn't be the same, so my wife volunteered to make her delicious challot.
When I got home after a very long day on Thursday night, I decided I'd better get started, as I had a long list of things to do. I started by roasting the peppers and eggplant for my Marrakesh salad. Since I enjoy being creative in the kitchen, I decided to create an Asian-themed marinade for the brisket, which I named "Teriyaki Honey Brisket."
Once I'd mixed together the ingredients and coated the meat with the marinade, it occurred to me that with the predicted heat on Friday, I'd better get dessert out of the way too. I found a recipe for a chewy chocolate-chip brownie and got that into the oven too. It was already 2:00 in the morning at this point, but the house had a wonderful aroma.
Fish, Salads, and Dafina
Living in Israel, I'm off of work on Friday, so on Friday morning, I went to daven, came right back home, and then the real work began. The first dish I started was the Moroccan fish, followed by the matbucha, since they both require time to simmer to give them that beautiful texture and color. Next I cooked the brisket and marinated three different types of potatoes in a natural garlic and honey sauce, placing them in the oven to roast.
I went on to prepare the dafina (the Moroccan version of cholent), which is an essential on Shabbat morning. With only one burner free, I peeled and boiled the carrots to be mixed with the harissa sauce.
By now, the stovetop was in full use, with no available space left. The fish and matbucha simmering, giving the kitchen a wonderful familiar smell of Shabbat. I moved on to the Markeshi salad, peeling the skins from the roasted peppers and eggplant. I placed everything in a bowl with marinated lemons and blended it all with a hand blender.
Once the carrots were boiled, I started to fry the fish for lunch, followed by the eggplants. I wanted to make fresh salsa for Seudah Shelishit (a Mishpacha recipe that we clipped a long time ago).
At this point the kids came home from school, and they all love to assist me in the kitchen. My eldest loves to cut the vegetables in the exact sizes needed, which is a great help. He volunteered to cut the vegetables for the salsa, as well as the lemons, which I added to the fish to keep it moist and tender.
Since I knew it would be hot on Shabbat, I wanted to serve ice cream for dessert, even though I'd never tried making my own ice cream. I found a recipe and gave it a try. It required a lot of effort, since each ingredient had to be whipped separately, which meant lots more dishes to clean. I played with the flavors and settled on mocha and chocolate chips.
Cleanup Time
By now it was already 2:30 p.m. It was time to start washing all the accumulated dishes, which I have to admit is less than enjoyable after a few hours of cooking. I finished cutting all the fresh salads, placed everything in containers, cleaned the stovetop, and set up the hotplate with all the food I'd prepared for the Friday night meal, along with the dafina.
I felt a sense of calm and peace, knowing that everything was ready for Shabbat. It was 3:30 p.m., with three hours left to Shabbat, so I had plenty of time left to go to the mikveh, review the parashah, speak to my family abroad, and get dressed and ready to welcome the Shabbat Queen.
Once Shabbat commenced, I felt peaceful but exhausted from the week and all the cleaning and food prep, yet I was glad I'd been able to enhance my family's Shabbat with all of my efforts.
How It Went Down
I was excited to get home from shul, make Kiddush, and enjoy the food, and, of course, get the feedback from my critics, aka my wife and children.
I arrived home to find the table beautifully set with all the colorful salads and dips. Everything had the taste, color, and smell of generations of Sephardic homes. I feel strongly that we first eat with our eyes, the colors and textures providing a tantalizing sensation before we actually begin to eat, so this was a great start.
The fish and salads were delicious. The younger children were too exhausted for the second course, but they were happy to have some dessert, insisting on tasting the ice cream, even though it should have been in the freezer until the next day. By the look on their faces, it was delicious and refreshing. My son turned to me after tasting the meat and said, "Abba, I want this exact dish every single week," which was a good feeling, since I had created that recipe myself.
The next day's lunch was amazing also, with the fried fish, dafina, and deli board. The ice cream was even tastier after being frozen overnight. Seudah Shelishit was the highlight at the end of a long, hot day. The fresh salsa, nachos, and smoked tuna wraps were devoured, with everyone wanting more. My message for my kids and for you, my readers? The most important thing to keep in mind when cooking is to add some soul and love in the preparation — not to merely have food, but to offer a true delight to all who partake.
Note from the Wife
I knew Sammy would love to try the Man with a Pan challenge, so I wasn't surprised when he told me he'd applied. He enjoys cooking and has made a few Shabbats for us in the past. He didn't tell me his menu in advance, so I was excited to taste his new dishes. His Marrakesh dip will definitely become a feature at our table!
What I found interesting was that I couldn't help him out (other than the challot), which made me realize how much time we spend running out to buy different items for Shabbat. I surely enjoyed the free time and free mind!
Moroccan Fish with a Twist
5 hot peppers (use more for extra spicy, or replace with red peppers for non-spicy version)
2 lbs (1 kg) fish fillets (I use tuna, but any fish will work)
4 cloves garlic, minced
handful of fresh coriander
2 Tbsp Moroccan paprika
½ cup oil (approximately)
2 lemons
2 Tbsp salt
Chop the peppers into strips and place them in a medium saucepan with a lid. Rinse the fish, place it over the peppers, and press the garlic cloves on top.
Remove stems from coriander and place on the fish. Combine the paprika and oil in a small bowl and pour it over the fish. Cover the pot with the lid and boil at high heat for 30 minutes.
Meanwhile, prepare the lemons, which are the secret to the tenderness and moistness of the fish. Peel the lemons, remove the pulp, and place it in a bowl. Add some boiling water and 2 Tbsp salt. Place the salty lemon pulps under the fish and reduce the heat. Let the fish simmer for about an hour so it can absorb the lemon flavor. Serve hot.
The Plan
Friday Night:
Homemade Challah
Moroccan Fish
Matbucha
Moroccan Carrots
Fried Eggplant
Marrakesh (Roasted Pepper Salad)
Homemade Techinah
Fresh Salads (Beet, Kohlrabi,and Radish)
Teriyaki Honey Brisket
Roasted Garlic and Honey Potatoes
Chocolate Chip Brownies
Shabbat Day:
Fried Fish with Moroccan Spicy Sauce
Dafina
Deli Board
Cucumber and Oregano Salad
Fresh Veggies and Cooked Salads
Mocha Chip Ice Cream and Brownies
Seudah Shelishit:
Fresh Salads and Dips
Nachos with Fresh Salsa
Egg Salad
Smoked Tuna Wraps
(Originally featured in Family Table, Issue 743)
Oops! We could not locate your form.
>