| Magazine Feature |
A Little Outside Help | September 9, 2020
When illness strikes, these advisors are ready to help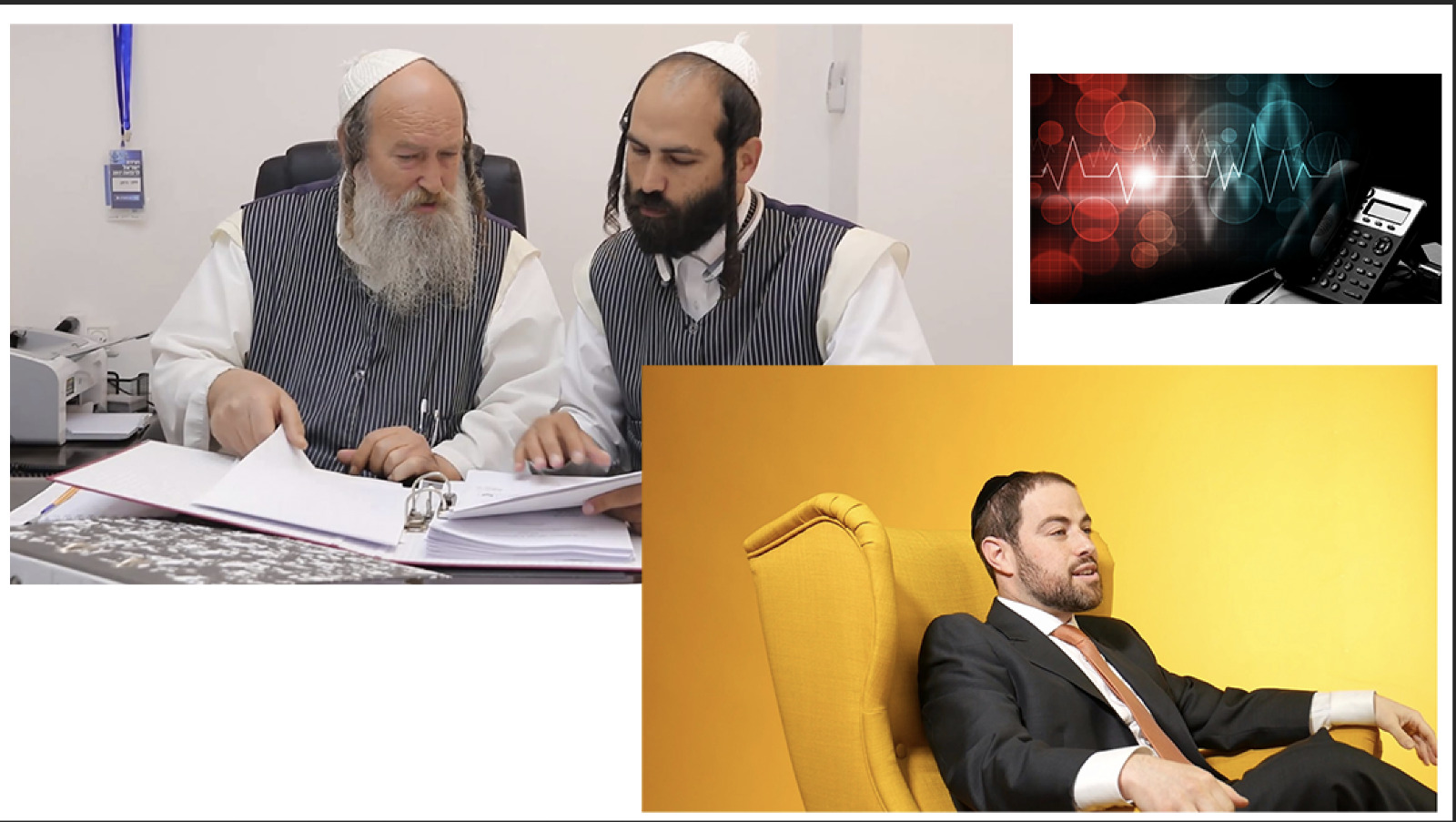 Imagine stepping off a plane in a foreign country, where all around the signs are written in a language you don't understand and you can't find a single person who speaks English. That sense of cluelessness, that feeling of literally being lost with nowhere to turn for guidance, is just a taste of one of the many terrifying aspects of being diagnosed with a serious illness. Drawn into a frightening whirlwind of unfamiliar terminology and medical complexities, none of the previous life experiences of a newly-diagnosed patient can help — and making the wrong decision can mean the difference between life and death.
And so, over the past few decades, both private askanim and medical referral agencies have become available to deal with medical-related issues of nearly every kind, often working around the clock to make sure people get the help they need. Over time, it became clear that the very first order of business in every health-related journey was finding the right direction and the best treatment protocol in often unchartered waters. And now, living in the shadow of coronavirus, this help is more important than ever
AT A PREMIUM
By Sandy Eller
Over two decades ago, when Williamsburg resident Reb Herschel Kohn saw how people in the Jewish community were being bankrupted by medical bills that could have been covered if only they had had the right insurance, Reb Herschel created Rofeh Cholim Cancer Society (RCCS) to help people pay their insurance premiums and make quality medical care affordable for every Yid. But it didn't end there. It soon became clear that people didn't just need help paying for treatment, they also needed qualified individuals to help steer them towards a treatment plan that was best suited to their particular needs.
"We became one-stop shopping for cancer patients," explains Rabbi Chaim Rapfogel, chief operating officer at RCCS. "The same way you think of Hatzolah for medical emergencies and Chaverim when your car breaks down, RCCS is ready to step in and work out all of the medical and financial problems when someone has cancer.
"Doctors go to medical school because they want to help people, but then they get out in the real world and realize they can't help everyone because of the realities of insurance," he observes. "When they see that we can manage the insurance part of the equation, they're excited to work with us — even if we get them while they're on vacation on a beach in Hawaii."
Rabbi Rapfogel recalls an incident he heard about from Reb Herschel Kohn, when two men were sitting together at a wedding, one of whom seemed depressed. When asked to explain his dark mood, the man said that his young son had been diagnosed with cancer and was scheduled to have his leg amputated.
"The other man pulled out his phone and called the RCCS emergency hotline from the wedding," says Rabbi Rapfogel. "After hearing the details of the son's cancer, RCCS advised the man to hold off on the surgery and assembled a new team of doctors for his son, and also helped him with the financial arrangements. Two years later, Reb Herschel got a bar mitzvah invitation in the mail with a little note attached clearly written by a young person. The note read, 'Please come to my bar mitzvah and watch me dance with my two legs.'"
Having a solid medical system behind the patient is vital, but having a good advocate with extensive knowledge is an incredible service, and that point has unfortunately been illustrated over the last few months, as coronavirus has seen some people afraid to go to the hospital, while others have pushed off or neglected crucial treatments. Every hint to an assortment of illnesses, from headaches to chest pains to bad coughs, was blamed on coronavirus.
Two recent patients who were ultimately diagnosed with lung cancer originally attributed their bad coughs to coronavirus. In one of those cases, the window of opportunity for a cure is very narrow and the diagnosis was made in the nick of time. Another man who had headaches for weeks mistakenly assumed that COVID was to blame, only to discover several weeks later that he had an aggressive brain tumor. And when a leukemia patient was refused admittance by a major hospital because of the pandemic, the agency's medical advocates understood that waiting was not an option and arranged for him to go to a smaller facility.
"The past few months have made it abundantly clear just how important it is to turn to those who understand the inner workings of the medical world in order to help navigate the maze and not make assumptions," says Rabbi Rapfogel.
A patient may have no clue what to make of some symptoms, and a primary care physician might not connect the dots on symptoms that seem negligible. "We can help the patient find the best person to talk to, gather reports and understand what is going on, what the concerns might be and what the best approach would be at that point," says Zishe Lowy, RCCS's director of patient services, who handles referrals in the United States and in Israel.
Because RCCS focuses exclusively on cancer patients, its referral team specializes in treatments options. "Being in medical referrals used to mean knowing the experts and having relationships with them so you could get patients in," says Lowy. "Now it's also about understanding the diseases and how they're categorized and even sub-categorized. We need that knowledge in order to be able to keep up and to know who has clinical trials available."
Three years ago, one of the highlights of the annual American Society of Clinical Oncology conference in Chicago was a clinical trial for a specific type of mutation found in several types of cancer. "There were only 83 patients in the world who fit that criteria and could participate in that trial," says Lowy. "We had three or four of them and we knew that in their cases it would be an absolute breakthrough."
The organization's expertise in working with insurance companies, which includes an advocacy department for approval of doctors in particular networks, as well as an appeals process, adds additional clout when it comes to getting top doctors on board.
"Doctors we work with know they have to offer our patients the best options because there is no excuse that something wasn't approved by the insurance," Lowy explains. "Doctors tell us all the time, 'we know that when you guys are involved, there's no room for a Plan B — it always has to be Plan A with you.'"
A LIFELINE FOR LITTLE PATIENTS
By Sandy Eller
Mrs. Esther Schwartz, who made her first medical referral more than 30 years ago, admits that she always aspired to a career in medicine, but knew that those dreams were impractical for a girl growing up in a chassidish home in Boro Park. Instead, she became a high school teacher and indulged her passion for medicine by volunteering at Maimonides Medical Center's emergency room, serving as a liaison between doctors and family members.
It was a confluence of several events that led Mrs. Schwartz, who today is Chai Lifeline's director of hospital services, into the field of medical referrals. The first was that both her father-in-law and a close friend were diagnosed with cancer at the same time, and she would accompany both of them on their appointments. The second was that in her capacity as a high school guidance counselor, she would supervise students doing volunteer work at Mt. Sinai Medical Center, which provided her with additional hands-on experience in the medical arena. The final push came from looking at her students and realizing that they were the same age as her own daughters. Not wanting to become one of those wizened teachers who had long overstayed their classroom welcome, Mrs. Schwartz decided to move on, spending the next four years scouring the classified ads, ultimately responding to a posting from Chai Lifeline, which was looking for a new volunteer coordinator, a job she readily accepted.
"I was assisting the person who was doing medical referrals, which is just a very small piece of what Chai Lifeline does globally," recalls Mrs. Schwartz. "When he left three months later, I took over for him and I learned on the job."
Mrs. Schwartz spent her time cultivating strong relationships with doctors and hospital administrators, calling on them for advice when she wasn't quite sure of the best course of action for a particular patient. And she decided to self-educate. Her nightstand was stocked with a solid stack of books as she worked her way through her medical texts night after night in the pre-internet age, and she was given access to both Mount Sinai and Cornell's medical libraries.
Chai Lifeline's medical referrals are primarily pediatric, although Mrs. Schwartz does get occasional calls for help for adults at Memorial Sloan Kettering because of the strong connections she's forged there over the years. Mrs. Schwartz has done thousands of referrals over the last three decades, and breakthroughs in the world of medicine mean her young patients are seeing better chances of survival today than ever before.
Still, knowing that not every patient will survive is a tough pill to swallow. "Every child who doesn't make it is one too many," she says.
Because Chai Lifeline is a household name, families will often reach out for help on their own, although Mrs. Schwartz also has patients referred to her by doctors, social workers, and rabbanim. With one call, Mrs. Schwartz can give anxious parents some peace of mind, taking care of appointments and insurance issues.
"We have someone who takes care of all the paperwork and makes it happen, saving people thousands by negotiating for them, making deals for them when they can't afford their deductibles," she says. "Even in cases where we can't save people money, we save them the headache of having to go through the entire system, a process that can take hours."
The office offers patients a choice of several doctors, explaining the pros and cons of each ones. In some cases, an insurance change might be necessary and Mrs. Schwartz and her team are able to make that happen as well.
"We like to let the family decide what works best for them and to talk things over with their rabbi," explains Mrs. Schwartz. "If they decide to go with another choice, we're happy to support their decision and help them out in any way we can."
Yet she admits that it isn't always easy to keep going in a job that involves listening to heartbreaking stories, sometimes all day long. On days when things seem overwhelming, she makes it an effort to direct her thoughts toward things that she knows will lift her spirits.
"Focusing on my own family is one thing that gives me chizuk," she says, "and every child who makes it strengthens me." And while it goes without saying that cases cannot be discussed with family members, Mrs. Schwartz says that one look at her face can tell her family everything they need to know about her day — and given the nature of her job, having her work intrude on personal time is just a fact of life.
"When your phone rings at all hours, or you're on the phone with your kids and you have to hang up on them because a client is calling, it does impact your family," says Mrs. Schwartz. "Still, I try to mitigate it as much as I can."
The difficulties of childhood illness have only been exacerbated by COVID-19, with isolation and a lack of connection seriously impacting young patients on an emotional level.
"Medically, I think children continued to get what they needed, but there was a lot of stress and a terrible feeling of isolation because there was no way to make those personal connections," comments Mrs. Schwartz. "The nurses tried to stay away, doctors would stand at the door to avoid coming into the room, and the medical staff was wearing PPE, which was scary for a lot of children."
The extra touches of warmth that make serious illness and hospitalization less frightening to children also fell victim to coronavirus. The clowns that used to roam the pediatric floors were gone. Young patients were no longer allowed to play together and socialization between parents, a bonding experience that often alleviated some of the stress, was also forbidden. But worst of all was the fact that only one parent was allowed to be with their child during their entire hospital stay.
"It was a nightmare," says Mrs. Schwartz. "Parents are used to being there together during a crisis and now they weren't allowed to switch off or even leave for a period of time. It was hard on both parents, especially at the beginning when things are new and frightening. I got hundreds of calls asking for special permission for a second parent to be allowed in, but this was coming from the Department of Health and mandated by the state. There was no wiggle room."
Over the years, Mrs. Schwartz has had the privilege of seeing many of her patients' stories have happy endings. She has been to their bar mitzvahs and weddings and even attended brissim and bar mitzvahs they've made for their own children. She hasn't had any second-generation weddings yet, but she looks forward to dancing at those simchahs as well.
One wedding Mrs. Schwartz attended recently was the culmination of a story that began around 28 years ago when a young boy came to her shortly after being diagnosed with cancer.
"He did all the regular Chai Lifeline things," she remembers. "He went to Camp Simcha and I would see him once in a while for his yearly checkup. Fast forward many years, and an 18-year-old girl walked into my office after being diagnosed. The minute she walked in I told her mother that she reminded me of the mother of a little boy we treated so many years ago."
One thing led to another and the shidduch was redt. Today the two are married and in addition to sharing three children, they also share the same oncologist.
If Mrs. Schwartz had just one piece of advice to offer any parent whose child is diagnosed with cancer, it would be to make informed decisions.
"Your doctor has to be someone you're comfortable with and that you trust," she advises. "It's also a kind of shidduch and having the right chemistry is important. And once you make that decision, be sure that you're the one communicating with them directly at all times — no one else should be communicating with them on your behalf."

STILL THE SAFEST PLACE
By Refoel Pride
Rabbi Shimon Braun has a few words of advice for anyone who feels unwell and has reservations about going to the hospital these days.
"Go," he implores. "This is pikuach nefesh mamash."
Rabbi Braun, founder of Jerusalem's Yad Avraham medical referral service which he runs together with his son Yechezkel (Chezky), says his greatest challenge today — medical emergencies notwithstanding — is that people delay going to the hospital because of fear of contracting coronavirus. "There are people who really need to be in the hospital, those receiving ongoing treatment for chronic conditions, or people who suddenly feel ill —they don't have corona, but they're thinking they don't want to go because of corona. Sometimes by the time they've contacted us, it's too late."
He relates the sad story of a young man complaining of heart palpitations. Normally a person feeling this way would hurry to the emergency room, but the young man demurred because he feared contracting coronavirus.
"A week later, an ambulance brought him to the ER after he sustained a massive heart attack," says Rabbi Braun. "He was admitted to intensive care, where they tried to save him. But after a week and a half, he was niftar."
Rabbi Braun grants that not every instance of someone not feeling well necessitates a trip to the hospital. "But," he says, "if a person is really feeling bad and a doctor advises him to be admitted, he shouldn't protest — 'No, please, I don't want to get corona!' To date, there have been no infections from corona that were contracted by patients in the hospital. There is no person here in Israel who can say, 'I got infected with corona at the hospital.' "
Rabbi Braun's organization, which receives around 50,000 phone calls and 750,000 text messages a year, is named for the previous Toldos Aharon Rebbe, Rav Avraham Yitzchok Kohn ztz"l, who was niftar in Kislev 1996. Rabbi Braun served as a mazkir to the Rebbe, specializing in helping people who came seeking assistance with medical problems.
"After the Rebbe was niftar, my father expanded on the expertise he had built up in that role and founded a full-time organization to address these problems," says Chezky Braun, who works side by side his father.
Today, the coronavirus crisis has actually provided Yad Avraham with new opportunities to serve. Two major initiatives are a blood plasma drive, and the Corona Ward Volunteers project.
As America's COVID Plasma Initiative has done in the States, Yad Avraham has mobilized the local chareidi community, hard hit by COVID-19, to donate blood that can be processed into plasma for transfusions. Yad Avraham volunteers canvass community agencies for lists of donors, organize the donation drives, take the blood, process the plasma, and deliver it to hospitals and medical centers.
The Corona Ward Volunteers project targets COVID-19 patients in isolation, whether in hospitals or in one of Israel's "corona hotels." Volunteers who have recovered from the coronavirus (and in many cases also donated plasma) visit with these patients, bringing them food, drink, reading material, and most of all, company. At Hadassah Medical Center, doctors saw in the first wave how isolation affected patients' emotional state and determined that these volunteer visits are beneficial — especially for elderly patients, who have been cut off from all their social connections.
"One elderly woman in isolation had brought her cell phone with her, but the battery ran out," says Chezky. "She said her family was probably wondering what could have happened to her, she hadn't spoken to them in days, and didn't think of asking one of the nursing staff to get her a charger. One of our volunteers pulled a charger out of his pocket. Another elderly man was so happy to see our volunteer — 'Here's someone to talk to, someone who can bring me my tefillin.' "
Yad Avraham has also provided chareidi patients in long-term isolation with tablet computers enabled for video calls with a designated number. It's a way for families to stay connected to these patients, whom they otherwise have not seen for weeks, sometimes months.
"The chareidi patients don't have smart phones, and many of them don't have Internet at home," Chezky points out. "The tablets are a lifeline for these families."
The volunteer project, says Rabbi Braun, "is not only a big chiddush, it's a big kiddush Hashem. The volunteers are all chareidim, and it's not simple for them, either — they have to wear the full-body protective gear [biohazard suits], they're in there for four or five hours at a time. And it's hot."
Even in the midst of the COVID-19 pandemic, Yad Avraham still runs its full slate of regular activities —running free medical shuttle vans and providing all manner of bikur cholim services, for children, the elderly, and all ages in between. But the raison d'être of the organization, where the rubber meets the road, is its medical referral service. And in this age of automation and artificial intelligence and virtual agents, Yad Avraham's approach is refreshingly retail: Rav Shimon Braun and his son Chezky, calling doctors personally, to intervene for patients in need.
"A person has a medical crisis, he calls Hatzalah or MDA, they arrive and say the case is urgent," Rabbi Braun explains. "They bring him to the ER. Now he's alone. They're telling him he needs an operation. Operation? What operation? The staff, the doctor are all waiting on an answer from the patient. What does he do? Who does he turn to for advice? He needs someone who understands the whole system, just like when someone finds himself dragged into court — he needs a lawyer to help him understand who the judge is, what his options are."
Another important aspect of Yad Avraham's assistance, Chezky emphasizes, is availability.
"The people who call us know that we're there for them 24/7," he says. "I get 200 calls a day. People call all day long, into the night, in the middle of Shabbos. When they need us, we have to be there. And these calls come from chareidim, datiim, chilonim, non-Jews… whoever needs."
Rabbi Braun once received an aliyah on Shabbos morning in the Toldos Aharon shul, as one of the chassidim chashuvim — and on the way up to the bimah, his phone rang, echoing out into the large beis medrash. And he answered it, unhesitatingly.
"You see Chezky? He's a pretty frum guy, right?" says Peretz, a Hatzolah member who has himself called upon Yad Avraham for assistance. "Sometimes people don't understand that he's saving lives right there on his phone, on WhatsApp, in front of the computer. My mother went through two major operations and a round of radiation, and the doctors just told her she's cancer free. If we had gone through the process the normal way, without their intervention, who knows if my mother would have even made it to the first operation?"
Rabbi Braun and his son have built up a formidable contact list over their many years helping people in medical dire straits. When Rabbi Braun is asked if he knows how many doctors' phone numbers he has stored in his phone, he casts a knowing smile to Chezky, and says, "Shanah tovah."
"It's not just patients and their families," says Chezky, who can often be found walking the hospital corridors with his father, dressed in their traditional "zebra" Yerushalmi levush. "Doctors also call us. Because they know we've dealt with a lot of crisis situations and we've built up a certain expertise… In the hospital, if a patient is anxious after being told he needs an operation, the doctor will ask him, 'Do you know Rabbi Braun? I'll give you his number, he can tell you who to ask for a second opinion.' "
(Originally featured in Mishpacha, Issue 827)
Oops! We could not locate your form.
>