| Recipes |
A Health Bar without the Nuts
| May 27, 2020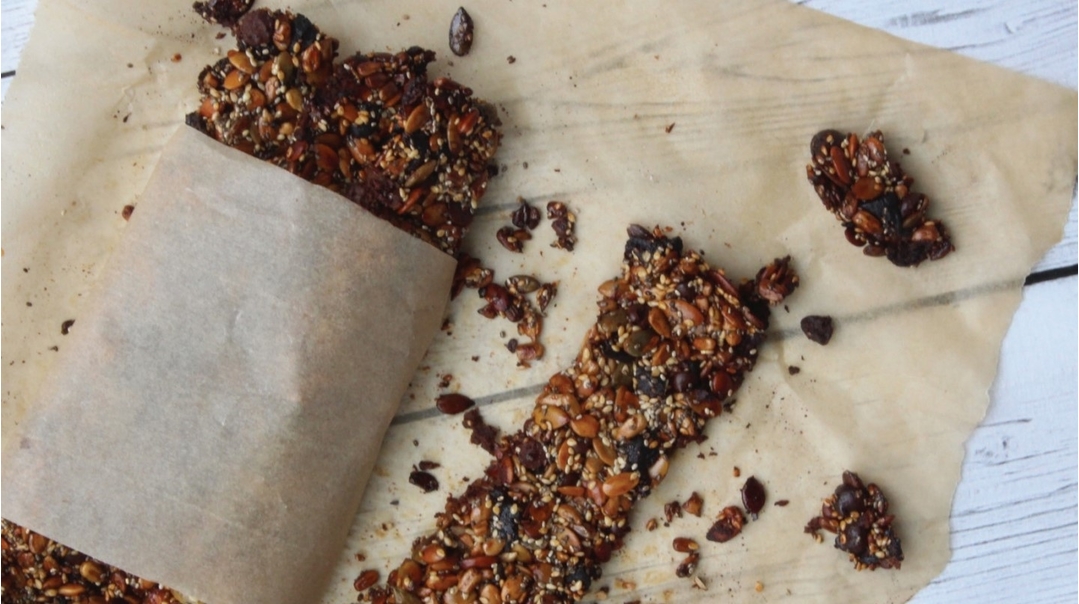 PHOTOGRAPHY BY BETH WARREN
A healthy grab 'n go bar is a great snack idea, but they can be hard to find without nuts. Plus, many store-bought options are highly processed with a significant amount of added sugar. My recipe creates a wholesome, nutritionally balanced bar with protein and fiber while staying low in sugar. It's also the perfect tasty solution for people with food allergies and kids who attend nut-free schools because it's made from an array of seeds.
During these unprecedented COVID-19 times, with limited ability to replenish fresh foods as frequently, this seed bar is the perfect way to whip up something healthful for the whole family. In addition, the ingredients are flexible and can be replaced with any seeds, liquid sweeteners, or dried fruit that you have stocked at home.
Beth Warren Nutrition is running fully virtual nutrition appointments during the COVID-19 social distancing restrictions. To schedule a nutrition appointment with Beth in the Brooklyn (Flatbush and Williamsburg), NYC, or Five Towns locations, or book an appearance, email beth@bethwarrennutrition.com or call 347-292-1725. Most insurances accepted.
All-Seed Bar
SERVES 12
1⁄4 cup sesame seeds
3 Tbsp hemp seeds
3 Tbsp chia seeds
1⁄2 cup raw pumpkin seeds, hulled
1⁄2 cup raw sunflower seeds, hulled
pinch sea salt
1 tsp vanilla extract
1⁄4 cup honey
1⁄4 cup dried apricots, chopped
1⁄4 cup dark chocolate chips (optional)
Preheat oven to 325°F (160°C). Mix the seeds, salt, and vanilla in mixing bowl. Stir in the honey until fully coated. (The honey should be soft and liquidy, so if it's hard, microwave it for a short time to loosen.)

Line the bottom and sides of an 8-inch (20-cm) square baking pan or Pyrex dish with parchment paper. Spray parchment paper with cooking spray. Pour the mixture into the pan and pat down with a wet metal spatula until evenly distributed and smooth.
Place pan in oven and bake for about 40 minutes. Check on it after 30 minutes to make sure it's not burning. It should be turning golden in color. For a crunchier texture, keep in the oven for 45–50 minutes.
Remove from oven and cool completely (it may still be a little soft but will harden as it's left to cool). Once fully cooled, lift the bar with the parchment paper from the pan. Turn it over and remove the parchment. Flip back over and cut into bars or squares.
To keep the bars crisp, store uncovered on the counter.
Tip: You can make these into granola-like pieces by spreading the mixture on a baking sheet lined with parchment paper and baking for about 40 minutes or until golden brown. After cooling completely, break apart or crumble to desired size.

(Originally featured in Family Table, Issue 694)
Oops! We could not locate your form.
>