| True Account |
A Good Connection | April 5, 2022
While he touched the lives of all who met him, his deepest desire was to find his brother once more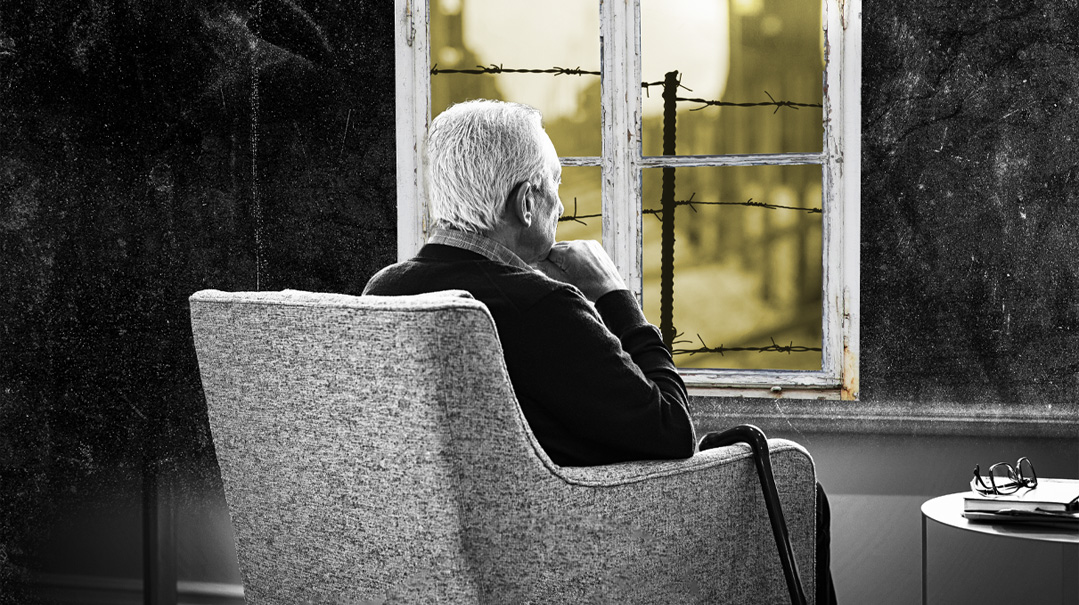 As told to Ariella Schiller by Elika Rezvani
I didn't grow up religious, but the school I attended in Los Angeles was a girls-only establishment that put a large emphasis on kindness and care. Every Friday for 45 minutes we would go to an old age home to visit the residents and spread some cheer. I loved these visits and looked forward to them all week.
My childhood was an eventful one. We escaped from Iran and settled in Israel when I was a toddler, but when I was ten years old, my mom died of colon cancer, and my whole world shattered. My father couldn't care for me and sent me to Los Angeles to live with my grandfather, who spoke no English or Hebrew. I had no closure from my life in Israel; I was simply sent away as an orphan, alone and lonely. Then a couple from the Jewish Federation connected with me. They lived in Hollywood, and unofficially adopted me. I had a family again. I had a childhood once more. I attended school, and that's how I met a kindred spirit who also had no family.
I appreciated being able to be the giver, to come into someone's room and just be a ray of sunshine every Friday. One resident in particular caught my eye, the sweetest-looking older man, probably in his mid-eighties. I approached him, said hello, and instantly connected with Harry Markowitz,* who told me upon introduction that he had served in World War II, and he asked if I would like to see his war medals.
I started coming alone, even after the school program finished.
We grew close, bonding over old stories, classic movies, and the conversation of two kindred souls. I spoke to him frequently of my life, and he shared with me many stories about a childhood I could barely imagine. Little did I know on those long Friday afternoons that meeting Harry would change the course of both of our lives.
Harry's story began before World War II with his mother's passing when he was only seven years old. Together with his older sister and younger brother, the three Markowitzes were sent to an orphanage on the East Coast. His sister was adopted swiftly, he said, and so was his younger brother Maxwell, but no one adopted Harry. It was traumatizing for him to be separated from his siblings, but he had no choice. And so, from the age of 16, Harry was on his own.
He enlisted to fight in World War II and serve his country proudly. When Harry retired from the army, he reconnected with his brother, but then they lost touch and couldn't find one another.
Now it had been over six decades since they had seen one another, said Harry, his eyes shining with unshed tears, and over five decades since they last spoke. Harry told me how he tried desperately to find Maxwell and enlisted various people to help him with his search over the years. Unfortunately, Harry was left still without family. He never married or had children, and while he touched the lives of all who met him, his deepest desire was to find his brother once more.
We were both Jewish, but our commonality was deeper: We had both tragically lost our mothers at a young age. And so, swept away by his story, blinded by my own experiences, I found myself promising to help him locate Maxwell.
I must have lost my mind. I was 18 years old, horrible with computers, and had just promised to help someone find his long-lost brother after 50 years.
This was around Chanukah time, and although not religious, I knew it was a time resplendent with miracles. But still… I'd need a computer. And I was not good at computers.
Harry was ecstatic at my promise, which just made me feel worse. "Thank you, gal!" he said shakily. "Thank you so much."
Life got busy, though. Every now and then I'd think of Harry and his shining eyes, but I'd started traveling to Santa Monica for college, and I was not only a full-time student but also took extra classes, was rehearsing for a dance performance, and between studying and extracurriculars, had zero time to be a volunteer headhunter, no matter how badly I wanted to be.
A year passed after my promise and I had done nothing. One day while back in Los Angeles, I went to visit Harry to check on how the octogenarian was doing.
The first thing he said was, "So tell me, gal, did you find my brother?"
I was so ashamed to tell him that I hadn't due to the selfish reasons of my freshman year in college. He looked at me with his loving eyes and said, "That's all right, sweetheart, would you like a chocolate?"
That chocolate nearly broke my heart.
I steeled myself. I had made a promise, and the G-d I knew little about but Whose Presence I'd felt strongly throughout my life was going to help me keep it.
I pulled a notepad out of my bag and asked him for all of the details he could remember about Maxwell, from the large to the small. But all he really knew was his brother's name and the year he was born. Not a whole lot to go on.
I dug deeper, asking him the name of the orphanage and who adopted Maxwell, but the concrete information was sorely lacking. But this time I was going to keep my promise, no matter what.
I started my impossible quest by emailing the orphanage and asking for their help. To my amazement, they actually emailed me back… to inform me that there had been a fire years ago and all of the records were destroyed.
As tempted as I was to give up then and there, I persevered. Typing the name Maxwell Markowitz into a search bar, I was amazed to get dozens of hits. And because this was 2008, I had to pay to get the contact info that went with each listing.
I called every number, paying out of pocket. I cannot tell you how weird it was to call someone and say "Hi, my name is Elika Rezvani, I'm 19 years old from Los Angeles and am trying to help an old man find his long-lost brother."
Some of the people I called were nice, others told me to go places I'd really rather not. One guy even told me I had called his cousin with the same name yesterday and could I please stop harassing his family?
I felt detached from reality, sitting in Santa Monica College's library, heartbroken over having reached yet another dead end. Harry didn't know the last name of the family that had adopted Maxwell. I was literally running on zero.
I put my head down on the computer table in front of me. There was no way I would ever find Maxwell.
And then, out of "nowhere," a memory popped into my mind.
Harry did remember the name of the street that the family who adopted Maxwell lived on. Not the house number, but the street name.
This was the last clue I had to go on. Typing in the street name, I paid, once more, to get the available listed phone numbers of families who currently lived on the block.
To be honest, I sounded insane. I didn't know the family's name. All I had to go one was, "Erm, hello, good day, did a Maxwell live here? Currently live here? Uh, is someone living here related to a Maxwell?"
I mean, I would've hung up on me, too.
Finally, I reached a man named Jonas, who sounded as skeptical as the rest of the people I'd called, but also genuinely nice and helpful.
He said he would love to help, but he'd been living there for more than 50 years and didn't know a Maxwell. I told him that was exactly how far back this story went.
That was when he finally started to take me seriously. I gave him all of the information I had and he said he would ask around and call me back the following Sunday.
Biting back my impatience, I thanked him and we hung up. I felt hopeful again. Someone was going to help me.
Sunday dawned with no call from Jonas; by evening I called him as I did some errands.
He didn't answer; I called again.
He answered this time, and at this point my heart was speeding. I said, "Hi, Jonas, it's Elika from Los Angeles! I know you told me you would call, but I couldn't wait. Any news on Harry and Maxwell?"
He said, "Are you sitting down?"
I looked around, I was in a Walgreens on Pico and Robertson. "Um, sure," I said.
"You'll never believe this," he said, his voice trembling, "but my sister grew up with Maxwell, and he is alive, and has been looking for Harry for all  these years!"
I was in shock. This whole time I'd had a niggling fear that Maxwell was no longer among the living and I'd have to break the news to sweet Harry. But he was! Maxwell was alive, and he was looking for Harry!
I asked him for Maxwell's number, but he said we had to break it to him slowly; he was elderly, although younger than Harry. I thought 50 years was long enough, but Jonas was right.
I picked up one of those roses they sell in Walgreens and a card, and went over to visit Harry, right then and there.
He had organized an activity for the other senior citizens that evening; he was so sociable and always surrounded by friends.
I asked him to come out to the hall, to one of the padded benches they had for visitors. Once he was seated, I sat next to him and said, "Harry! Guess what?"
"What, gal?" he said.
Taking a deep breath, I said gently, "We found your brother and he is alive and has been searching for you all these years!"
I'll never forget the expression on his face as his eyes filled.
He finally had a family again…
We went to his room and called Jonas, who informed us Maxwell was waiting by his phone for our call.
We dialed together and you could hear the shock in Maxwell's voice.
"Hi, Maxwell, my name is Elika Rezvani. I'm 19 years old from Los Angeles and I found your brother Harry."
It was the greatest call I'd ever made. And I made a lot of them that year.
I gave Harry the phone, and I'll never forget what he told Maxwell. He said, "Maxwell, I want you to know that even after all these years, not a day went by that I haven't thought of you."
We were all crying, and then everyone lived happily ever after.
Every Friday afternoon after that, Harry would wait by the phone for Maxwell's call. A few months later, Maxwell came from the East Coast to visit Harry along with his wife, and the nursing home threw a party in honor of the two brothers.
I wasn't there, though.
I'd gone to Israel; the miraculous story of Harry and Maxwell's reunion was just the push I needed.
Harry and Maxwell stayed in contact every Friday up until Harry's passing a few years ago, in 2016.
Because of what we did, he'd been able to talk to his brother one last time…
I will never forget Harry. A man who had no family but the biggest heart and most genuine smile. Instead of feeling bad about all those years he'd lost, he was thankful and constantly sharing the story of how his 19-year-old friend helped him find his brother.
Miracles happen, and that is enough to give me hope on the bleakest day. G-d listens, He is there, and He will answer us, even if it takes decades.
I often wonder who helped whom more, me to Harry, or Harry to me, and as I look around at the mountains surrounding Har Nof, I know the truth is that we helped each other.
I always felt that I never got closure from my life in Israel as a child, and the experience with Harry helped me discover my "life that could have been." I don't know exactly what the future holds for me, but I see so clearly now that everything is from G-d and that one way or another, our actions, especially our kindnesses, will always bring us full circle.
(Originally featured in Mishpacha, Issue 906)
Oops! We could not locate your form.
>