| A Few Minutes With |
A Few Minutes with Steny Hoyer
| August 14, 2019
"Making Israel a partisan issue is a mistake." House Majority Leader Steny Hoyer on why the Squad don't represent most Democrats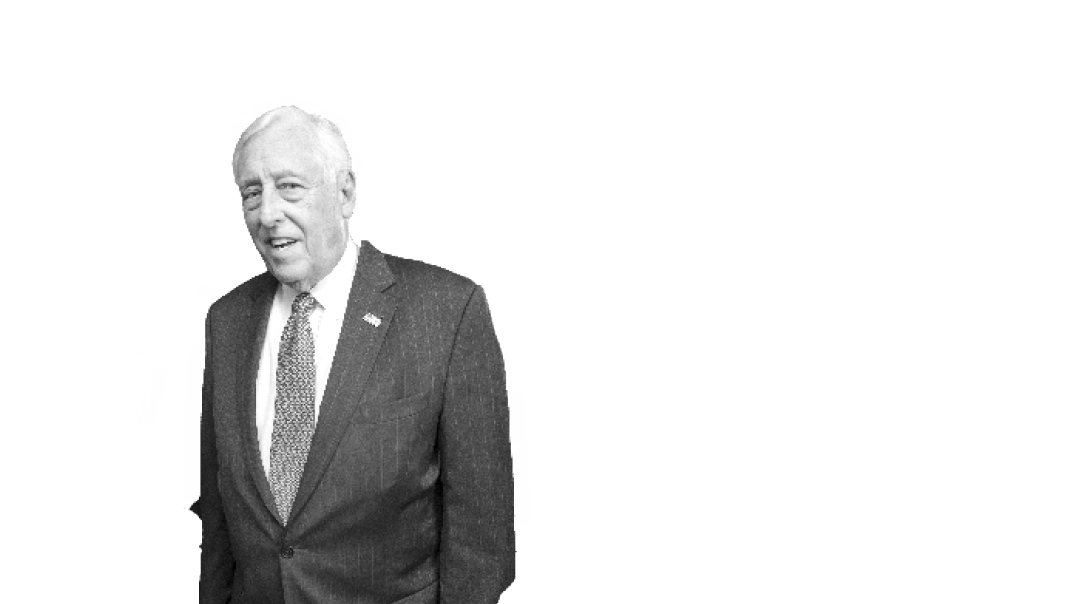 Abipartisan group of 72 US House members visited Israel last week on a trip organized by the American Israel Education Foundation (AIEF), a charitable foundation affiliated with AIPAC. It was the largest ever congressional delegation to Israel — 41 Democrats and 31 Republicans — and was led by House Majority Leader Steny Hoyer (D–MD) and House Minority Leader Kevin McCarthy (R–CA). These trips take place in off-election years and are targeted at new members of Congress, many of whom have never visited Israel before. Democrats toured Israel August 5–11, and Republicans toured August 9–15.
I spoke with House Majority Leader Steny Hoyer about his experiences during the trip, the level of support for Israel among Democrats, and of course about "the Squad."

How would you sum up the visit?
I think it's been a very, very positive visit. We had 32 freshman members. The largest previous trip was 29, which I think shows the interest and support that exists for Israel among Democrats. There's a large delegation of Republicans as well, which indicates the bipartisan support that Israel continues to enjoy. This trip has been very, very useful, particularly for members who have not been to Israel before. Nothing substitutes being on the ground, looking at the proximity of the threats that exist, and the means that are being used to defend Israel and its people. Also, we saw the economic success that Israel is having and its extraordinary growth. It was an eye-opening trip, as it always is, for people who visited for the first time. They got a real feel for the issues that we deal with in Congress.

Why was it important to lead such a large delegation? Was it important for you to show that Democrats support Israel?
The Democrats have always been very strong supporters of Israel, and very strong opponents of anti-Semitism, so I don't know that there's a need to prove anything. And I want to emphasize that we continue to have bipartisan support for Israel and that those who try to make Israel a partisan issue are making a mistake. Not only do I think they are wrong on the facts, but I think it's against the interests of Israel itself to try to make this a partisan issue. The fact is we just passed a resolution on the boycott, divestment and sanctions bill, with [support of] almost 400 of the 430 members who voted. That's overwhelming bipartisan support [for a resolution] that opposes any efforts that would either be anti-Semitic in tone or results and adverse to the interests of one of our strongest and most important allies in the world.

You visited the Palestinian Authority as well. What did you hear there? And do you think the Palestinians are interested in solving the conflict?
We went to Ramallah and met with President Abbas, with Mr. Saeb Erakat, and with the prime minister. Very frankly, Mr. Abbas articulated the position that I've heard from him before in pretty much the same terms [as before], so I don't think that was surprising. But I think it was important that new members got the opportunity to go to Ramallah to hear the president of the Palestinian Authority, and judge the arguments that he made. I think that's very important. This is not just a trip with one side of the story. We wanted to listen to both sides. And we did that when we met with [Prime Minister] Netanyahu [the Likud leader] and General [Benny] Gantz [the leader of the Blue and White party].

I think they got a pretty broad view of opinion in Israel. One of the things that the United States and Israel have in common, I think, is that there are diverse views and significant differences of opinion. And that's a facet of democracy. I think the members got a really broad view of the differences of opinion and the facts, which I think they need when they're making decisions back in the Congress that affect our relationship to Israel, our support for Israel, and the commitment that the Congress clearly has, in a bipartisan fashion, for Israel's survival, safety, and success.

Some Democratic hopefuls, like Beto O'Rourke, Sen. Bernie Sanders, and Sen. Elizabeth Warren, recently commented that Prime Minister Netanyahu and the Israeli government are racist. Would you agree with that assessment?
The answer is absolutely not. I do not agree with that at all. I didn't hear those statements. I've been told that they made those statements, I have not seen them, and I haven't seen them in the context in which they were made. But I certainly do not agree that Israel either pursues racist policies or is racist. I don't agree with that.

You mentioned how important it was for you to bring freshman congressmen to Israel so they could see the country for themselves. And we know there are other freshman congresswomen who decided not to attend this trip, but to schedule their own trip. What do you think about their decision, and do you believe it might cause damage to the party?
I don't criticize anybody for wanting to come here. Rep. Rashida Tlaib is Palestinian and a Muslim. Rep. Ilhan Omar is a Muslim. Rep. Alexandria Ocasio-Cortez represents a multiethnic district. I don't have any criticism of them for coming here on their own. Obviously, others will do that as well. Nobody ought to read anything into that other than they wanted to come here on their own, and that's fine. There's a class of 62 freshmen, and most of them decided to come on the trip to learn more about a country and a people that they feel strongly about.

You mentioned the anti-BDS resolution that passed with an overwhelming majority. As you know, Rep. Ilhan Omar is promoting, with Rep. John Lewis, a pro-BDS resolution. What are your views on that?
I think that it will have almost no support.

You are known as a longtime supporter of Israel. What do you think the leadership of the party needs to do to shift the conversation from the "Squad," who are critical of Israel, to a conversation in support of Israel?
I think the media tends to, as your questions reflects, focus on a few. The Republicans offered what we call a motion to recommit to a bill that dealt with anti-Semitism and opposition to BDS. Every Democrat voted for that amendment. My reaction is that the overwhelming majority is pro-Israel, and opposes BDS, which we perceive as both anti-Semitic and undermining the chances for a two-state solution. But the press continues to focus on one or two voices. I don't want to diminish those voices, but relatively speaking, they are a very small number of members. If you focused only on the two or three in the Knesset who had that position, as opposed to the 117 others, that probably would not be balanced reporting. And I think there's been some not balanced reporting on this. There's no comparison between the overwhelming support [among Democrats] and some who have a different point of view. That happens in a democracy. It's not a threat. But if you are getting over 90% of support, even Mr. Netanyahu or Mr. Gantz would be ecstatic about those kinds of numbers.

My last question is about gun control. There were two mass shootings last week. Do you believe that something can be done to deal with this problem? Are people realizing maybe it's time to act?
I intend to have a press conference on Capitol Hill with reference to actions that we ought to be taking to try to reduce gun violence in America. We passed a bill, with overwhelming Democratic support, that [promotes] comprehensive background checks on people who want to purchase a gun. Ninety percent of the American public supports that. Unfortunately, the leader of the United States Senate, Senator McConnell, has refused to bring that bill to the floor of the United States Senate. We're going to be urging that he does so. We're also going to be looking at other measures that could be passed.
We will try to limit access to large capacity magazines and automatic rifles that are designed to kill a lot of people quickly. We've been urging a passage of legislation that would also ensure oversight of people who may present a danger, to make sure that those people get some help, and to try to minimize to the extent we possibly can these kinds of incidents. In many cases, these shootings are carried out by people who have demonstrated either to fellow workers or fellow students or their family their intention to perpetrate violence. We think much more needs to be done.
(Originally featured in Mishpacha, Issue 773)
>