| Perspective |
A Columnist Who Towered | June 27, 2018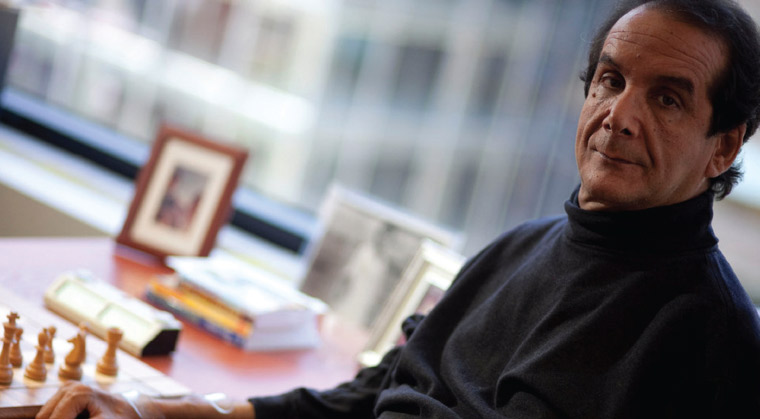 N
o man is a hero to his valet, or so the saying goes.
Thinking back to the year I spent after college working as Charles Krauthammer's research assistant, I'd suggest that Charles was one of the rare exceptions to the rule.
Indeed, from afar, his life was heroic. The son of Jewish immigrants who fled Europe and settled in Montreal, he suffered a freak diving accident in a swimming pool while he was a student at Harvard Medical School that left him paralyzed from the neck down (he eventually regained some use of his arms and hands). He went on to finish medical school on time and then pivoted from medicine to journalism after a stint as a speechwriter for Vice President Walter Mondale.
In the 1980s, in the pages of the New Republic, the Washington Post, and Time magazine, Charles emerged as one of the most thoughtful and articulate voices of "neoconservatism." This was the label applied to the circle of intellectuals — many of whom were Jewish — who became increasingly disenchanted with the leftward tilt of the Democratic Party in the late 1960s and early 1970s. Like other neoconservatives, Charles defended traditional values and the State of Israel in a public square that had become increasingly hostile to both.
Few, if any, did it better than Charles. He won the Pulitzer Prize for commentary in 1987 and Bar-Ilan University's Guardian of Zion Award in 2002 (previous winners included Elie Wiesel and Sir Martin Gilbert). In 2006, the Financial Times called him the most influential commentator in the United States.
But as impressive as his public persona was, I would argue that Charles's truly heroic feat was his modesty. Given how strongly he held certain views and how large a platform he had to express them, one might imagine that he would be overbearing in person, some kind of bombastic know-it-all. In fact, he was the exact opposite.
Charles was soft-spoken and one of the most humble people I've ever known. The gap between Charles's immense gifts and his lack of self-obsession was shocking up close. Charles embodied the old line about humility: It isn't thinking less of yourself but rather thinking about yourself less.
Charles was self-aware but his focus was outward. His life had many great subjects: his family and friends; the intrinsic beauty of mathematics and chess; baseball; politics; and his great love for the State of Israel. But Charles Krauthammer was never the great subject of Charles Krauthammer's life.
I think that explains why for years he never spoke at length in public about his accident. It wasn't just that he valued his privacy, although I am sure he did. Rather, talking about himself was contrary to his nature. Only in 2013, in connection with the publication of a collection of his essays, did he sit for an extraordinary interview with his Fox News colleague Bret Baier.
In the interview, Baier read back to Charles a line from one of his own columns about a baseball player who made an improbable comeback from a severe injury. Charles ended that essay with a meditation about "the catastrophe that awaits everyone from a single false move, wrong turn, fatal encounter. Every life has such a moment. What distinguishes us is whether — and how — we ever come back."
Baier asked Charles if he was writing there about himself. "That is why [the story] resonated so much with me," Charles replied. "I mean I had my fatal encounter… there is an element of that in everyone's story, their low point." And then Charles added, speaking about the ability to come back, "And do you want it enough? And are you lucky enough? That is part of it too."
The other theme that comes through powerfully in the interview is Charles's profound acceptance of life on life's terms. He told Baier that after the accident he resolved that it wouldn't change his life. Yes, there were certain limitations — we all have limitations — but within his, he chose to live with gratitude for the parts of life that remained open to him.
This was something that was evident when I worked for him. The things he could do for himself, he did: driving in a customized van, writing in a broad loopy handwriting, marrying and raising a family. But there were things he could not do for himself — e.g., tying his tie before a TV appearance — and when he asked you to do them for him, he was so at ease that he put you at ease as well.
One of the signature features of Charles's work was the clarity of his moral compass. During the year I worked for him, he wrote a blistering takedown of Katherine Ann Power, a 1960s radical who had turned herself in after 23 years as a fugitive for her role in a bank robbery that killed a Boston police officer and father of nine.
Power explained her surrender after two decades as an attempt to "live with full authenticity in the present." When Newsweek wondered out loud that it was hard to know who to feel more sympathy for — the orphaned children or the "young woman who lost her way in the tumult of the '60s" — Charles was appalled. He called the sympathy for Power "nihilism with a happy ending… except for the orphans." When he got a letter from one of those orphans thanking him for his column, he told me it was one of the most meaningful moments of his career, one of the few times he felt he made a real difference.
In 2015, Charles was interviewed by Roger Hertog, the chairman of the Tikvah Fund. At the end of the conversation, Hertog asked Charles about his own religious beliefs. Charles first reminisced about the extra Talmud classes his European father insisted upon and how he and his brother prayed for snow so the rabbi wouldn't be able to come on Saturday night — apparently hockey night in Canada — to tutor them.
Then Charles talked about his awe in the face of the created world and how it compelled him to believe in some form of transcendence. But at the same time, he had a general skepticism of any kind of certainty in these matters. He himself called his views "postadolescent" in their lack of sophistication. When Hertog pressed Charles, asking him if the Jewish People could have survived with this skeptical theology, Charles candidly replied: not a decade.
Along with his body of published work, Charles Krauthammer leaves behind an example of modesty and humility, having risen to the challenges of life with breathtaking dignity.
Originally featured in Mishpacha, Issue 716. After working for Charles Krauthammer, Jeffrey Bloom studied in yeshivos in Israel, and now lives in New Jersey with his wife and children.
Oops! We could not locate your form.
>