| 2.0 |
Joyce Azria | February 25, 2019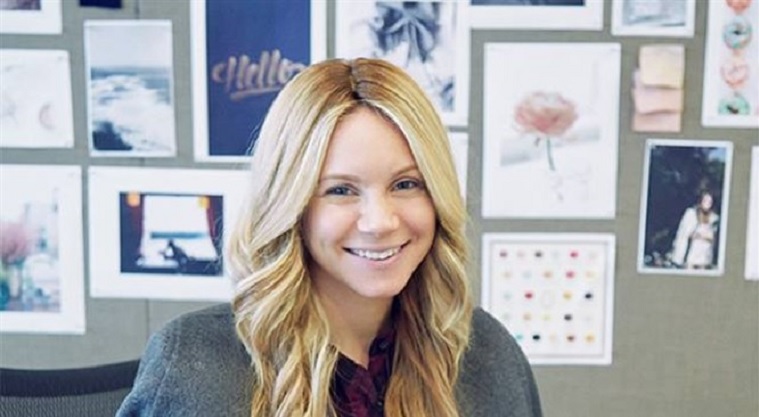 F
rom the racks of BCBG to her signature millennial pink shops, Joyce Azria set out to launch an empire of her own, following in her famous father's footsteps. Between her brands Avec Les Filles, ROHB by Joyce Azria, and WUKOgals, Azria is now weaving her worlds together to create meaning beyond the seams.
Joyce Azria is a believer. As reflected in her own brands, there is an unwavering sense of self that encompasses her entirely and allows her to run her businesses and her life with an authenticity and fearlessness. She's a mother of six, fashion designer, boss, businesswoman, and owner, and yet she's always searching for ways to expand.
"There's a risk in not taking risks," she says. Risks have always been part of her upbringing, and as her father used to say, "You either evolve or die." So taking chances became part of her moduso perandi, and believing in herself, in her vision, and in Hashem's guidance became her foundation for success.
THE NEW CREATIVE DIRECTOR
Joyce is the oldest girl of six children and daughter of BCBG's legendary designer, Max Azria, who founded the brand in 1989, and named it for the French phrase bon chic, bon genre, Parisian slang for "good style, good attitude." A contemporary clothing brand, in 2017 it had about 550 boutiques around the world and was sold in stores such as Macy's, Bloomingdale's, and Nordstrom.
Joyce Azria describes her childhood growing up with an entrepreneur dad, surrounded by culture and art in Paris, where she was born, and then in Los Angeles, where she now lives with her own family. "We lived in a neighborhood where there were producers, artists, and designers, and that was our reality," she says. Azria says that as the oldest daughter she always felt a sense of responsibility to care for her younger siblings, and that turned into a maturity that made her one of her father's most trusted advisors.
"I was an active participant in my father's dreams," she shares. "As a teenager, I'd spend summers at hisoffice, I would listen in on marketing campaigns, I'd check styles and think about what women wanted to wear,and I always felt as though my opinion mattered. There was an accountability felt to contribute." Fashion was part of her reality and her future, yet she understood that there was more to life than well made garments and fashion shows.
To many, her father, Max Azria, was someone they referred to as "boss" or "designer," but to Joyce Azria he was only "Dad" — a man who cared deeply for his family, his Sephardic heritage, and his spirituality. There was Kiddush on Friday nights, and, although her family was not observant, Azria says that there was a connection to and an appreciation for tradition. Her father came from a large Tunisian family and was always inspired to pursue his dreams. He was proud of his Jewish identity and passed on that same feeling of pride to his own children. Yet, beyond the familial Friday nights, there was always fashion, and fashion was a tradition that Azria knew she was destined to accept.
She recalls one day in 2009 that her father called her to ask if she would review his newest collection. It was a request she had become accustomed to over the years while working with him. Yet when she arrived at his office, the visit instantly took on a different feeling than the many others before. Instead of a casual viewing, much to her surprise, her father stood up and publicly named her as "the new creative director of BCBGeneration." At that point, she was just 26 but already had a lengthy resume — she had served as the design director for BCBGMAXAZRIA Swim at 21 and had launched her own high-end women's wear line, JOYAAN.
The title marked a turning point in her career, though. Her vision was truly necessary to her father's brand, and her new creative role and freedom provided her with an opportunity to showcase her own talent and instinct for design. The Generation brand let her take on clothes for the younger set, as it was launched to be the "little sister" brand of the more mature BCBG. At Generation, she was respected and valued, and learned that she had a natural intuition for what girls wanted to wear and buy — a gift that would serve her well when she went on to create her own brands.
Although her career was only beginning, Azria had a veteran eye for what worked, what to do next, and the brand thrived under her creative direction. Generation was trendy, affordable, and successful.
AN UNDENIABLE SPARK
While growing Generation, Azria's curiosity and love for her own religion began to blossom. Sewing a beautiful dress always requires a good foundation, and she feels religion is no different. "Being an Orthodox Jew is so much apart of my DNA, so part of who I am, and it's the thing that matters most to me," she says. For Azria, her connection to Yiddishkeit is what fuels her in both business and in life.
Ironically, it was her upbringing in such a fast-paced world that led her to Judaism in the first place. She says that building up the family's fashion brands was intense, and the people Joyce got to know up close, who seemed to have glamorous lives on the surface, weren't actually that happy. She felt that something was missing, so started learning at the LA Aish and Chabad centers. She found connection in the parshah classes. "I could always relate it to something that was going on in my life," she says. Eventually, one of the rabbis she was closeto introduced her to her now-husband, Ilan Trojanowski, and they took on an Orthodox lifestyle together.
At work, her colleagues respected her choices. Her commitment for Shabbos and her new way of life created an openness among the people she worked with. It brought on more meaningful conversations at the office, and herc olleagues admired her devotion. "I think they were inspired in their own way. I like to think I sparked an inner morality within," she says. "I could see people consider their choices when they thought about our version of unplugging every weekend. It got them thinking about being on their phones all the time or spending uninterrupted time with their own kids."
As for Azria, whether she's baking challah in her kitchen, spending time with her children, or looking over new marketing campaigns, her attention and energy remain equally focused and interested.
THE NEXT BIG THING
Despite being good at living in the present, she's also always planning for the future. When Azria decided she wanted to write a book, that really forced her to consider her next step at Generation. "I went to meet with this book agent, and he told me my tale was amazing— how I became religious and managed this brand and I was a success — but he noted that my ending wasn't gripping enough," she shares. "He reminded me that I wasn't on my own yet. I hadn't taken enough chances, and I was still working for my dad!"
With four kids at home, working in an industry that was quickly changing, Azria felt like it was the right time to leave, and she did so on a high note. "I wanted to leave when things were great, since life is all about taking chances and I really wanted to create my own way," she says. The changes became an opportunity for Azria to start something of her own, and she jumped right in.
In 2017, expecting her fifth child, she decided to launch her own label, Avec Les Filles, French for "with the girls" — a collection that embraces Parisian chic and cool simplicity, with signature pieces millennials could mix and match, and wear through different seasons. The line offers elegant faux fur coats, dainty and fun jewelry, gorgeous heels and boots, and other timeless pieces. Most women would shy away from starting something so big with other milestones happening, but Azria insists that "stability comes from putting good things out into the world and trusting in Hashem's help and guidance along the way. " With her positive outlook, business aptitude, and undeniable intuition, Avec Les Filles took off and continues to grow.
Azria clearly has a real knowledge of the habits and psychology behind the way young women shop today, an understanding that is deeply reflected in the brand's well-designed collection and price point. So far, the brand has been well-received and Azria notes that in some cases, items were sold out the same day as they were available on specific websites. She is open to all avenues and believes in trying to fail, instead of failing to try.
But instead of taking the time to bask in her success, Azria saw another opportunity to create. Keeping in line with her vision and eye for the market, she decided to launch a second brand called ROHB by Joyce Azria in May 2018. The label, a play on the word "robe," emphasizes its practical and comfortable aesthetic, or its robe-like quality, and features an array of clean basics like pencil skirts, flowing dresses, and tees that are super-soft yet stylish.
ROHB by Joyce Azria is unique in that pieces are $50 at their highest mark, and basics, such as shoes and skirts, are available for as low as $20. The line is primarily sold on Amazon, a move that others in the industry have deemed risky, but Azria sees it as a chance for growth and a way to advance ahead of other labels.
Today, our need for instant gratification and relationship with technology translates well on a platform like Amazon, where a level of accessibility is at its peak. "The size and speed at which Amazon attacks things is enormous," Azria says. The site also offers real customer reviews and the ability to track items by popularity. "ROHB by Joyce Azria on Amazon is the perfect blend of fashion and technology, and it seemed like the right place to try to sell at our price point."
BLENDING THE WORLDS
With Avec Les Filles and ROHB by Joyce Azria keeping her busy, it would seem that she would stop there for now. But then, home-grown brand WUKOgals came along and Azria was immediately interested in the modest line run by three sisters in Los Angeles. "I had actually met the sisters a few years ago and loved their passion,"she says. "We kept in touch. Modesty is an important part of who I am, so when the opportunity came up to partner, it really just worked. "
She calls it a jump she just couldn't pass up, especially with the modest direction the fashion industry is taking. "WUKOgals has a really great sense of who they are. They are a modest brand and that isn't going to change over time," she shares. "They know themselves and I appreciate that.
"While technology has caused fashion to move in new directions, that doesn't scare Azria, who believes that"if you have a community, you can better translate your message and connect with your customers in a way that wasn't possible in the past." With social media and Instagram, businesses can now tell their stories and share their messages in real time. The new window-shopping reaches beyond the glass exterior, and today, brands can convey who they are using video campaigns and digital squares. The face behind the brand is very much within reach and it encourages customers to engage.
The industry landscape continues to change, but for Azria, life is all about progressing and embracing the changes that  come her way. "I love what I do, and I lovepeople," she says. It's a sincere sentiment from Azria, who is no stranger to modifying her own life. "When I started to cover my hair, I think it was hard for everyone but for me. My family wasn't used to the concept of a wig, but I didn't mind it and it was a natural progression," she says. Keeping Torah and Shabbos is a source of inspiration for her, and learning to become more observant keeps her grounded and grateful along her journey. Changes, she insists, have been a wonderful part of her life.
Orthodox women today from Brooklyn to Beijing are taking a cue from entrepreneurs like Azria, starting their own fashion lines and creating pieces they believe will sell. Yet designing and manufacturing isn't an easy feat, and Azria says research and testing different items can help. Asa trailblazer in the industry, she says it's always best to design versatile pieces, and of course, believe in your brand, and stick with an identity. "I'd also say to daven a lot!" she says."
"IT ALL FALLS PERFECTLY INTO PLACE"
To grow into an empire, one must think big, and Azria credits this as one of her guiding principles. She's looking forward to the year ahead, and feels excited about the future of her brands. "I think we'll branch out into different categories that people may not necessarily expect," she says. "WUKOgals, ROHB by Joyce Azria, and Avec Les Filles are changing every day, and, as always, our goal is expansion. "
Expansion for Azria means growing her businesses, but never at the expense of her own family. She says that she's learned to keep her work separate from home, and fashion is not something she stresses with her own children. "If my daughter wants to wear a bunch of bows in her hair on Shabbat, along with apair of rain boots, I'm not going to stop her," she says. Her family is her main priority and she believes that her brands are better for it.
"In business there are times where you don't know how you're going to pull something off, and then, with a little faith, it all falls perfectly in place," she says.
She laughs, considering how cooking for Shabbos can be similar. "Before you know it, you're adding in another dish and an endive salad, and there are more guests, and somehow it all works out." Everyone arrives at the table and it's set, and they all leave happy. It appears her customers share a similar experience when shopping her brands.
After all, Joyce Azria is a true believer. She believes in herself, her family, and Hashem. Her confidence is contagious, she carries herself with grace, and it's easy to see why her father thought she was the right person to lead her own team all those years ago. There's no doubt her endive salad is one I'd want to eat.
(Originally featured in 2.0, February 2019)
Oops! We could not locate your form.
>